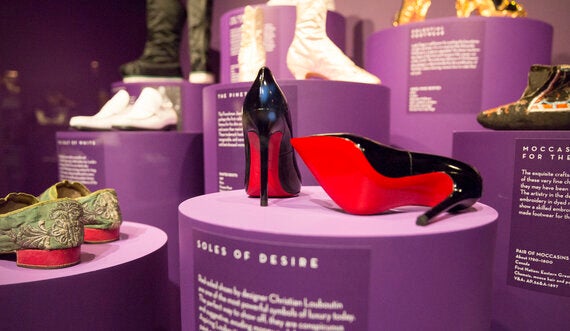 Shoes are a popular subject and it could have been so easy for the V&A to pull together a couple of hundred pairs of shoes, place them prettily and charge an admission fee for still, visitors would have come. So credit to the V&A curation team for deciding to interrogate this subject for the result is a revealing and challenging exhibition on a much-loved item.
Sexuality and shoes have always been deeply intertwined and a part of this exhibition is stylised with sultry red velvet textures and deep maroon colours. It screams seduction. But the pieces on show demonstrate how sex and fetishism have influenced footwear.
The high heels and knee high leather boots are on show, as is the evocative trademark red sole of the Louboutin. But this link with sex is nothing new for also on display is a pair of shoes worn by a Japanese orian, a prostitute, where the platforms are so high as to make any kind of practical movement impossible.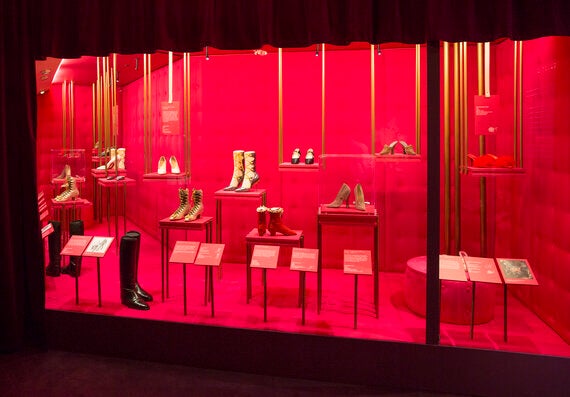 This restriction of female movement retains its power as a source of fantasy, which we see today in all high heels and is demonstrated at its extreme in the David Lynch/Christian Louboutin collaboration that is on show, where the shoes have impossibly angled heels, forcing the woman to crawl rather than walk.
Of course, for many this is in dangerous territory. Shoes which restrict female movement and encourage submission is a politically charged subject. But what was revealing about this exhibition was the history of gender roles and behaviour that has been weaved into shoes - and how this can often surprise.
It is the female shoe that we expect to be high-heeled and embellished. This design is associated with a concept of femininity and, again, the restriction of movement is desirable. In comparison, masculinity is associated with rugged boots and big, heavy shoes.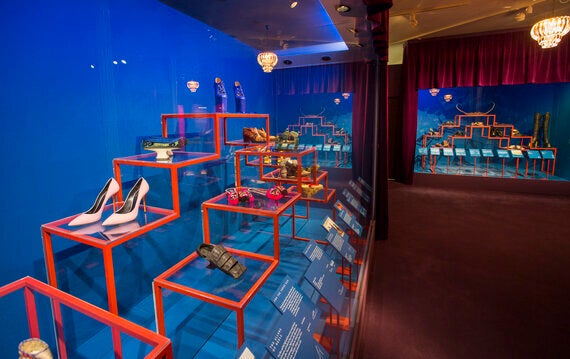 So where does that leave the cowboy boot? For cowboys are considered to be some kind of masculine archetype but yet the pair of cowboy boots on show are high heeled and decorative, covered in studs and beads. It's interesting, seeing assumptions challenged and this exhibition does just that.
Some of the pairs of shoes are extraordinary historical artefacts - and included with a purpose. One pair of sandals is 2000 years old, from late Pharaonic or early Roman Egypt, and the shoes are delicately embellished with nearly pure gold. Intriguingly their sole is designed with a sharp point at the toes, much like contemporary designs. It's interesting how long this idealized and desired foot shape has been around.
The V&A has vast archives and wonderful access to so many collections to bring together a great range of shoes. And in addition to many historical artefacts there are, of course, some headline grabbers.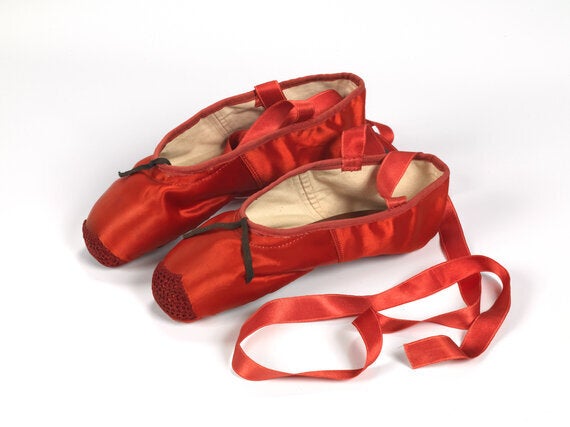 David Beckham has lent a pair of boots from his Manchester United playing days and there's the delicate glass slipper designed for Disney's recent Cinderella film - both demonstrations of shoes as fantasy items that can transform behaviour and people. The infamous Vivienne Westwood platforms that Naomi Campbell fell over in are on display (and looking as desirable as ever), as are a pair from Imelda Marcos' vast collection.
But a real highlight is the deadly pair of red ballet shoes from the 1948 film, The Red Shoes. A stunning and iconic treasure from cinema history and in a deeply evocative blood red as opposed to the more usual candy pink.
Much like the stunning Alexander McQueen exhibition that is also on in the V&A, Shoes: Pleasure and Pain examines the extremes in fashion. And much like Savage Beauty, this exhibition is also fascinating - full of craft, intellectual discourse and a flash of celebrity.
Victoria and Albert Museum, London to January 31, 2016
1.Installation view of Shoes: Pleasure and Pain, Christian Louboutin 'Pigalle' pump © Victoria and Albert Museum, London
2.Installation view of Shoes: Pleasure and Pain © Victoria and Albert Museum, London
3.Installation view of Shoes: Pleasure and Pain © Victoria and Albert Museum, London
4.Red ballet shoes made for Victoria Page (Moira Shearer) in The Red Shoes (1948), silk satin, braid and leather, England, Freed of London (founded in 1929), 1948. Photograph reproduced with the kind permission of Northampton Museums and Art Gallery