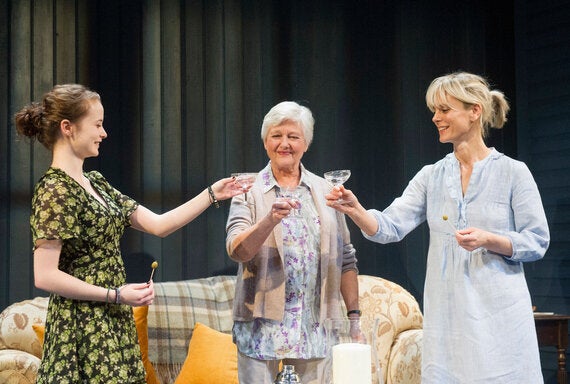 Not all theatre can be challenging and innovative. Certainly Rapture, Blister, Burn - a play about gender politics - is neither of these but there is plenty to enjoy in this charming comedy.
Rapture, Blister, Burn is written by Gina Gionfriddo, the talented writer of Becky Shaw which ran at the Almeida in 2011. Set in the United States, the story follows Catherine (Emilia Fox), a high-achieving alpha-female, who returns from New York to her small hometown when her mother Alice (Polly Evans) falls sick.
Her mother's mortality causes Catherine to question where she is in life, and to consider whether choosing not to settle down with her old ex-boyfriend was a missed opportunity. Only that ex-boyfriend, Don (Adam James), now lives just down the road from her mother. And he's married with kids to one of Catherine's childhood friends, Gwen (Emma Fielding).
But Catherine isn't the only one with doubts. Gwen isn't happy either. Yes, she has the husband and the kids but now she spends all her time whether she missed out on life. Did having a family deny her the opportunity to live her dreams, just as Catherine has done?
So as Catherine and Gwen rekindle their friendship, and as Catherine secretly rekindles her passion with Don, the idea of swapping lives goes from a joke between the two women to a real possibility.
Catherine teaching a class on feminism to Gwen and her wayward young babysitter, Avery (Shannon Tarbet) is the loose framework which provides the opportunity for Gina Gionfriddo to run us through the battleground of gender politics. There are plenty of references to Phyllis Schlafly, Betty Friedan, Roe vs. Wade and the Equal Rights Amendment. In fact so much so that you often feel you're being educated in a lecture hall rather than entertained in a theatre.
However Gionfriddo's sharp wit is in plentiful supply which prevents the piece becoming too dry. The best and more barbed comments are saved for Avery, a smart confident young woman who's as inspired by Catherine's stellar career as she is dismissive of Gwen's housewife existence, as evidenced by her quip "I've thought about being a stay-at-home mum, just as a fuck you to the system."
In fact it is Shannon Tarbet as Avery who gives the stand-out performance in the show. Her composure is remarkable as is her deadpan delivery of her lines. She made a phenomenal impact and is clearly a very talented actor.
Emilia Fox though disappoints as Catherine. Fox's performance seemed nervous throughout and she didn't bring much depth or variety to her role as the career woman with regrets. Her portrayal was quite one-dimensional, making the lead character a bit of a cliché.
Emma Fielding and Adam James had greater success in bringing colour and truth to their portrayal of the unhappily married couple and brought to life what could have been a stereotypical situation and relationship.
Polly Adams gives a heart-warming and engaging performance as Catherine's mischievous mother. Her joviality is practically palpable. Her American accent did go AWOL at times though. I would quite happily have her ditch it completely and just deliver her lines in her British accent as the slipping in and out of the accent is noticeable.
The conclusion of the play is upbeat, of course. However the central message of the play, that a woman is fine with or without a man, would have been outdated in the 1980s, let alone in the 21st century. Gender politics has moved on to far more challenging issues than this. Rapture, Blister, Burn therefore isn't anything new or ground-breaking, but it is an enjoyable evening nevertheless.