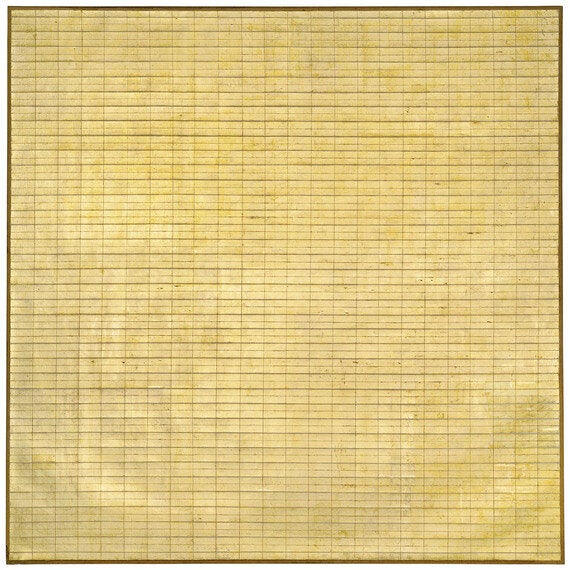 This exhibition at the Tate Modern is the first retrospective of Agnes Martin's work in the UK for over 20 years and includes pieces from the full breadth of her career, from her early beginnings in the 1950s to the last piece she created in 2004.
I had expected the show to be very Zen - 11 rooms of huge canvases in muted tones and a cool colour palette. And certainly there's plenty of the spirituality that was such a significant part of Agnes' life evident in her large paintings. Yet there's also an intriguing pursuit of evenness and constancy.
Canadian-born Agnes made her name in the thriving (and male-dominated) New York art scene of the 1960s but she fell out of love with the city, leaving it in 1967 and wandered nomadically across the States and Canada for a couple of years before finally settling in New Mexico, where she stayed until she died in December 2004.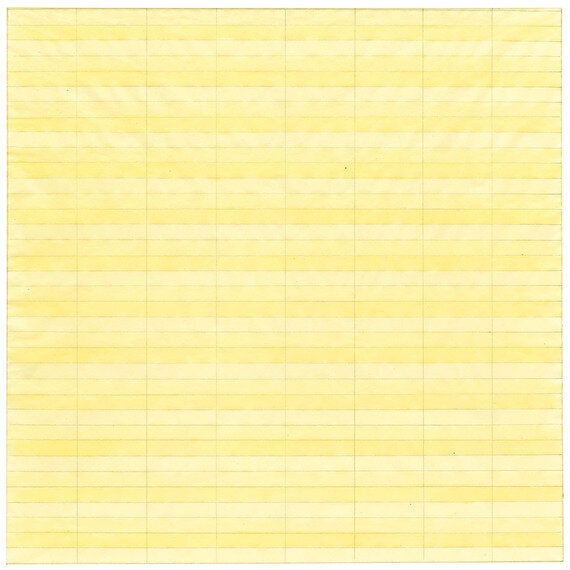 Described as an abstract artist, Agnes' signature style is evident in the large paintings that fill the galleries. From afar, Agnes' pieces impress with their colours, the warm, delicate tones lift you whilst the greys and creams are cool and calm. Yet up close, her canvases and her drawings have a detail that fascinates.
It's when you're up close that you can see a forensic search for conformity across her canvases, the endless repetition of a single shape, whether it's rectangles, grids or parallel lines. Each canvas has these faint, but deliberate, pencil lines or shapes drawn across them - an obsessive pursuit for perfection that could never be satiated.
And given how this search sustained her for decades, how it features in almost all of her work, it only emphasises more the subtle changes in colour palette that Agnes Martin would experiment with.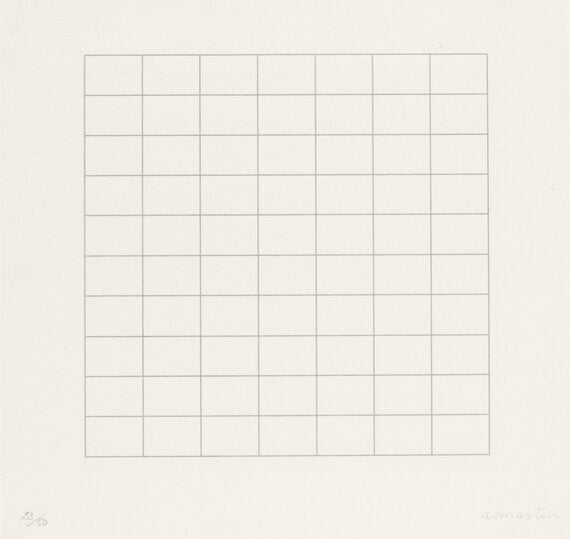 The colours fluctuate from the cold steel greys of A Grey Stone, 1963, Untitled #8, 1989, and the graphite lines in Untitled #10, 1990, to the salmon pinks of Untitled #10, 1975, and the sunny yellows of #Untitled, 1977.
And then there is Friendship, 1963, a shimmering canvas of gold leaf, a beauty placed into sharp contrast by the rigid conformity of the tiny rectangles that comprise it.
And then, in 2004, Agnes returns again to the muted greys and creams in Untitled 2004, an acrylic wash on linen.
Yet even in the works with zero colour - the stark white canvases of The Islands collection, all curated together in a single room - there is fascination. I suspect Agnes wanted these huge white canvases with the faintest of lines on them curated together to enable contemplation. Yet I found these pieces had a real punch to them, a real strength. The sound of white noise.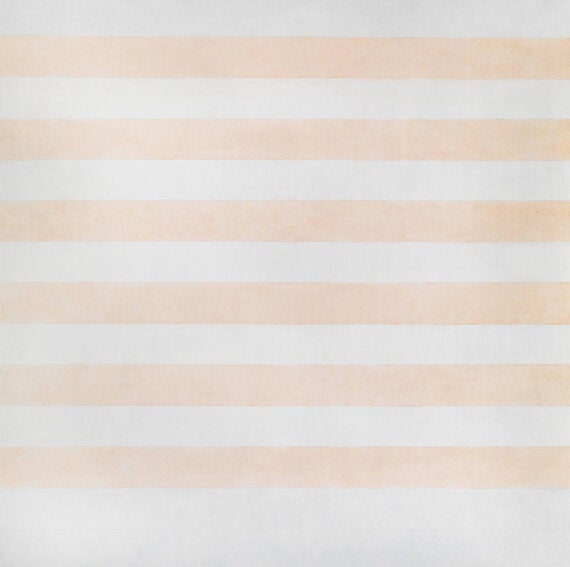 It's worth noting, at this point, how well this exhibition is curated. The high ceilings and natural light in the Tate Modern galleries provide the ideal setting for Agnes' work. And though the retrospective is shown broadly in chronological order, some decisions have been taken to shift a couple of the pieces around where certain themes, such as the dawn of muted reds and oranges in her work, can be given greater impact when shown together.
I also, particularly, want to take the opportunity to applaud the Tate Modern for their commitment to platforming female artists this year. The Marlene Dumas and Sonia Delaunay exhibitions were both excellent and it is great that they are showcasing the work of another female artist here.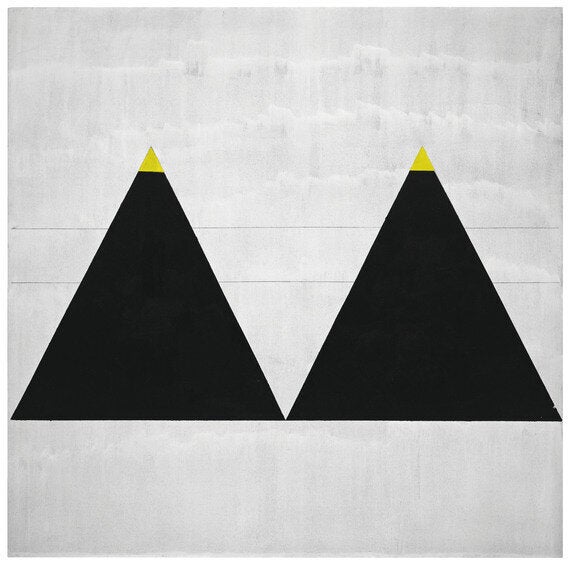 For some, there may not seem much variety in Agnes' paintings. The early rooms include works from the early part of her career when she was investigating and developing her style. And other than the occasional (and surprising) appearance of shapes such as rhombuses and triangles in her later works, much of the work on show follows her reoccurring theme of grids, rectangles and lines in different patterns and hues.
I therefore appreciate that some may find themselves a little jaded with this style by the last room but the juxtaposition between the beauty and order in Agnes' work fascinated me, far more than expected. A serene and surprising exhibition.
Tate Modern, London to October 11, 2015
1.Agnes Martin, Friendship 1963 Museum of Modern Art, New York © 2015 Agnes Martin / Artists Rights Society (ARS), New York
2.Agnes Martin, Untitled 1977 Watercolour and graphite on paper 9 x 9" (22.9 x 22.9 cm) Private collection Photograph courtesy of Pace Gallery © 2015 Agnes Martin / Artists Rights Society (ARS), New York
3.Agnes Martin, On a Clear Day 1973 Parasol Press, Ltd.© 2015 Agnes Martin / Artists Rights Society (ARS), New York
4.Agnes Martin, Happy Holiday 1999 Tate / National Galleries of Scotland © estate of Agnes Martin
5.Agnes Martin, Untitled #1 2003 Fondation Louis Vuitton, Paris © 2015 Agnes Martin / Artists Rights Society (ARS), New York
Related