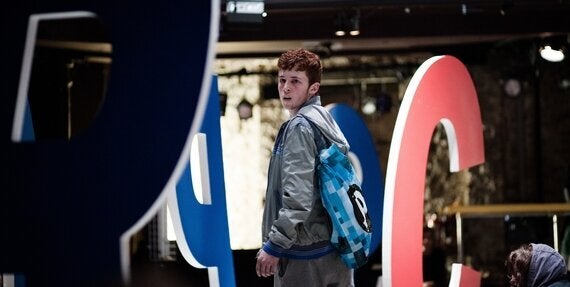 Boy at Almeida Theatre is painfully beautiful. A play that holds up a mirror to our society and asks, what the hell has become of us?
We follow a day in the life of Liam (a quite remarkable debut from Frankie Fox), a young boy without much in the way of a stable home, struggling to find his place in the world. Liam is awkward and unsure of himself - as much grappling with notions of manhood and masculinity, as he is with finding purpose in his life.
Fresh out of school but with no job or guidance, Liam wanders London trying to find something, someone, he can hold on to. His interactions with strangers are clumsy - blundering advances at girls and women collide with eye-wateringly embarrassing attempts to connect with guys he can look up to, the 'big brother' figures he desperately craves. But all his attempts are misplaced. He cannot seem to judge situations or people, lacking the experience or skills to assess either. He cannot fathom that there are bad influences out there, and people he should be wary of. No-one has ever taught him or shown him. So instead Liam lurches from one fumbled attempted connection to another.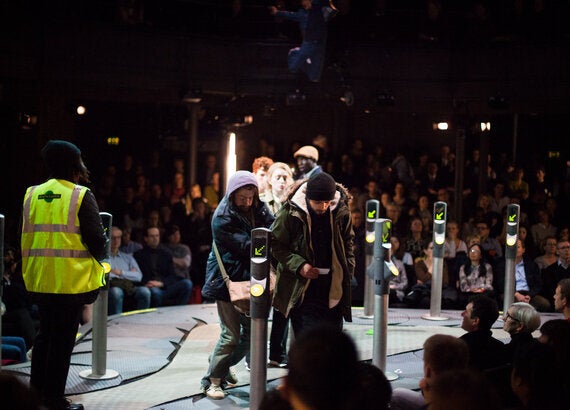 Director Sacha Wares is at the helm and, like her bold vision for last year's Game, Boy too has a remarkable set design. Any orthodox stage has been ripped out and, instead, we are presented with a circular conveyer belt that loops around the auditorium. Its slow, plodding motion is almost hypnotic. It never speeds up, it never slows. And it never goes anywhere but round and round and round.
Obviously this isn't just clever; this is working on a lot of levels. And it's not gimmicky or heavy-handed at all. For when Miriam Buether's set is blended with the subtle sound design from Gareth Fry of a constant, faint clanging of metal cogs and wheels, we have the pointlessness of our existence laid bare. For Liam is not isolated - there are many Liams out there. Too many Liams we don't see, that we pass by every day; maybe even avoid.
And as Liam stumbles through his day, his path crosses with many others we leave stranded, in need of help. In need of our compassion and understanding. And who, like Liam, we avoid. We turn our faces to our phones and pretend we can't see them.
This is an unequivocally brave production. There is no obvious plot; the storyline that exists is subtle and small. No seismic event happens to Liam that shakes the core of his existence. And, of course, that is the point. Huge credit to writer Leo Butler for taking this risk as it's a gamble to offer up a play to an audience that takes a chance that many will want to see a show that is small, that is truthful, and that isn't dependent on plot twists and major confrontations to keep attention.
Boy digs deep. It may be low-key but it is also powerful. A searing indictment of what our society has become, and what trials we force those on the margins to overcome. But what hits home the most is the sense of defeat. Boy isn't an angry rallying cry, but a tragic impression that the damage has already been done. What have we done?
Almeida Theatre, London to May 28, 2016
1.Frankie Fox in Boy © Kwame Lestrade
2.The cast of Boy © Kwame Lestrade
3.Frankie Fox in Boy © Kwame Lestrade
Related