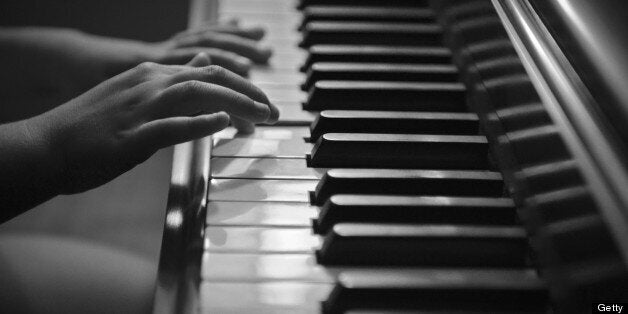 James Rhodes, the classical pianist, is doing a series of performances at Soho Theatre Downstairs in London. This modern but intimate around-table cabaret club setting, in London's most famous bohemian district, is a perfect fit for the man who is determined to take classical music out of the austere and intimidating classical music halls, and into spaces where the music can mix freely with the rest of popular culture.
That James as a personality is as integral to his shows as his playing of the piano is as true of him as it is of any performer. But as James shuffled on to the stage in his jeans and t-shirt, head bowed, anxious and shy, it's clear that this isn't a monstrous rock-star ego looking for the spotlight. This is a man driven by passion for music and the effect it can have on the human condition.
The show itself was almost like a James Rhodes' mixtape - a collection of short pieces from a range of James' favourite composers. Indeed even the man himself hinted at such an approach when he stood up next to his piano and bashfully said that the theme he'd picked for the evening was "Love", surely the only true reason any mixtape has been made?
And that started out the format of the show - James would stand by his piano and explain to us the piece he was going to play next. And each introduction was laced with such knowledge of the composer and empathy for the emotions he must have been wrestling with at the time that it was impossible not to be intrigued even before the music started. (An audience favourite was the wry reflection on the 163 love songs Schumann wrote for the object of his affection in one year alone - keen by any standards!)
And then James would sit down at the piano and play. Whether it was a short piece from Prokofiev, Chopin or Gluck, each was chosen because, to James, it conveyed one, or maybe a whole range, of the many facets of love.
Schumann's Dedication was romantic; the Rachmaninoffs were obviously intense and dramatic. The Chopin was wonderfully insane, a whole cacophony of emotions in one piece. But the stand out piece was Melody from Gluck's Orfeo and Eurydice which was incredibly moving.
James' approach of story then music, story then music, was a wonderful way to get the audience past the fear that they wouldn't understand what they were about to hear. Without James little stories in-between, I wonder how much of the emotion would have made it across to us, an audience largely unused to classical concerts. And that really was the strength of the evening, being able to connect to the music because we were able to connect through James.
But this seemed very much an evening of introductions only. The whole show was only 45 minutes long, a little jarring given that the tickets were £20. Also each song was also short, only about five minutes long. I would have loved to have heard James play a bit more from each composer.
Through a combination of his passion, talent and charisma, James Rhodes is clearly going to be around for a while. Hopefully next time I hear him play it will be for longer.
To Saturday, August 3, 2013