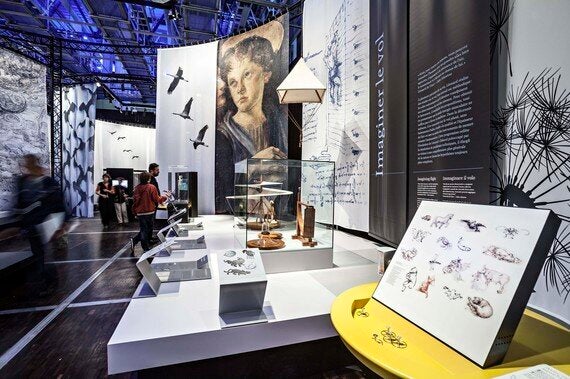 Pioneer. Polymath. Genius.
Leonardo's reputation is so profound that it has become hard to separate the man from the myth. Well, this major new exhibition at the Science Museum, Leonardo da Vinci: the Mechanics of Genius, aims to look behind the legend and examine this artist-engineer's enduring reputation.
In addition to his famous paintings, Leonardo was also a gifted draughtsman. There are as many scientific and engineering drawings in his work as there are artistic ones. He seemed as fascinated by gears, chains and springs, as he was by ideal beauty. Leonardo was a man with an almost insatiable appetite for knowledge and this exhibition demonstrates the breadth of that interest beautifully.
However, one of the central challenges with any exhibition on Leonardo though is, well, you don't really have many original exhibits to work with. Few of his works remain, and those that do are rarely, if ever, loaned.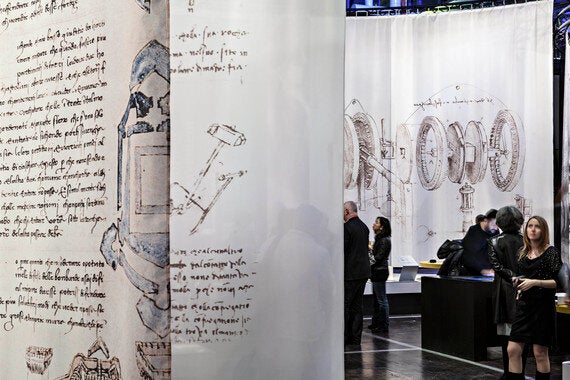 And as for his drawings, they often stayed just that - drawings. They were his observations, his ideas, the results of his studies. So how do you bring all these ideas to life in a compelling exhibition?
Well, the Science Museum has brilliantly tackled that challenge with a blend of both interactive displays that interrogate his radical drawings, and a series of historical models that were made in Milan in 1952 in celebration of the 500th anniversary of Leonardo's birth.
The 39 models display the ingenuity of Leonardo's thinking - submerged forts, diving apparatus, spinning wheels, and (of course) his famous flying machine. Whereas the interactive displays guide you through pages and pages of his notebooks, which he filled with drawings of everything from theatrical sketches to grotesque apocalyptic visions, from methodical observations of nature to monsters and violent imagery.
And, of course, this includes his anatomical drawings.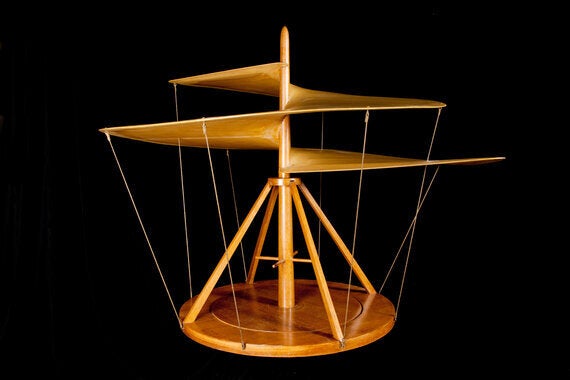 Claim what you want about the great man but, simply, Leonardo created anatomical drawing. He was the first and, frankly, remains the greatest ever anatomical drawer. Prior to him, anatomy was explained through text. But when you can draw like Leonardo (not that anyone else can) of course the opportunity to explain the human anatomy visually was grabbed.
Leonardo attended many dissections yet, remarkably, his impressive drawings were completed from memory after the event. Included in the display are copies of his sketches of the human heart and of foetuses - items we only see now through scientific scanning. His anatomical drawings were unmatched for centuries.
Like many engineers then and now, Leonardo looked to nature for many of his ideas. For example, the familiar spiral corkscrew-style to his flying machine draws on the helical forms found in nature, such as maple, elm or ash seeds. And his sketches of mechanical wings were derived from his observation of birds.
And all this is demonstrated beautifully in this exhibition against the elegant backdrop of Leonardo's masterpieces printed on to partitions and sheer drapes.
This is a fascinating exhibition. And it's interesting that even when you set aside the hyperbole and examine the man's work, you still find yourself a little in awe of this man who blended his radical thinking with a prodigious talent. He really was a one-off.
Science Museum, London to September 4, 2016
Admission: £10. Concessions available.
1.Exhibition views © EPPDCSI - Ph Levy
2.Exhibition views © EPPDCSI - Ph Levy
3.Aerial Screw © Archivio Museo Nazionale della Scienza e della Tecnologia Leonardo da Vinci - Alessandro Nassiri