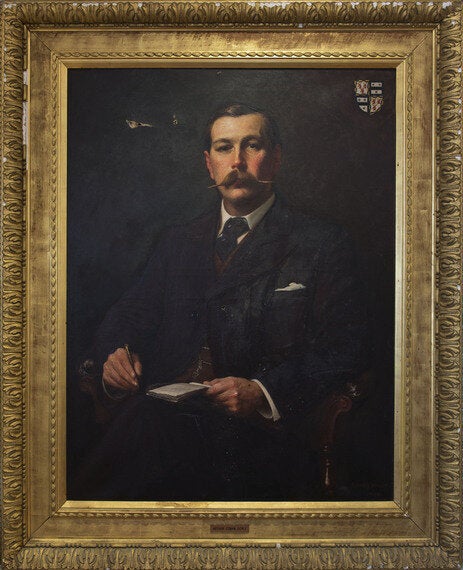 The new Sherlock Holmes exhibition at the Museum of London is an incredibly dynamic, evocative display that brings to life the man and his city.
A stunning and diverse range of rarities have been brought together for this show on the world's most popular fictional detective. From the earliest Arthur Conan Doyle notebook to paintings from Monet and Turner, from Chinese film posters to the first recorded ink fingerprints, and from a beautiful array of black and white 19th century photographs of fog-ridden London to a drug syringe. All of these (and more) weave together to create a fascinating show.
And this is no dry, stale museum exhibition, this is a dynamic multimedia audio-visual experience. The curation of this show is superb with video clips and murals shown alongside radio broadcasts and even mocked-up Sherlock deductions to bring to life the images and objects surrounding us.
I was particularly impressed with how the curators pulled apart the movements of Sherlock and Watson in three cases - The Six Napoleons, Bruce-Partington Plans and Hound of the Baskervilles - and plotted these out on a map of London, showing how these two characters criss-cross a city they know like the back of their hand in pursuit of the solution.
And London is so crucial in the Sherlock Holmes stories, almost a character in itself (though obviously the producers of Elementary would disagree).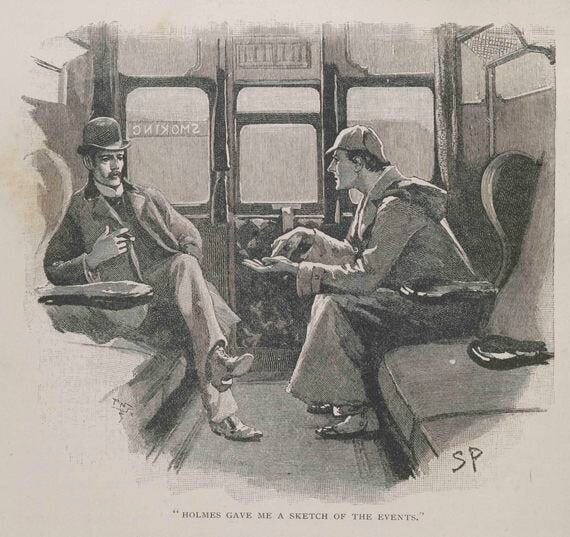 At the end of the 19th Century, London was at its peak - an imperial capital with a landscape that included beautiful, regal architecture and monuments as well as squalid, grim backstreets. Throw in the dense London fog for a bit of mystery and you have the perfect setting, the perfect backdrop - a melting pot of people and places, from the poor to the powerful - in which to let loose the world's most brilliant detective.
And all of this is practically palpable in the array of photographs, of clothing and in the newspapers from the time that have been brought together here.
But it's not just the visual image of London that's important, but also the image of Sherlock himself for that has been key in securing his status as icon. That instantly familiar deerstalker hat, that curved pipe... Just his silhouette alone is iconic.
A huge volume of Sidney Paget's illustrations are on show and you really get a sense of how important his images were when they appeared alongside Conan Doyle's words in The Strand Magazine. These were before the days of commercial photography yet this constant reaffirmation of a familiar figure, a familiar face, helped define the detective we still know and love today.
That Conan Doyle created a fascinating character is not in doubt and there's something quite magical about seeing his remarkably neat handwriting in so many of his notebooks and texts that are on show here, including his notebook for the first ever Sherlock Holmes story - A Study in Scarlet.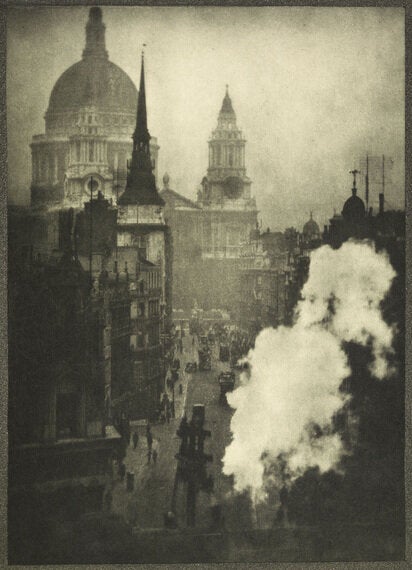 So how is it possible that Sherlock has become such an enduring hero, even after all this time?
Well, despite the fact that he was created over 100 years ago, Sherlock is a very modern detective. His respect for science and logical deduction would make him relevant even if he were created today (as Moffat and Gatiss have proved).
And Sherlock does not shy away from using every means at his disposal to get to the answers so it's only right that this exhibition reflects Sherlock's darker side too. Sherlock's use/reliance on drugs has always been explicit and so it's only right that a syringe and a burnt spoon are included alongside the ubiquitous deer-stalker cap and curved pipe.
Interestingly, the exhibition refers to the curved pipe being a result of William Gillette's performances on stage rather than from the original text, which I didn't realise. Finding it difficult to deliver his lines whilst also puffing on a straight pipe, Gillette requested the change. And so it came to pass. Amazing how legends are made.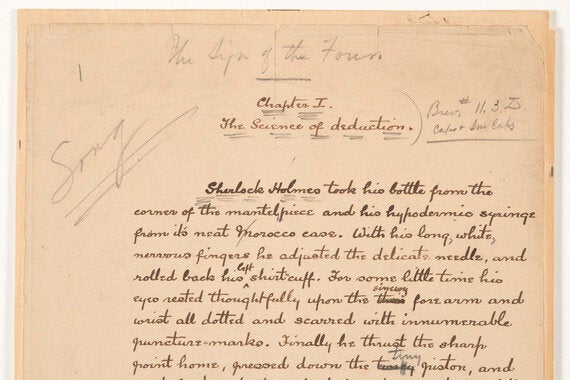 That a significant part of this exhibition is set aside to examine the science of the day and how it feeds the Sherlock Holmes story is a real asset in making this show exciting and provoking.
Theories of phrenology - where deductions could be made from the size of a man's skull - are shown alongside exhibits from the Galton collection of the analysis of fingerprints, which was only emerging as a reliable scientific measure in Edwardian Britain.
Given the popularity of the character, it's no surprise that the exhibition comes right up to the present, including clips from the versions performed by Robert Downey Jr., Jonny Lee Miller and Benedict Cumberbatch.
The BBC/Hartswood Films team has been very generous in their loans of items from the show as well as television footage. To the section exploring Sherlock's powers of deduction, they have lent the 'wall of rats' where Sherlock pulls apart the city and some of its key inhabitants as he hurries to prevent a terrorist attack.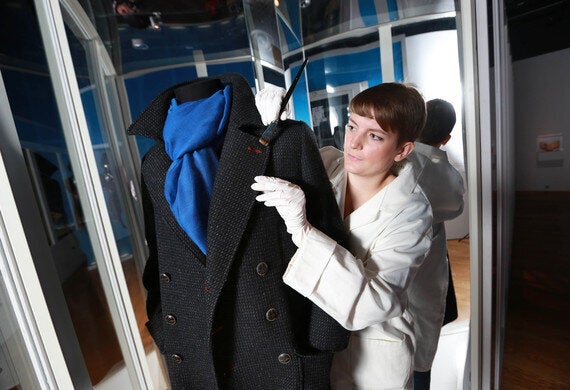 And yes, they have also lent that Belstaff coat - or at least one of the many, many versions they have in their wardrobe. And it's very impressive except, you know, not as tall as you'd might expect...!
But anyway, teasing aside, I found this Sherlock Holmes exhibition to be really fascinating with so much to offer. It's almost immersive the way it draws you in to Sherlock's world and I came out not only more informed about Sherlock Holmes but also more excited by him too.
Museum of London to April 12, 201
Admission: £12 (concessions available)
1. Sidney Paget, Portrait of Arthur Conan Doyle, 1897, oil on canvas pre-conservation © Musée Sherlock Holmes de Lucens
2. Sidney Paget, Dec 1892, engraving 'The Adventures of Silver Blaze', Strand Magazine © Museum of London
3. Alvin Langdon Coburn, St Paul's from Ludgate Circus, 1909 © Museum of London
4. Close-up of the first manuscript page of 'The Sign of Four', 1889 © University of California
5. Conservator Melina Plottu prepares Benedict Cumberbatch's coat, on loan from Hartswood Films © Matt Alexander_PA Wire