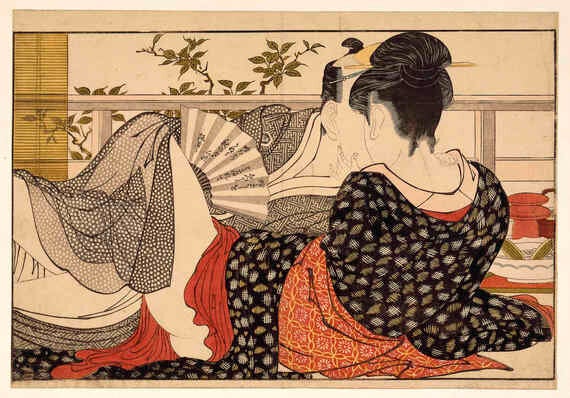 With access to pornography and sexualised imagery the subject of intense debate in British society, the British Museum's exhibition on Shunga - Japanese erotic art - couldn't be more timely.
As the subtitle to the exhibition suggests - 'Sex and Pleasure in Japanese Art' - there is much sensuality and, indeed, great humour, in the varied and beautifully restored works of art on show.
In the West, we have a robust division between art and pornography, and indeed between sex (which we don't like to talk about) and pornography (access to which is now almost impossible to control). There seems to be no acceptable place for erotica, but not so in Japan where Shunga was a hugely popular art form.
Shunga, the literal translation of which is "spring pictures," refers to the genre of erotic pictures, painted hand scrolls, printed books and sets of colour prints that were produced in Japan between 1600 and 1900.
With their focus on lovemaking, whether it is heterosexual or homosexual, in pairs or groups, there is such tenderness, humour and honesty in these works of art. Shunga is also known for its mutuality - pleasure for women as well as the men - and the shared pleasure is obvious in the pieces on show.
Highlights of the exhibition include Poem of the Pillow (above) c. 1788 by Kitagawa Utamaro, a wonderfully evocative embrace between a man and a woman, whose passion can be seen in the arch of her back and in the soft curves glimpsed from beneath her robes.
There is also though great humour in the more comic Shunga such as the oversized genitalia on both the men and women who've been caught out in naughty situations whilst having a quick one behind the screens or whilst the spouse is away. And as the male penises get larger and larger from picture to picture, so you can't help but laugh more.
In his introduction (which is available online), Tim Clark, the curator of the exhibition, says that experts are "pretty sure that everybody in Japanese society from the ruling class down to the ordinary townsperson in the street used and enjoyed Shunga. This is a situation that would have been inconceivable in Europe at the same time." Fascinating, but sadly little attention has been given to this or the context of Shunga generally in Japanese society in this exhibition.
The wide distribution of Shunga throughout Japanese society is as of much interest to the visitor as the work itself, especially given the difference with the societal view of erotica in the West.
And given that Shunga eventually became seen as seedy within Japan, it's a shame that greater prominence hasn't been set aside to look at the causes of this. I would love to have known more about what these pieces meant to Japanese society, the impact of their popularity and, likewise, what can we learn from their fall from grace.
Nevertheless, Shunga: Sex and Pleasure in Japanese Art is a wonderful and extremely timely exhibition.
Picture caption details: Kitagawa Utamaro (d. 1806), Lovers in the upstairs room of a teahouse, from Utamakura (Poem of the Pillow), c. 1788. Sheet from a colour-woodblock printed album. © The Trustees of the British Museum.