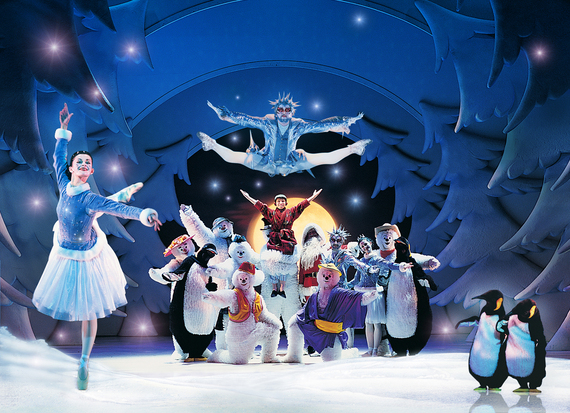 This production of The Snowman, a joint production by Sadler's Wells and the Birmingham Repertory Theatre, is a joyful festive treat that is entertaining for both children and adults alike.
Based upon Raymond Briggs' much-loved book, the story is one we all know. A young boy, James, wakes up one December morning to find the world outside covered with snow. Overjoyed, he rushes outside to play and build a snowman. But eventually playtime has to end and so James is dragged inside to go to bed.
But that night, unable to sleep, James peeks outside at the snowman he created only to find the snowman has come to life. And from here an exciting adventure and magical friendship begins.
The Birmingham Repertory Theatre production has worked hard to keep this production fresh even though it is returning for its 16th consecutive season at the Peacock Theatre. There is humour, wonderful sets, terrific costumes and a warm, festive spirit that cannot be denied.
The set design (Ruari Murchison) is bright and creative. And the variety of landscapes created as James and the Snowman travel the world is terrific. Whether it's kitchens, deep freezers, bedrooms, forests or even Lapland, each world is brought to life with great creativity and flair.
And with no dialogue at all, the story is told visually - through acting and dance - and through the timeless, emotive score from Howard Blake.
The cast are superb and show great versatility. There are ballet-dancing princesses, there's limbo dancing fruit, there are marching toy soldiers and of course there is flying. The audible drawing of breath and cheering as The Snowman took James in his arms and took flight was really quite something.
The Snowman is a wonderful alternative to the usual Christmas entertainment for children of either clichéd pantomimes or The Nutcracker ballet, which can go over the heads of many children. The Snowman even managed to put Christmas cheer into a cynical arts & culture critic such as me. It really is a wonderful show and at under 2 hours, the perfect length for children.
Magical.
Sadler's Wells, Peacock Theatre, London
To January 5, 2014