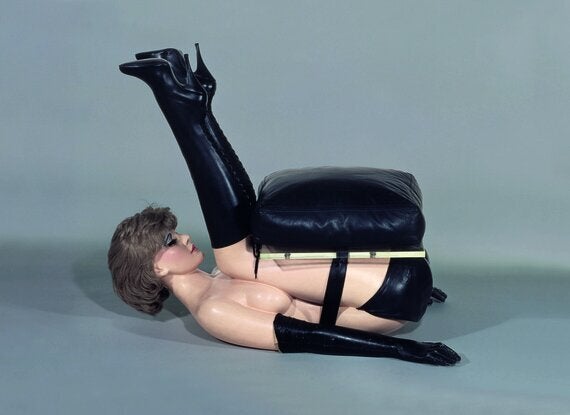 Allen Jones is considered to be one of the finest pop artists of the 1960s but as creator of pieces such as Chair and Table, where female sex doll figures are contorted into everyday pieces of furniture, have secured him a reputation as a figure of controversy.
Chair, Table, Hat Stand... they're all on show here - though not together but in separate rooms. Are they offensive? Yes, they are. Of course they are. To say that they're not is just ridiculous. The women are dead-eyed, passive and objectified.
There's no life in these figures and that's what stops them being erotic. This is nothing to do with whether women can be sexual or not. Of course they can. And they can be sexual and sensual without judgment. But these women aren't sensual - they're lifeless. And that's what makes them objects of objectionable objectification.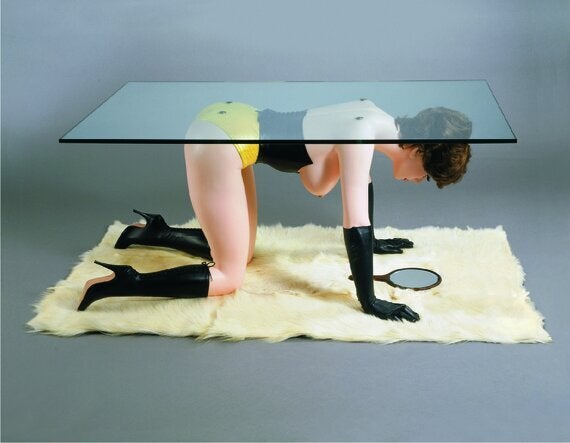 But there is this part of me that thinks these pieces are deliberately sensationalist, which is why I'm loathe to get too worked up by them. Allen Jones claims to be a feminist. Well, this world is full of people who claim that but who clearly have no idea what that means. Jones' figures are proof that he probably really doesn't get what female emancipation is about.
Interestingly though, the impact of these figures seems diluted in this exhibition. Maybe we are so bored with being shocked by them that they've lost their bite. I certainly felt like I was seeing a bit of a desperate attempt at provocation by a rather juvenile artist.
Only though these pieces are over 40 years old, Allen Jones never really developed his appreciation for women beyond the immature. The last room displays Jones' more recent work and not much has changed. His figures are still passive and dead-eyed and the female form is still thin, pert and white. It's all rather sad, really. Allen Jones comes across as this rather dirty old man who's as obsessed with the nubile young woman as a teenage boy.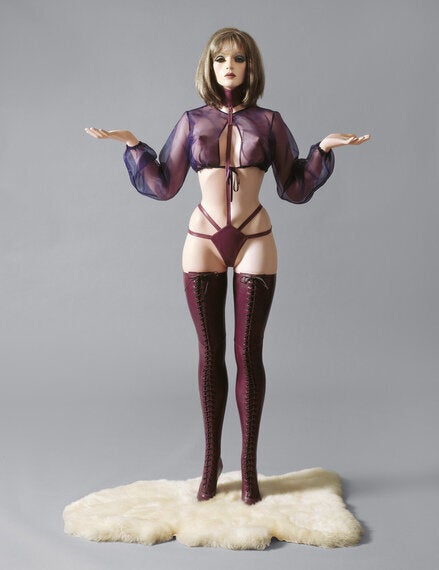 Yet for all of this, I can't say I hated the exhibition (though I wanted to) because, rather surprisingly, I was won over by Allen Jones' bright pop art paintings with their more joyful compositions and vivid oranges, reds and yellows.
Like his figures, some of his paintings keep that preference for simple, bold images such as First Step, where the legs are restricted in a fetishized way, and the gloriously uplifting Float, where a woman launches herself off a big, buoyant, bouncy ball.
Other paintings though, such as Interval, have really dense, complex compositions where multiple characters and stories tumble over each other across huge, sprawling canvases. Yes, sex and relationships remain a recurring theme, but the women in the paintings are active, engaged and far more erotically sensual. They are alive!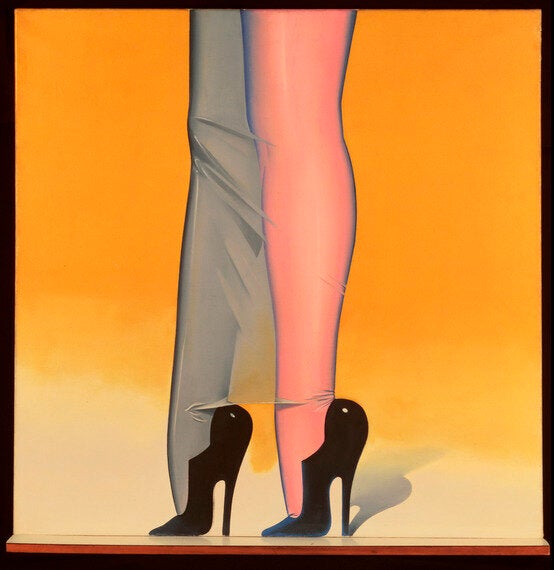 In fact there is real dynamic movement in many of his paintings, whether it's in the orgies in Night Moves or the woman tentatively walking across a tightrope. There's a real sense of energy in these works.
And the high ceilinged galleries of the Burlington Gardens site are a perfect location for these large canvases, especially when the floors are filled with his elegant painted sculptures of couples fused together in dance. It all evokes an immersive experience.
Look, I know there's nothing intellectual or challenging about his paintings. Jones doesn't seem to be making any kind of social or political commentary in any of his works but there is a space in the art world for approaches such as these. Art can get exhausting when it's just one deliberate provocation after another.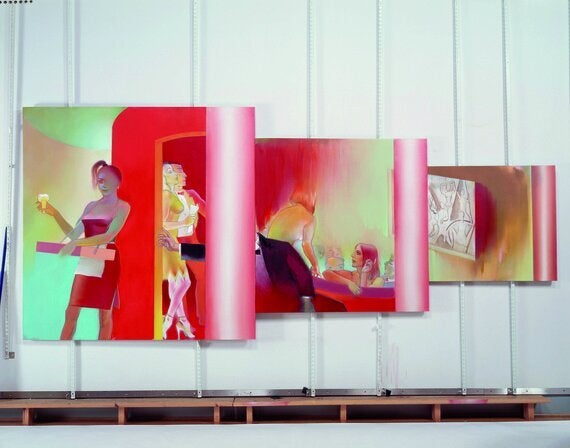 There's something quite admirable in the fact that Allen Jones hasn't ever sought to shirk his Pop Art label. In fact, there is a real sense in this exhibition that he embraced it with the bright colours, contemporary scenes and inclusion of such familiar figures as Kate Moss and Darcey Bussell.
People will come for the controversial sculptures, for sure, but I wouldn't be surprised if they leave loving the paintings. Wouldn't that be a turn up?
Royal Academy of Arts, London to January 25, 2015
Admission: £11.50 (concessions available)
1. Allen Jones RA Chair, 1969 Painted fibreglass, resin, Plexiglas, mixed media and tailor made accessories 78 x 96 x 57 cm Private Collection Image courtesy of the artist © Allen Jones
2. Allen Jones Table, 1969 Painted fibreglass, resin, Plexiglas, mixed media and tailor made accessories 61 x 130 x 76 cm The Gallery Mourmans Image courtesy of the artist © Allen Jones
3. Allen Jones RA Hat Stand, 1969 Mixed media, 191 x 108 x 40 cm Private collection, London Image courtesy the artist /© Allen Jones
4. Allen Jones First Step, 1966 Oil on canvas and laminated shelf, 91.5 x 93x 9.1 cm Image courtesy of the artist © Allen Jones
5. Allen Jones Interval, 2007 Oil on canvas 183 x 183 cm BANBURY, Private Collection Image courtesy the artist © Allen Jones