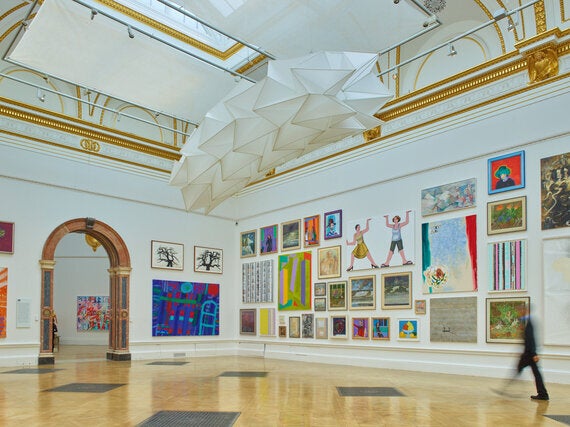 I love the Summer Exhibition. I love its democracy and I love its chaos. This is the exhibition where amateurs get hung alongside the greats, and where galleries swell and overflow with such a wide array of works, from paintings to sculpture, from photography to architectural models, from computer screens to mannequins... It's all here.
The Summer Exhibition is always an intriguing and overwhelming deluge of art, but here's the thing - the shows are not always dense with impressive works. And sometimes the chaos can be such that it's hard to get a handle on the works on display.
Well, that is categorically not the case for 2016 as this year, Richard Wilson, the British sculptor and Royal Academician, has coordinated a truly fantastic and exhilarating show full of dynamic, challenging works of a very high quality, and has overseen a layout that showcase them at their best - in galleries with structure and coherence.
This is one of the finest Summer Exhibitions I've seen in a long time.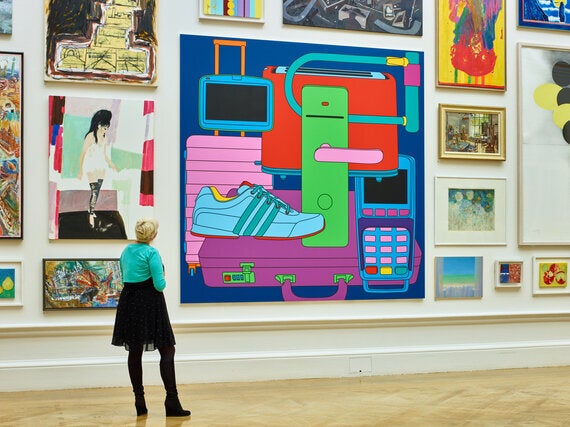 The greats are here, of course. A vast Anselm Kiefer hangs at the far end of Gallery III, alongside a wonderfully bright and uplifting painting of trees from Ilya & Emilia Kabakov. A distinctive Allen Jones figure greets all visitors as they enter into the Central Hall, shadowed by a gloriously bright and in-your-face canvas from EVA & ADELE. Some delicate and beautiful drawings from William Kentridge on printed book pages hang on one of the many walls, there's a couple of prints from the one and only Wolfgang Tillmans, and designs for the proposed Cardiff Bay Opera House from the late Zaha Hadid.
All of the above impress - of course they do. But they don't overshadow the rest of the works on display. And that is the big success of the show - it is dense with quality as well as volume.
Recent Royal Academician Emma Stibbon catches the eye with a number of monochrome works that examine the natural environment. Her works are dramatic and intimate in equal measure. That she captures such emotions with a sparse palette and composition is fascinating and impressive.
The dimmed lighting of Gallery II makes for an interesting contrast with the bright lights and energy of the other rooms, and within its walls is one of the show's highlights. Zatorski + Zatorski have strewn a broken carbonised human skeleton that is as black as night across a low-level white platform. It's haunting stuff, and its title 'Self-Portrait' only ferments that feeling of mortality.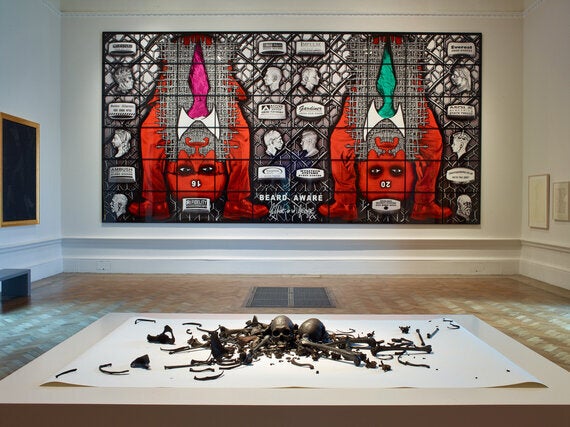 In contrast, the blue wave formed from a myriad of tiny LCD screens that hang from the ceiling in Gallery I takes your breath away. Kutlug Ataman's Portrait of Sakip Sabanci is a constantly changing collection of tiny portraits, photos of people, who were all connected in some way to this Turkish businessman and philanthropist. It's a perfect demonstration of defining a human being by who they share their life with, and whose lives they touch along the way.
And, such is the diversity of works on display, that you can go from this to the delicate works from Aono Fumiaki who has restored everyday items destroyed, washed up and abandoned as a result of the earthquake and tsunami in Japan, items such as a cassette tape, books, and a sake bottle. These are pieces that make a huge impression in a very quiet and understated manner.
There is so much to admire, enjoy and absorb in this brilliant instalment of this annual institution. So much so that I will, unquestionably, be returning for a second visit.
Royal Academy of Arts, London to August 21, 2016.
Admission £13.50 (concessions available)
Image Credits: Installation view of the Summer Exhibition 2016 © Stephen White