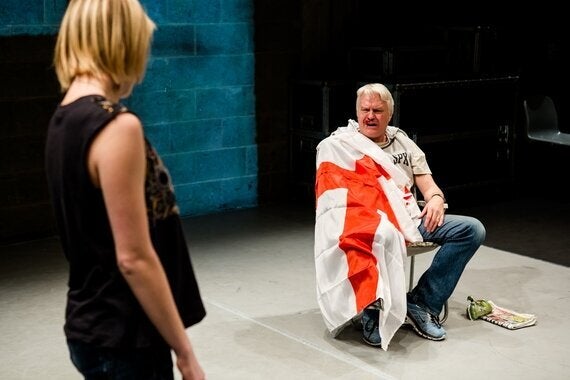 Theatre Uncut was established to encourage debate and galvanise action around political issues. To enable that, they have produced a series of short plays, presented in one show, which are all based on the current political landscape.
The six plays that make up the show at the Young Vic cover issues such as the Occupy movement, banking, tax havens, racism, feminism, coalition governments and immigration. All well worthy subjects for discussion.
However, the challenge with explicitly political theatre is to not let the desire to get the message across overwhelm the theatrical performance. That old maxim 'show, don't tell' has lasted for a reason and there is an awful lot of 'tell' in this production. At times I felt as if I were in a lecture hall rather than a theatre.
The six plays were a mixed bag. Most of them were guilty of not having enough conflict in them, or being one-note productions where the tone of the debate between the main characters never varied or turned. And there were too many clichés.
A political activist mocking scatter cushions and John Lewis is a cliché. A Sun-reading EDL supporter arguing with his University graduate daughter is a cliché. A right-wing white American politician who wants to get rid of all black people is a cliché. Characters should still have depth and contradictions even if they exist solely to make a political point.
However there were two outstanding pieces in this show which, for me, just about made the evening worthwhile.
Recipe (written by Rachel Chavkin) was an extremely sharp and innovative satire of coalition politics, with the politicians reduced to little more than posturing, squabbling children as they battled for supremacy. It was a well-observed piece with a lot of energy which made for a great contrast to some of the more dry, static pieces in the rest of the production.
And Church Forced to Close its Gates After Font Used as Wash Basin (written by Mark Thomas) was a brilliantly written and witty piece on a newspaper editor, one who bore an extremely close comparison to Richard Desmond. He's after a place in the New Year's Honours List but his plans come apart at the seams when he is taken hostage by people unhappy with the aggressive right-wing agenda of his newspaper.
Theatre Uncut is a worthy global initiative. It's important that theatre can be used as a means to spark debate on issues and events in the current political landscape. However you have to be careful about being too forgiving just because it's a good cause. After all, the audience is still being charged to see the show.
There is a lot of promise in Theatre Uncut but it does need to invest in more pieces of high quality if it's to engage its audience in the way it wants.