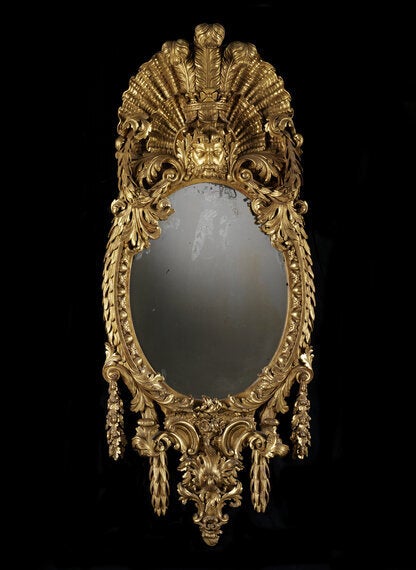 Photo: Mirror attributed to William Kent, probably for the White House, Kew. Carving attributed to John Boson. Gilt pine, mirror glass (1733-34) © Victoria and Albert Museum, London
In this tercentenary of the Hanoverian accession to the throne, the V&A has brought together an extraordinary body of work to celebrate that era's most influential designer and architect - William Kent. Kent is not a man that is spoken about widely but his influence continues to be profound. This fascinating and evocative exhibition goes a long way to redressing that imbalance.
Queen Anne died in 1714, leaving no obvious heir, and the search for a specifically Protestant heir proved unsuccessful so the monarchy turned to distant relatives from the Principality of Hanover (the eventual George I was the 49th in line to the throne at the time he was made King).
As George I took to the throne, there was a general desire to have a fresh start for Britain with new ideas. Kent fit the bill perfectly and his style has left its mark to this very day.
William Kent was, by any standard, a polymath. Painter, sculptor, architect, interior decorator, furniture designer, illustrator, costume and theatre designer, landscape designer... The range of Kent's talents was amazing and the exhibition shows just how much he excelled at each.
It's a reflection of how well this exhibition is curated that it doesn't throw all these talents at you, overwhelming you. Instead worlds, spheres showcasing these achievements are created - homes, urban design, gardens - and the exhibition creates a path that leads you through each in turn.
The interior design section showcases Kent's revolutionary design, drawn heavily from Italian Baroque art. The richly gilded chairs upholstered in jewel-coloured velvets, ornately marbled tables, heavily carved mahogany wood... It's a style that's eye-wateringly bling-tastic by today's standards but palatial homes and country estates demand statement furniture and large-scale interior design - and Kent knew how to supply that.
The Kentian style was adopted by many of the most powerful patrons of Georgian Britain who, in turn, secured Kent important Royal commissions, bringing him to public attention.
One section of the exhibition is devoted to Kent's designs for the new Royal Family including the Prince of Wales's Royal Barge (1732), Queen Caroline's Library at St James' Palace (1736-37) and the Hermitage in Richmond Gardens (1730-31).
After the interior design, the exhibition weaves its way into urban design examining Kent's projects for the redesign of Georgian London. On display are architectural renderings and elevations for the facade of Horse Guards (1753) which show Kent's lasting impact on the appearance of London today.
Other architectural projects were never realised including the proposals he submitted for a new House of Parliament (1733-40) and interiors for the House of Lords at Westminster (1735-36), designs for which are on display.
The personal highlight for me was the section on gardens at the close of the exhibition.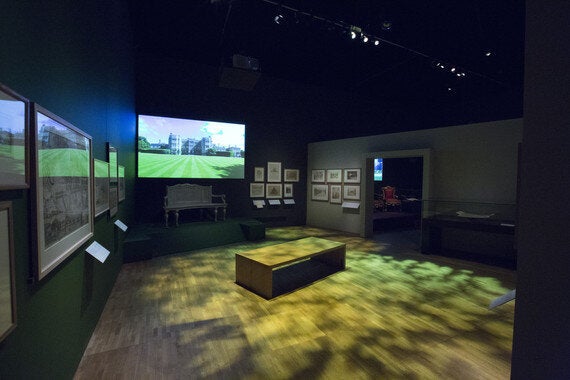 Photo: Installation image of William Kent: Designing Georgian Britain (c) Victoria and Albert Museum, London
It's so important for museums and galleries to engage as wide a demographic as possible for their shows and to do that, innovative methods have to be employed. With the Science Museum, the V&A has been at the forefront in utilising talents from other areas of the creative arts and this innovative approach pays dividends here.
Using lighting design talents from theatre as well innovative sound, an evocative representation of English gardens has been created. With birdsong coming through the speakers and dark mossy green walls, stills of Kent's landscaping from across England's country estates such as Stowe and Holkham Hall are projected on to the walls as the effect of sunlight filtering through leafy branches illuminates the room.
Garden seats dotted around, visitors can sit down and transport themselves to the beautifully landscaped lawns dotted with temples, obelisk, man-made lakes and woodland paths - all worlds away from the chaos and urban landscape of modern London.
It also gives the opportunity to display how much Kent embraced the poetic idealism of the English countryside. A versatile man in terms of influence as well as talents, Kent's landscapes were not drawn from overseas but instead looked to show England at its very best.
Victoria and Albert Museum, London
Related