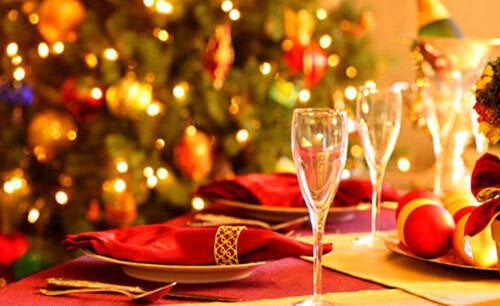 Image Credit: yourhealthtube.com
You are excited about the holiday season, but you are worried about the extra pounds that come with it... So, in this article, we will offer you some great tips that can help you avoid holiday weight gain and enjoy the feast!
Eating your favorite foods for the holiday season may widen your waistline, though, they do not have to spell dietary disaster. Actually, some of your guilt-ridden pleasures can be good for you.
About Holiday Weight Gain
At this time of year, you can hardly escape hearing that people gain around 5 pounds from the continual celebrating.
And that's true. Many people pack on that much, or more, with celebration foods. Though, the weight increase is actually lesser for the rest of us.
That is the assumption from a New England Journal of Medicine research, which found most individuals gained 1 pounds between Thanksgiving and New Year's Day.
However, that is no reason to consume food with wild abandon during the Christmas holidays.
According to Pat Vasconcellos, a Massachusetts-based spokesperson for The American Dietetic Association, putting on 1-2 pounds each year makes a big difference when you never get around to losing them.
In a decade's time, the effects of nipping a few cookies here and there could easily add ten pounds to your frame.
According to Janice Bissex, MS, RD, co-author of The Moms' Guide to Meal Makeovers, the trick is to reduce the damage from holiday foods and have fun at the same time.
Tips to Avoid Holiday Weight Gain
Consuming regular meals and snacks each day make it quite easy to resist overdoing it at joyful events. When you occasionally hold back on meals because you are busy baking, wrapping, and shopping, nosh on a protein-packed snack, such as reduced-fat cheese or low-fat yogurt, to blunt the starvation before gathering with family and friends.
At gatherings, pile your dish with lower-fat foods in order to limit high-calorie splurges. Below, you can find some top picks that have fewer calories, sodium, and fat and more fibre than another holiday fare:
• Lobster, shrimp, and other steamed seafood;
• Whole grains, such as quinoa, wild rice, and whole-wheat rolls;
• Plain or lightly dressed vegetables;
• Poultry and meat without the gravy;
• Lightly dressed salad greens, and
• Nuts (chestnuts, hazelnuts, almonds)
Do Not Let Holiday Foods Get the Best of You!
Curb calories from the "naughty foods" by taking petite portions. The first few bites of any food offer the most pleasure. Hence, once you have finished the treat, fight your urge for more.
• Sit far from cookie-laden platters, candy dishes, and buffet tables.
• When done eating simply excuses you from the dinner table.
• Keep your mouth busy by taking with family and friends - sounds funny but is so helpful, you'll see.
• Suck on a sugarless breath mint or chew gum to prevent picking.
• Brush your teeth, if you're able; the toothpaste taste dulls taste buds.
Try Making Holiday Foods Healthier
Food preparation methods that reduce calories, sodium, and fat - like slow cooking - go a long way to keeping you full and healthy during the Christmas holidays.
Lighten up your preferred holiday foods and make new recipes with these tips:
1. Roast vegetables, such as squash, green beans, carrots, and sweet potatoes to bring out their own natural aroma.
2. Mash white potatoes with low-sodium and chicken broth (which is fat-free) instead of salt, butter, and milk.
3. Prepare favorite dips with fat-free yogurt or sour cream.
4. Mash cooked sweet potatoes with orange juice instead of butter.
5. When making gravy - use a gravy separator in order to skim the fat.
6. Prepare a fruit crisp rather than pie.
7. Make a cheese sauce (low-fat) for casseroles.
8. Replace heart-healthy canola oil for margarine and butter and margarine.
9. Instead of saltier or fattier meats - consider lean pork tenderloin for holiday meals.
10. Use fat-free or part-skim cheeses to prepare dishes such as lasagne or cheesecake.
11. Prepare only one striking dessert and offer fruit, like chocolate-dipped whole strawberries, rather than candy and cookies.
12. Instead of full-fat milk - make bread pudding with fat-free eggnog for some extra flavour; add dried fruit or raisins for more fibre.
13. Prepare a black bean dip flavoured with cilantro and lime juice instead of salt.
14. For a festive appetiser, combine equal amounts of low-fat cottage cheese and fat-free salsa; serve with cut-up vegetables or homemade whole-wheat pita chips.
15. Let your visitors nibble on homemade trail mixture made with whole-grain cereal, dried cranberries, and dry roasted peanuts, instead of fatty chips or some other high-fat appetiser.
The holidays are a wonderful opportunity to enjoy time with friends and family, to be grateful, celebrate life, and reflect on what is really important. They are also a perfect time to appreciate the gift of well-being.
Research submits that the average American gains around 1 pound during the winter holidays. This is much less than the 5-8 pounds commonly supposed.
Unluckily, scientists at the National Institutes of Health report that most individuals never lose that extra pound of weight, thus, it accumulates year after year. Furthermore, later in life, the extra weight might be the main contributor to obesity and the ailments associated with it.
Try to prepare healthier food, eat responsibly, and avoid holiday weight gain. Support your friends and family, as well. Encourage them to eat healthy during holidays and throughout the year.
http://www.webmd.com/food-recipes/features/naughty-nice-holiday-foods#1
http://www.cdc.gov/features/HealthyResolutions/
http://www.clemson.edu/extension/hgic/food/nutrition/nutrition/dietary_guide/hgic4092.html