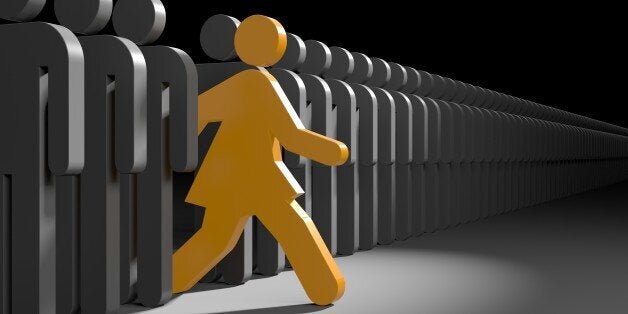 It is impossible to overstate the importance of involving female voices when discussing radicalisation and terrorism. It is shameful that this should need to be restated, yet so many debates on these issues involve patriarchal, unelected community leaders while those women who do become involved can be disparaged and vilified.
The UK strategy to stop people from becoming terrorists or supporting terrorism is called Prevent and the role of women in the prevention of terrorism is not a luxury, but a necessity. To overlook their counsel is to ignore over half of the population and Muslim women should be at the forefront of these discussions.
Only the disingenuous can ignore the uncomfortable truth that the world's largest terrorist organisation is targeting Muslim communities for its new recruits, tapping into a complex schism of conflicted identities, social dissatisfaction and (in many cases) theological illiteracy. Furthermore, when we tackle far-right extremism we must recognise that most anti-Muslim bigotry is directed at women who, for many far-right militants, represent the most visible and vulnerable expression of Islam.
Recent research demonstrated that women are often 'first responders' to the possibilities of radicalisation within their communities. In families, schools, workplaces, community groups and religious centres, women play an important role in preventing and countering both the spread and persuasion of extremist ideologies. It also found that the marginalisation of women from social and political life allows those views to spread more readily.
There is a well-worn cliché that Muslim women are a hard-to-reach community, but for too many years I sat in community meetings surrounded by men explaining how radicalisation should be tackled. Women were invited to take the minutes, or not invited at all. When the two dominant ideologies of violent Islamism and far-right extremism display such vile and violent misogyny towards women, it is simply not good enough for us to dismiss those women as 'hard to reach' or to allow such sexism to persist.
The Prevent strategy is too important and too sensitive to be delivered with a top-down approach, which is why for the past six years we have consistently encouraged civil society groups to tackle the social harms of extremism and radicalisation and successfully refocused Prevent to be locally-driven by grass-roots community projects. While the UK is seen as a world leader in preventing violent extremism, across the globe there are female-led initiatives to tackle radicalisation and challenge extremism.
Projects such as FAST in the UK specifically reach out to mothers to highlight the real impact of radicalisation on devastated families. The heartbreaking French film Your Mother by Sisters Against Violent Extremism directly confronts the misogyny of terrorists. Women for Peace is another groundbreaking project by the Peace Foundation in Warrington and Families for Life is a West Midlands initiative run by a parent who has twice lost her son to Isis, first when he was radicalised and again when he was tragically killed in Syria.
Sadly, and inevitably, there are risks to empowering female voices.
STRIVE, a Leicester women's group that has tackled domestic violence and forced marriage, found themselves vilified for daring to tackle radicalisation. An increasingly desperate and petulant anti-Prevent lobby accused them of exploiting female Islamic scholars and, perhaps most dangerously, of trying to reform Islam. This chilling campaign was orchestrated by a group that claims to advocate for human rights, yet wilfully disregarded the consequences for these two young women and the harm to them that might be caused by such sinister accusations.
Verbal attacks and smear campaigns are commonplace for women who have spoken out against extremism. The relentless abuse received by Sara Khan, the director of Inspire, makes for the most uncomfortable reading. Protecting Muslim women from such attacks is a Sisyphean task and we must hope they are not bullied into silence by their cowardly critics who, unsurprisingly, are the first to sulk when criticism is directed at them.
In the wake of an Islamist terrorist attack, we must also swiftly acknowledge there will be a backlash against our Muslim communities, with women deplorably taking the brunt. This does not diminish our concern for the victims of an attack, but is recognition that these attacks have wider repercussions in society.
Hate crime is woefully underreported and unless we understand where racially and religiously-motivated hate crime is concentrated, we cannot truly understand the extent of the extreme far-right problem in the UK. Local reporting mechanisms must be robust, trusted and visible and they must be accessible for women so they have the confidence to come forward and not fall into the trap of normalising the abuse.
Meaningful engagement with Muslim women's groups is essential and must involve a wide range of voices, but it must tackle a broad array of issues. Radicalisation is one of the most urgent and complex areas of safeguarding but communities are affected by an array of concerns, not just extremism, and these must be recognised in such forums.
Parity between the sexes remains one of the most vital challenges of our society and one which has the power to resolve so many inequalities and social harms. Tackling extremism is yet one more area where this holds true, as it becomes increasingly clear that the push for - and protection of - gender equality is arguably the most significant counter-narrative to extremist ideology.