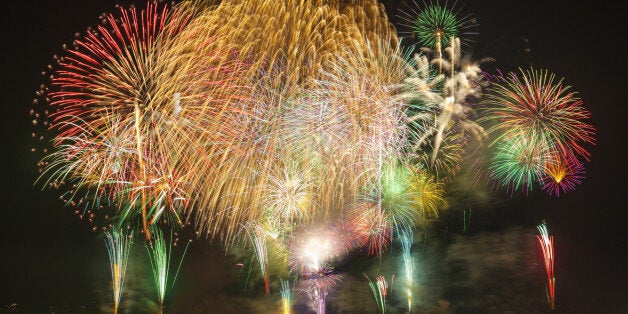 For the first time, this year London will be charging spectators to see its New Year's Eve fireworks. In the following I'll look at what the £10 a head will be spent on and how other New Year's Eve celebrations around the world compare.
For most attendees, New Year's Eve is about fireworks and simply being there as the clock strikes midnight. New Year's Eve is about a moment, or a few moments at best. Stretching this moment out across a whole evening can be tricky.
VERDICT: The London Eye is an iconic backdrop with the city's heritage and Big Ben close by. There are relatively few points from which you can see the fireworks live, given the location of the wheel and architecture around it. The cost of the displays is huge, with fireworks making up only two or three per cent of the overall budget, so it's understandable that London has decided to charge £10 to stand in the prime viewpoints. The tickets will help fund the cost of staging the event, reducing the burden on the public purse, and control the crowd numbers. The event should be more financially stable and more comfortable for those attending this year. London's New Year celebration is more of a statement than Sydney's theatrical and thematic approach and is still in its infancy with the London Eye only incorporated a few years ago. I expect and hope there's plenty more innovation to come in future.
ATTENDEES: 100,000 tickets (500,000 spectators last year)
SPECTACLE: Music accompanying fireworks display in iconic Southbank setting
VERDICT: These celebrations are helped by one of the world's most iconic and impressive backdrops: Sydney Harbour, with its bridge and opera house. It's viewable from miles around and is impactful and dramatic from any vantage, in essence a ready-made theatre. Sydney now creates a different theme each year, which is a powerful tool to accompany the entertainment, create greater broadcast opportunities and ultimately promote the city and Australia to new audiences. It's one of the country's greatest and most watched adverts.
SPECTACLE: Air displays over Sydney Harbour, fire tug water display, harbor of light parade (illuminated flotilla glides across the waters)
VERDICT: The beautiful setting shows off Edinburgh castle and its firework display. The Hogmanay Street Party struggled last year to attract the numbers of previous celebrations. This is perhaps because people prefer celebrating in the pubs and bars in the city rather than bracing the Scottish weather and standing in a street waiting to see the fireworks. There is opportunity to innovate and find new ways of bringing the city's rich cultural heritage to life, though the street party has a long history and moving away from this or changing it to a new model would be a brave step. Until the economics of the street party become unsustainable, I imagine this will stay the basis for Edinburgh's New Year's Eve.
ATTENDEES: Thousands of unsold tickets last year. 80,000 capacity
SPECTACLE: Live bands, fireworks in front of Edinburgh castle
VERDICT: I can't confess to really understanding the iconic ball drop, though I do admire the audacity of its invention just after the turn of the century. Watching a large ball drop and being showered in confetti in Times Square at midnight has become an iconic moment people want to take part in. I suspect this idea would struggle to gain any interest at all if invented now, but I guess that's beside the point. Would I queue up from 3pm to gain a prime viewing spot? Probably not. New York has some amazing monuments and architecture. I can't help but feel New Year's Eve in New York could be so much more. Tradition though is a tough thing to challenge.
SPECTACLE: Iconic ball drop in Times Square. 'Imagine' by John Lennon performed by a special guest immediately beforehand
VERDICT: Brazil perhaps leads the world in knowing how to throw a party and create a festival. Brazilians don't need an excuse to celebrate, so when New Year's Eve comes around, the atmosphere on Copacabana Beach is epic. The event almost doesn't need to be planned as the beach is a natural meeting point. The addition of some fireworks and music just serve as a reminder that midnight is approaching. If you like a party, beaches, friendly people and a warm climate, Copacabana Beach is unbeatable.
SPECTACLE: 20-minute fireworks spectacle. Live Brazilian and Rock 'n' Roll music. People toss flowers into the sea. Digital light show from giant Ferris wheel.
Plenty of other cities stage light, firework and similar displays on New Year's Eve but many still don't. This is a missed opportunity with such a high number of people in cities looking for some way to celebrate. Millions around the world watch celebrations on TV, in print and online so the promotional power for a city on New Year's Eve is immense. In future, I hope to see more countries making the most of this opportunity for publically showcasing their attributes by developing interesting and innovative ideas across more locations.