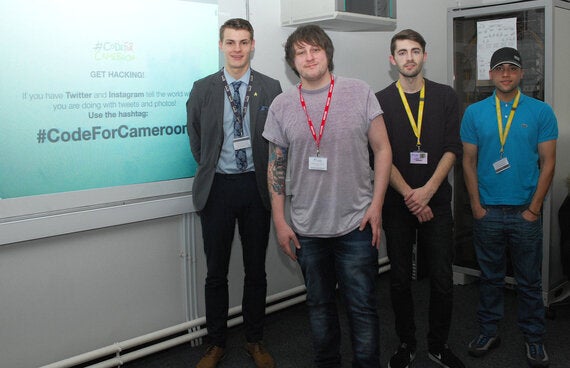 A couple of weeks ago I was invited to take part in #CodeForCameroon, an event for young coders, bloggers and civic activists, who came together to create a blogging platform for young people in Cameroon. This was an opportunity I could not refuse to take because it aligned with my beliefs and ambitions, but it also signals the transitional change that I feel we are currently going through in this period of history.
I personally feel the more we can begin to understand each other, the more information we know about other people's suffering, the more we can recognise corruption elsewhere; the sooner we can get on with participating in situations not just happening in our own country but the whole planet that we share, this is what #CodeForCameroon represented to me.
I am a person that is used to mind numbing jobs that hold no real purpose to me, I'm sure everyone can relate to that and this was my first experience of being in a workplace type situation where I felt at home, there was an air of excitement about the place that we were doing something that mattered, not just to ourselves but to other people as well.
We had just three hours to complete the platform, the room was packed with young people from Social Breakfast, Dudley College, The Peter Jones Enterprise and the community, who had no experience of any project such as this and yet it felt like everyone took to their roles with the ease of a giraffe keeping lookout for a band of criminal pandas. For me it was the easiest days' work I've ever done and it was a nice feeling to be around a bunch of people trying to make a positive change in the world.
Cameroon is a country shrouded with speculation and corruption, they have only ever had one political party in charge, a party that up until 1990 had no opposition so it's easy to see how important it is that their citizens are given a voice. #CodeForCameroon represents an opportunity for people to express how they feel living under such a regime, it represents an opportunity to open dialogue around civic issues over there and an opportunity to make the decision makers accountable, it represents change.
I really feel it is paramount that as a society, we do not let ourselves get distracted from what's important by irrelevant people talking about subjects they can't comprehend and what is important should surely be our species, the planet we live on, finding the best way of life possible for the majority of us; the more we attempt to understand each other's issues, the easier it will be to create a positive change in this world and please don't try to tell me it doesn't need changing, that argument holds no validity when we allow a mad figure like Katie Hopkins such attention talking about a serious and complex issue such as depression after what was an awful event, it's clear that something is not right.
Related