On the Friday before the London Marathon, two of the capital's great eastern structures became the focus of the British running scene. The ExCel, designated for another year to host the Expo, matched by a new venue to the sport, indigo at The O2. Normally the domain of musicians, indigo was prepared, rigged up to the ceiling with a world-class sound system to subwoof the industry through the 2015 Running Awards.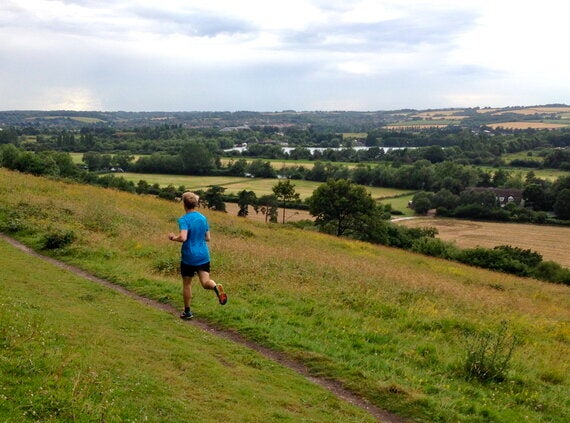 The gathering represented the best from the UK's running industry, a league of companies that happen to be the nation's favourite brands in the sport. To break up the sometimes obscure categories for actual running equipment, there are awards for the best blog, retailers, book and magazine. In gear, favourite running apparel is set aside from compression, while your nutrition brands are kept apart from sports drinks. Event categories are even more complex, broken down by distance and complexity, distinguishing between competitive and fun runs.
It's this crowd that journalist and author Richard Askwith doesn't much agree with. In his latest book, Running Free, Askwith rejects the lure of Big Running, the development of an industry that has successfully commercialised humankind's most natural sport. Instead the writer and regular runner opts for a slower, more considered version of the sport and its inherent beauty. Askwith's experiences slogging along routes between Northamptonshire and Languedoc-Roussillon as a young parent first informed him of a new enthusiasm for texture, terrain and the magical pleasure in getting lost.
According to Askwith, any effort to commercialise the sport of running detracts from its core importance in our genealogy. He criticises sponsors of the London Olympics who benefit after the event when inspired spectators head to their nearest store and fork out £500 for their first running outfit.
As liberating as it is to think of a pre-commercial era of running, it's hard to envisage how any gear companies would reach and activate consumers if they weren't to frame running as an alternative pastime to other lifestyles, those sectors that already employ consumerist tactics. And indeed, there's no absolute need to be a 'Big Runner', purchasing gear is ultimately a matter of personal choice, even if Askwith believes in a cult-like drive of consumer products.
The point of entry is key when thinking about a new 'user', or runners that need reintroducing to the sport if they're forgotten their childhood fascination with self-propelled speed. By providing safe zones for exploration, running stores and brands can serve as touchpoints for new runners, either those who have lost a sense of what it meant to run for fun or indeed those that were never privileged with running during their formative years.
Present at the event was Paul Sinton-Hewitt CBE, founder of parkrun. Established in 2004, parkrun has become one of the most popular running events, quite literally of all time. Five-kilometer running routes have become the hallmark distance, snippets of terrain that are marked and marshalled in hundreds of venues each Saturday morning around the UK. Perhaps what's most remarkable then is that parkrun don't charge an entry fee, and they rely entirely on voluntary support save a small internal team to run day-to-day operations. Instead, parkrun derive revenue from their audience through an affiliate store and partnerships with running brands.
The concept has grown steadily over the last ten years, now accounting for a truly nationwide body of 40,000 weekly runners. As well as being free, events don't demand entrants obey any swift race pace - Askwith would be happy with this. At most events, a handful of parkrunners will actually walk. Rather members of the parkrun community add weight to the value of public spaces which have have been rejuvenated by pulsating energy at least once a week, for 10 years.
Likewise, the winner of the best blog is hardly your mainstream literature for keen Big Runners - it's called 'The Fat Girls' Guide to Running.' Another unlikely running caricature is shaped in the Southport Mad Dog Seaside 10K, which took home the best 10K award (race entrants are the Mad Dogs, and their offspring are Crazy Pups).
Surely, even for Askwith, a commercial element to activating an otherwise neglected athlete can be excused? For as the writer highlights, even our most natural actions are not immune from consumerism. Even Big Defecation, Askwith's hypothetical extension of the bottling of human spontaneity, is wrapped in consumer trophies modelled by golden labradors, perhaps excusing the occasional luxuries purchased by runners.