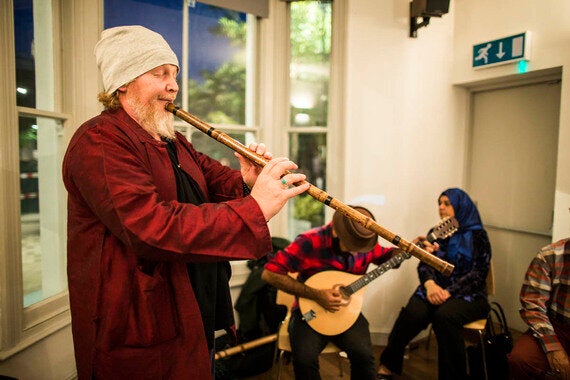 Baked aubergines with Welsh rarebit glaze, wild nettle sharbat and Indian raags on a steel stringed guitar... Whilst seeking out original grassroots initiatives I found BARBEDOUN*, one of the most amazing creative collectives I have come across in London. Last Sunday I attended their supper club launch event: "The Food of Life: an Egyptian Odyssey," inviting to a culinary and musical travel through the story of life on earth inspired by Egyptian cuisine. I was not disappointed.
This pop-up bar based around alcohol-free alchemy influenced by the British Temperance movement and "engineered by a creative diasporic collective" serves more than just food, drinks and music. It is an integral concept. "Bedoun" is a term common to Arabic and Persian languages, meaning "without," "lacking," "stateless," "nomadic." From there comes the word "Bedouin," as per the nomadic societies living in the deserts. It connotes the absence of clear boundaries, of infinite flexibility, and the warmth of conviviality.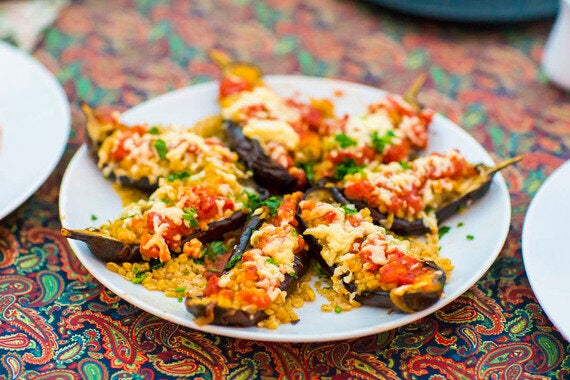 Baked aubergines with Welsh rarebit glaze
I had the chance to talk with the founder Abbas Zahedi, an artist and performance poet to hear more about this "alternative, nomadic approach to cuisine and culture." Abbas descends from a line of traditional Persian drinks makers and was inspired by his recent experience of managing events at Rumi's Cave, a vivid community hub in Kilburn. He wanted to develop a collective space "committed to sustainable arts and cultural projects in the U.K." Being myself a combination of trans-cultural and trans-national identities, cultures and heritages, I could immediately relate to the concept.
Looking back at my life, I realised how travel has shaped my personality and taught me to be the person I am today. I travelled geographically, culturally and spiritually: at different times, I lived in different places, I embraced different spiritualities and different cultures through my family, relationships and friendships. I am a diasporic individual. Diaspora comes from the Greek διασπορα ́ and means dispersion. My heritage and my identities are dispersed in various locations in time and space. Being a migrant worker in London, born in France from Polish Catholic parents and having embraced Islam, I am a stranger in my own country and even in my own family. I realised that there is no place I can legitimately call home... except with the people with whom I share love and friendship.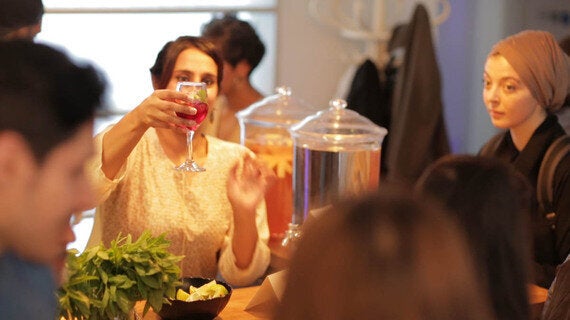 "Hibito: an Egyptian ode to the Mojito. Hibiscus Sharbat, mint, lime and soda water."
Many cling to the idea of a fixed identity. In the hyper-diverse metropolis of Paris and London, one can observe that identity is anything but a monolithic concept, but rather a matrix in constant change. Whether one came to London from Somalia, Paris, Milan or Liverpool, one experiences the diaspora. The BARBEDOUN experience designs, mixes and experiments with sonorities, drinks and foods like culture, tradition and spirituality; overlapping and growing with each other, and from each other.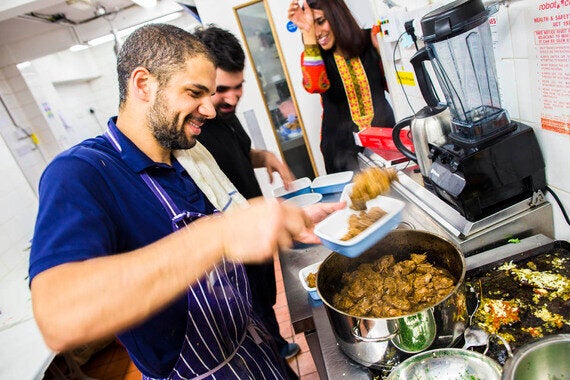 Ahmed is a chef classically trained in French cuisine and patisserie at Westminster Kingsway college whose inspiration stems from the fresh traditional flavours of the Middle-East, Mediterranean and Levant regions.
Being a platform for visual, musical and culinary arts, this nomadic bar sees itself in the long term providing a space for young talented and inspiring voices from the grassroots to share and develop ideas for positive change in a modern society partly overtaken by consumerism, individualism, the culture of superficiality, appearances and ego. Setting up such a colourful idea in an adverse climate against minorities can be challenging. According to Abbas Zahedi,
"I just wanted to create a positive space where our identities are not represented in terms of discrimination rhetoric and policy-driven narratives. Rather I just wanted a social environment that extended the idea of drinking culture towards what is normal for people like me who don't drink for cultural reasons but love to socialise in a contemporary setting."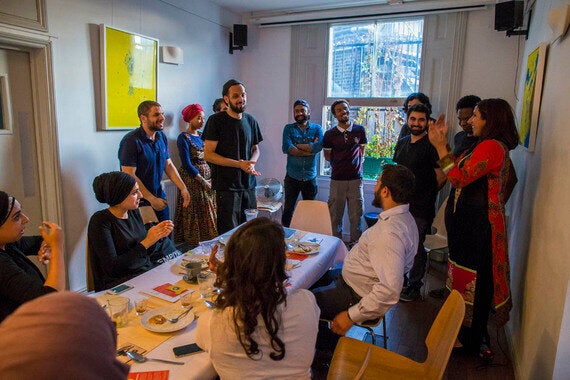 BARBEDOUN gathers independent minds who embody a society where cultures, traditions and heritages are not marginalised but dignified. In a world which runs after mottos of success, performance and results, this nomadic tribe is a polymorphous space of resistance and alternatives. Whereas modern times sacrifice identities and emotions for the sake of rationalisation and quantification, BARBEDOUN chose to celebrate the non-numerable virtues of friendship, hospitality, faith and love. Currently planning to set up regular events at St Ethelburga's Centre for Reconciliation and Peace, I have no doubt this promising initiative will show a way towards a more harmonious, plural, society.
*Name is all in capitals.