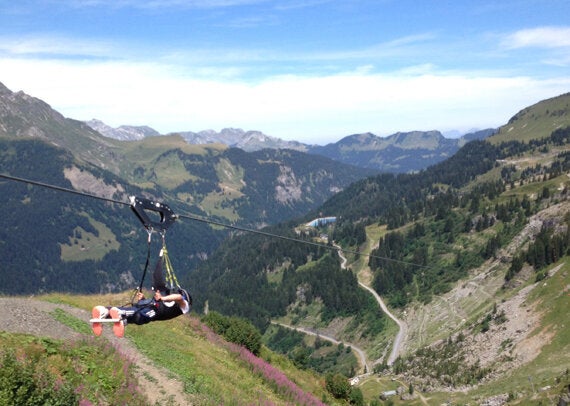 Fantasticable ©William Gray
"Au revoir, enjoy your flight." Suspended on a 1200m-long zip wire strung across a high valley in the French Alps, I could barely mumble a reply before gravity took control. Lying face down in a full body harness, my life in the clutches of a few karabiners, I took flight across the abyss.
Fantasticable is the nearest you'll get to being Superman. Reaching speeds approaching 100kph, and suspended 240m above ground in places, the two-stage zip wire sends you on a cheek-pummelling, breath-snatching ride over forests, cliffs and valleys...
Being a responsible parent I sent my 14-year-old son, Joe, down first. I caught up with him at the bottom, alive and flushed with excitement. Along with his twin sister, he'd been on an adrenaline high ever since we'd arrived in Morzine.
If you're after a relaxing holiday with the kids look elsewhere. Switching effortlessly from winter ski Mecca, Morzine buzzes with activities all summer. The town is swarming with mud-spattered mountain bikers, padded up like Robocop as they hurtle down trails.
During our week's holiday, we'd booked mountain bikes for the final three days, leaving time not only to gird our loins for joining the downhill crowd, but also to burn adrenaline on Morzine's plethora of other outdoor pursuits.
First up: whitewater rafting. A half-day taster session was included in our holiday with Alpine Elements - more than enough for getting the heart pumping as we descended the River Dranse, skewing through shallow rapids and bouncing off boulders.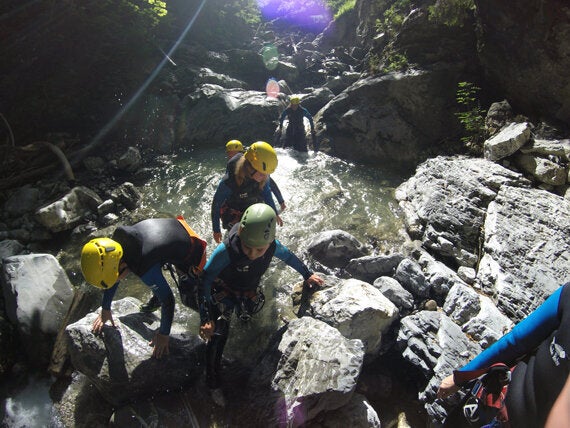 Canyoning, the following day, was an altogether wetter, wilder experience. Our guide, Frank, met us on the outskirts of Morzine and kitted us out in wetsuits, helmets and harnesses before cajoling us onto a footbridge spanning a narrow defile. Halfway across he stopped and began unraveling a rope. I couldn't remember reading anything in the small print about abseiling 40m off a bridge, but Frank's philosophy was plain and simple: don't hesitate.
Soon I was roped up and suspended in mid-air as the no-nonsense Frenchman belayed me into the gorge. I landed in a shallow, fast-flowing stream surrounded by water-smoothed boulders. The canyon sides were choked with ferns and crosshatched with fallen tree trunks. I felt like I'd parachuted into a lost world: mystical, untouched and slightly unnerving.
Once everyone had descended into the canyon, we headed downstream - a romp of otters, cavorting through rapids, sliding down water chutes, leaping off cascades and abseiling down larger waterfalls.
After the exhilaration of canyoning, our afternoon spent kayaking and stand-up paddleboarding on the placid waters of Lake Montriond seemed to pass in slow motion. We upped adrenaline levels again with a few runs on the summer luge - a concrete bobsleigh on the slopes of Le Pléney above Morzine. And just when I thought I might sneak a few hours relaxing at the resort's swimming pool, someone suggested we should play tennis and go ice skating.
Caving, tandem paragliding, horse riding, rock climbing and via ferrata (traversing a rock face using fixed cables and ladders) would have to wait for another visit. But going to Morzine and not mountain biking would be like heading to Newquay without a surfboard - you'd miss its raison d'être.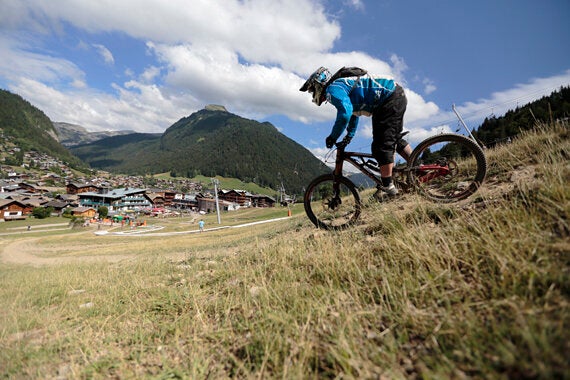 Mountain biking above Morzine ©William Gray
Morzine lies at the heart of the Portes du Soleil - the world's largest MTB area, stretching from Mont Blanc to Lac Léman, with 24 lifts linking a dozen villages and providing access to 650km of biking trails.
Like skiing, MTB trails are graded green, blue, red and black. If you want to tackle anything harder than a blue (and some of these are challenging), you should seriously consider upgrading to a full-suspension bike and wearing body armour. On any run, you'd be wise to wear elbow and knee pads.
On our first ride, we stuck to the valley floor, a level riverside cycle that meandered through shady woodland. As our confidence grew, we looked to higher ground. Taking our bikes on the gondola up Le Pléney, we braved The Blue Family trail, a mixture of forest rollercoaster and broad traverses.
We also took the Super Morzine and Zore lifts - glimpsing Mt Blanc - before pedaling to Les Lindarets where tame, handfed goats clogged the streets and tested our steering skills. Pausing for crêpes drenched in lemon and sugar, I contemplated an afternoon sprawled in a sunny alpine meadow. But Joe already had the map out and was moments away from discovering that the Fantasticable zipwire was just a chairlift ride away...
FACT BOX: One week halfboard at Hotel Ridge in Morzine costs from £517 per person (12+), including return flights to Geneva, transfers, three days mountain bike hire, free kids club, whitewater rafting and multipass for lifts, buses, swimming, ice skating and tennis. Contact Alpine Elements (0203 642 5228).