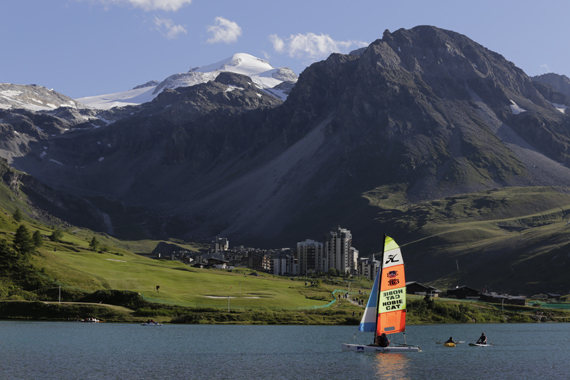 Summer watersports at Tignes-le-Lac ©William Gray
Anyone familiar with Wii Sports Resort will instantly feel at home in Tignes. The French alpine resort could almost have been the inspiration for the video game where just about every sport and leisure activity is available in one purpose-built, picture-perfect resort. Better known as a winter ski mecca, Tignes lured us during the height of summer when rental shops shun skis in favour of mountain bikes and the lake, unfrozen and glittering in warm August sunshine, is swarming with kayaks and pedaloes.
Don't expect cutesy alpine lodges dripping geraniums from wooden balconies - the modern buildings of Val Claret (highest of the five Tignes villages at an altitude of 2,100m) rise like a cluster of giant quartz crystals below La Grand Motte.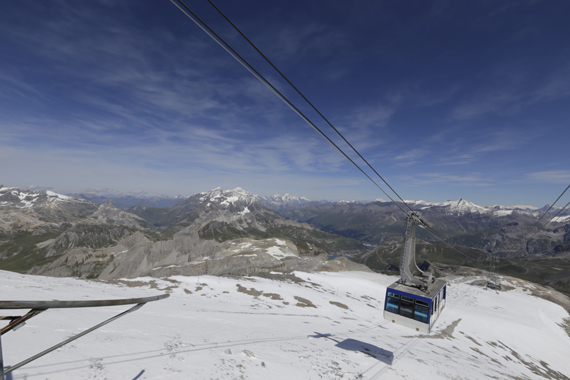 Alpine panorama from La Grande Motte ©William Gray
One of the best panoramic views anywhere in the Alps can be seen from near the summit of this glacier-clad peak. A combination of funicular railway and cablecar from Val Claret whisks you to 3,456m. Stepping outside, the crunch of deep summer snow underfoot is rapidly trumped by the head-spinning views - Mt Blanc, Grand Paradis and other alpine giants dominating the sawtooth panorama.
The sun deck at the funicular station will no doubt waylay you with hot chocolates and crepes, but on a short break you need to keep moving to make the most of the activities on offer at Tignes. The main 'action station' is Tignes-le-Lac, crowding the southern shore of the turquoise alpine lake with apartments, lift stations, shops and restaurants. Stroll around the lake and you will see everything from anglers fly-fishing for trout to stunt riders catching air in the bike park. Wetsuit-clad thrill seekers bounce off giant inflatable pillows into the freezing water, or paddle sit-on kayaks, pedaloes and paddleboards. For ball sports enthusiasts there's football, volleyball, basketball, petanque, tennis and golf. Mountain biking, paragliding, archery, rifle shooting, trampolining, swimming... the list is almost endless and, of course, it also includes glacier skiing on La Grand Motte from late June to early August.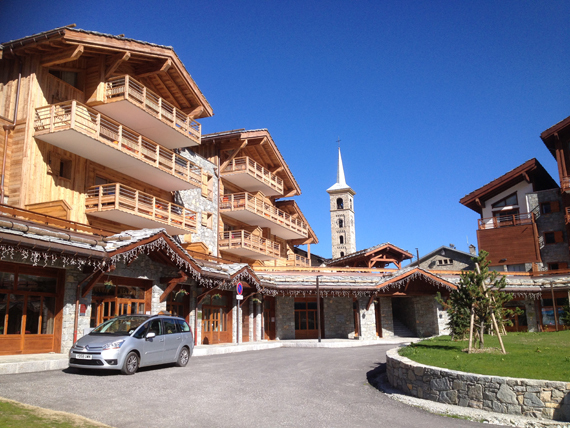 Kalinda Village apartments ©William Gray
Book a stay of at least one night in Tignes and you are entitled to a free Sportignes card, which allows you to try over 20 activities for no charge. We stayed in one of the new self-catering apartments at Kalinda Village in Tignes 1800 Les Boisses. Smartly furnished, with mountain views filling floor-to-ceiling windows in the well-equipped kitchen/living area, the apartment is part of a stylish complex that includes a luxurious indoor pool and spa, two restaurants, a bakery and mini-market. The eight-seater Boisses Telecabine lift is nearby and there are also regular, free shuttles to and from Tignes Le Lac, a five-minute drive up the valley.
If you've got kids, a summer holiday in Tignes is a golden ticket to non-stop action and thrills. And if you're visiting sans enfants you'll find no shortage of sophisticated restaurants and more adult-focussed activities, such as the superb 18-hole golf course. Just be warned: if you fall for Tignes in the summer, you'll no doubt start wondering what it's like in winter. It's the kind of place you could easily become addicted to.