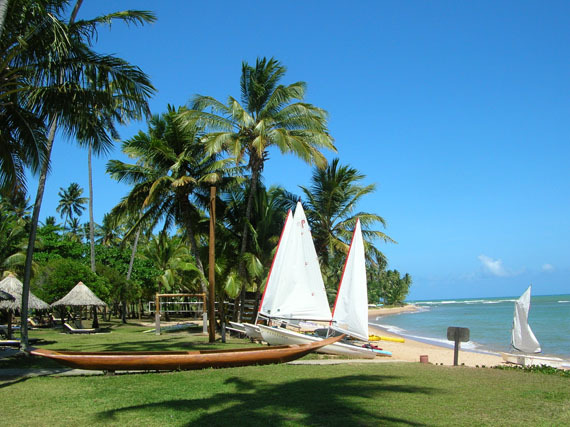 Photo: Bahia Coast of Brazil ©William Gray
Admit it: football pitches all look the same, whether you're at Anfield or in the Amazon. And we've seen that backdrop of Copacabana Beach behind Gary Lineker umpteen times now. But while the World Cup might be giving us a blinkered view of Brazil, a well-planned family holiday to this huge country will open your eyes to an extraordinary range of natural wonders, colourful culture and exciting adventures. Just be sure to allow extra time to do it justice.
Brazil in a nutshell
Only four countries - Canada, China, Russia and the United States - are bigger than Brazil, but local air passes link many of the main attractions, so you can realistically combine a wildlife adventure with some beach days on the coast. A year-round destination, Brazil's climate is generally tropical with average temperatures around 27C. Mid-December to February is the national holiday season and can be very busy. The coast is malaria-free and just GMT-2 or -3, so not too bad for jet lag. There are several family-friendly beach resorts, while the stretch of coast south of Rio de Janeiro has some wonderful family villas. Take precautions against malaria if visiting the Amazon.
Brazil Top 5 for Families
1. Rio de Janeiro Children will be bowled over by the cable car ride up 396m Sugar Loaf Mountain. From the top you can see many of the attractions that should feature on your must-do list during a stay in this iconic city. Copacabana and Ipanema beaches are irresistible (don't forget to sample the ice creams at Mil Frutas). You'll also notice the green swathe of Tijuca - a huge urban forest that's well worth a jeep safari. For more heavenly views of Rio, a narrow-gauge railway scales 710m Corcovado to the feet of the huge Christ the Redeemer statue. For the best views sit on the right-hand side of the train.
2. Bahia Coast Around 50km north of Salvador, Praia do Forte is a popular family beach bolthole on the Bahia coast, combining soft sand and safe swimming with good value guesthouses and hotels. Five species of sea turtle nest along the coast - you can visit a conservation centre and, from December to February, join guided turtle-spotting walks along the beaches. The city of Salvador makes a fascinating day trip: head for the traffic-free historic district (Pelourinho) to see Igreja de São Francisco - a Baroque church adorned with some 100kg of gold.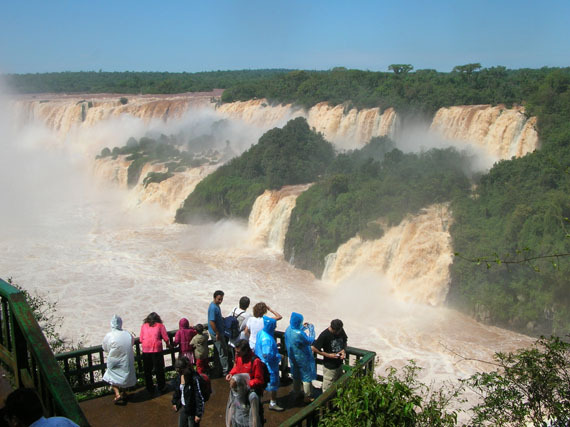 Photo: Iguazu Falls ©William Gray
3. Iguazu Falls Named 'Great Water' by the Guarani people, this frothy cocktail of 275 cataracts, plunging from heights of up to 84m and stretching 4km across the border between Brazil and Argentina, is worth at least three days of your holiday. That will allow you time to view the falls from both sides, take a river safari and explore the surrounding forest. Boat rides take you to the very base of the cataracts, battling upstream through rapids until you are surrounded on all sides by curtains of water (getting soaked in the process). A guided walk through the surrounding subtropical forest, meanwhile, offers the chance to spot howler monkeys, toucans and hand-sized blue morpho butterflies.
4. The Amazon For a proper jungle jolly, head to the steamy city of Manaus, from where you can travel deeper into the Amazon by plane or boat for a stay at a rainforest retreat like Uakari Floating Lodge or Cristalino Lodge. Canopy towers, canoe trips, hides and walking trails will help you glimpse tapirs, monkeys, sloths and giant otters, as well as colourful birds like macaws. Children will particularly enjoy night safaris to spot caiman by torchlight - and they may also get a chance to go piranha fishing.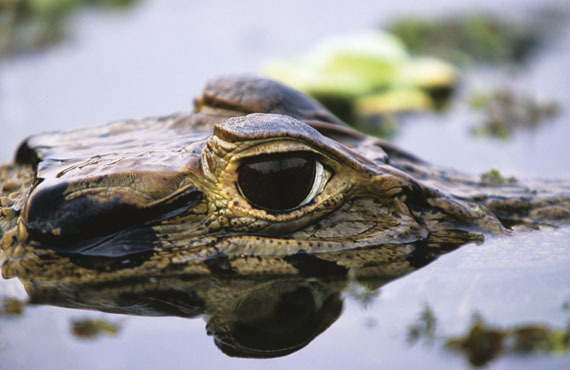 Photo: Black caiman ©William Gray
5. Pantanal In this huge wetland (about half the size of France), you have a better chance of seeing wildlife than in the rainforest. Top ticks include anaconda, caiman, giant anteater, hyacinth macaw, jabiru stork and jaguar. Ecolodges in the area offer activities ranging from caiman feeding and canoeing to horse riding and night safaris. Visit any time, although the land dries out between May and September, concentrating wildlife around pools and making it easier to see. Temperatures are also cooler during this period.
Planning a trip
Dehouche offers tailor-made family holidays to Brazil, combining the Atlantic coast and the Pantanal. A two-week family itinerary from Journey Latin America includes Rio, the Iguazu Falls and the Pantanal, while Families Worldwide offer an Amazon-Rio-Beach combo.
Find out more
William Gray is the editor of 101 Family Holidays. Check out his guidebook Travel with Kids for more ideas on planning a trip to Brazil, as well as other family-friendly destinations in South America.