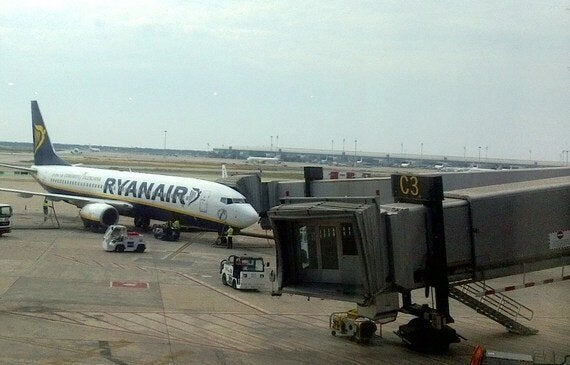 CAPTION: A Ryanair plane awaits passengers at Barcelona-El Prat Airport in Spain. Image credit: William J. Furney
The Irish airline Ryanair is one of the world's most successful, having grown from one route (Dublin-London Gatwick) in 1985 to dozens around Europe today and carrying almost 80 million passengers annually. It took on large airlines like British Airways, starting a fare war that continually benefits the travelling public.
Ryanair is no longer a low-cost transportation provider; in its own words it is an "ultra-low-cost" airline. That means, if you're savvy and book well in advance and only bring cabin luggage, you can fly from Dublin to London for €10, excluding taxes, or to the south of France for €19.99 -- less than the cost of your taxi or train to the airport.
Ryanair has many detractors, primarily those who expect legacy services on a budget airline and take umbrage at the brash boss, Michael O'Leary, and his penny-pinching (and humourous) statements about charging for loos and passenger standing sections on planes -- improbable possibilities destined only to generate publicity, which they surely do, because people just love to hate Ryanair and O'Leary. It's almost as if they see it as effrontery that such boorishness can breed success.
But the airline has many more admirers -- over 80 million of them each year -- and for good reason: on short-haul flights of an hour or two, Ryanair has turned the once stuffy experience of flying into little more than a bus trip with wings. Who needs a seat number? (Although they will be introduced next February as part of a customer-service renovation). Who needs free food and drink for a short hop in the sky? Who needs to be pampered, when all you want is to get from A to B without hassle?
What passengers want are fair prices and timely services, and on both, Ryanair scores big, outperforming all carriers around Europe. (Safety is a given, due to the many regulators, and Ryanair has an admirable three-decade clean sheet.) What additional services do passengers get when they pay another airline €100 or more for the same flight? A seat number and perhaps a smile, although you're not guaranteed even that.
I have recently changed from flying with a legacy carrier to Ryanair, lured by the obscenely low fares. It would be unwise in this age of austerity to at least not give it a whirl, I thought. At first I was anxious, and before the initial flight I psyched myself up: I imagined it as being a horror-show of herdy passengers elbowing each other to get on board and mad-scrambling for seats and cabin crew endlessly flogging lottery tickets and cheap perfume -- and the harsh yellow interior that would force you to keep your sunglasses on.
That frantic scene set in my mind, I boarded the flight, without a problem, found a seat, without a problem, enjoyed the flight (cabin crew not pushy at all, even friendly and pleasant) and landed without incident and on time -- prompting most on board to clap as if they just couldn't believe they got all this for the price of a few pints. And then a da-da-da-da-da-da-da-da-da-DA trumpeting and the announcement of another Ryanair flight on time, best in Europe and so on -- a bit of mischievous fun, and why not? We all need a laugh to lift our day.
Yes, there is an array of extras, optional or not, that Ryanair makes tens of millions on -- from hold luggage to name changes to printing boarding passes of passengers who either forgot or couldn't be bothered. But astute planning eliminates most if not all of these fees, which themselves are being slashed as part of the image makeover.
Having captured Europe, Ryanair is now looking further afield, to the United States in particular. O'Leary has said fares could start as low as €10 excluding taxes and any extras. "There is an opportunity with the EU-US open skies to, on a fairly big scale, connect 15-20 European cities with 15 of the big US cities almost from day one. But you need a fleet of 30, 40, 50 aircraft and not two, four or six," he told the Reuters news agency earlier this year.
It's not known if the plan will go ahead; it depends on aircraft and their configurations, and on the type of services on flights as passengers drinks and meals would have to be provided, proving problematic to the low- (or ultra-low) cost model. Airlines have tried the Europe-US low-cost model and quickly went belly-up. Still, Asian offshoot airlines such as AirAsia X have been flying somewhat low-cost to Europe in the last several years and remain in business.
The aviation industry is plagued by bankruptcies and heavy, ongoing losses, especially owing to high fuel costs, yet many airlines maintain their medium or high fares. For an airline to provide real, affordable choice to the travelling public and be profitable -- enormously so: Ryanair's up 13 percent to €569 million last year, although weaker demand in 2013 has seen the airline issue a profit warning to around €510 million -- is unusual. That's what makes Ryanair a success story, for itself and its tens of millions of passengers.
Related