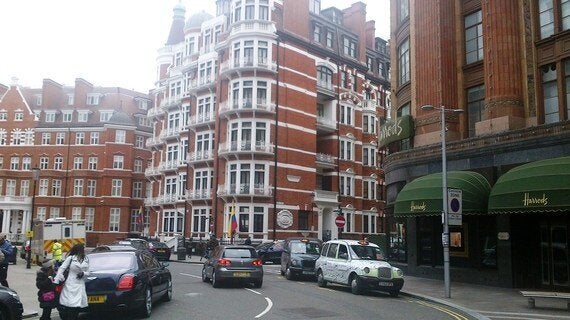 Between Luxury and a Hard Place: Julian Assange's refuge is half the ground floor of the centre building, with a police van on one side and the temptations of luxury retailer Harrods on the other. Photograph: William J. Furney
It is two years since the Australian website editor Julian Assange walked out of his life and into a small embassy in the centre of London where he lives. It is two years since the UK Supreme Court ordered the onetime hacker extradited to Sweden to face questioning over the alleged sexual assault of two women there. And in those 24 long months, the website, WikiLeaks, has floundered and no justice has been served.
It's almost certain that Assange will celebrate his 43rd birthday, next month, in the cramped quarters he has turned into his own prison. Outside the red-brick Ecuadorean Embassy beside luxury retailer Harrods, British police officers continue to stand guard around the clock, waiting to grab their man should he even dare to step out for a rare breath of fresh air. It's a matter of rising consternation for some that the bill for this seemingly endless operation has now surpassed £6million.
The new man at the embassy, Juan Falconí Puig, has said his unlikely, non-rent-paying tenant is "suffering" and may be holed up there for the rest of his life. What a prospect. The ambassador laments the big, and growing, police bill the UK taxpayer is burdened with and, in an interview with The Times, maintained Assange is "not a fugitive" - strange words about a man who is hiding from the laws of two lands. But, of course, he'd like his place back.
It is a peculiar form of torture for a worldly man in his prime who aimed to set the world free. Why, you ask, will Assange not take his chances in Sweden? There's no arrest warrant out for him; he hasn't been accused of raping the women; there is not a court to face, in Stockholm or anywhere. Because, he claims, he'd be shipped onwards to the United States, by apparently malleable Sweden because the American government wants him locked up for revealing their secret files.
It titrates down to Julian Assange being afraid to face the fate that befell his biggest benefactor, Private First Class Bradley, now Chelsea, Manning, a troubled 26-year-old serving a 35-year prison term for supplying an enormous horde of sensitive military and diplomatic files to WikiLeaks, which then published them en masse.
How's that for a man, Assange, apparently committed to transparency, on a global scale. On a personal level, there's none of it. First let's ask ourselves what we learned from WikiLeaks' publishing of the confidential cables. You may recall it was learned that a US military helicopter crew in Iraq mowed down a dozen people in July 2007 after falsely claiming to have been shot at, in the so-called Collateral Murder video, but apart from that there's little that's been anyway Earth-shattering.
It's worth noting that Manning tried to get his files into the laps of editors at The New York Times and The Washington Post but was unsuccessful, through a combination of failure and not being taken seriously. WikiLeaks was the easy last resort, and how it provided Assange with global glory and a viscous demise. If either storied paper had been astute enough to run with the story, would their staff have been prosecuted by the US government? The most recent major leak came last year from the former intelligence worker Edward Snowden, who divulged mass spying by the National Security Agency to The Guardian. Some British politicians kicked up a fuss and threatened action against the paper, but nothing, rightly, has come of it.
So now two years on since Assange's self-imprisonment, we ask ourselves where we are. Manning is behind bars; Assange is in self-imposed confinement; WikiLeaks is reduced to the embarrassment of coughing out already available information; and the world has moved on. It has been suggested that Swedish prosecutors travel to London to probe Assange - who, it's important to add, was questioned in Sweden over the sex incidents and was free to leave the country - or set up an internet-based conference session with the refugee, but they insist on having him on their own turf.
How can someone exist in a tiny space for so long and not be able to wander freely in the outside world, as though their environment were a jail? Is Assange "suffering"? Of course he is. But two years, and counting, is nothing on the 15 that Cardinal Jozsef Mindszenty spent at the American Embassy in Budapest, after being jailed for opposing communist rule in Hungary, before being permitted to leave the country in 1971.
By comparison, Assange's plight is meek, his defence indelibly weak. He alone has damaged his organisation by his self-serving actions; he alone has alienated his believing benefactors who stumped up tons of bail cash when he went AWOL in the UK, including celebrity journalist Jemima Khan, who said her experience with the man had led her from "admiration to demoralisation", and warned that he demanded his followers support him "unquestioningly, in blinkered, cultish devotion".
Even if somehow the Swedish case against Assange is dropped, he still won't be going anywhere. This time last year, on the first anniversary of his asylum bid that was eventually granted by the Ecuadorean government, Assange said that in the absence of a guarantee of safe passage from the UK authorities he risked being arrested and dispatched to the US. He said at the time: "We know there is an ongoing investigation in the US and we know I am a target of the Federal grand jury. There is a 99.97 percent chance that I will be indicted."
The current UK government is not likely to grant secure passage, but perhaps Assange might have better luck with a new Labour government if they get in next year. Either way, it's everything of a long shot. One bright spot in this fusty stalemate saga, however: Assange need not concern himself with being nabbed by the cops outside if the Swedish case is shelved, itself another unlikely event. In such a circumstance, he could walk out a free man, according to Jane Hickman, a founding partner at leading London law firm Hickman & Rose. She told me, "Breach of bail conditions is not an offence or a contempt of court. He would face no separate penalty for that."
The reality is the case in Sweden is going nowhere, a fact acknowledged by Ambassador Puig. Assange may regret sleeping with the women who since turned on him - perhaps justifiably so; the case needs to be advanced and brought to court before that can be known - but he surely is sorry he ever walked up the steps of a South American mission in London and gave up his life.