Are you someone who hankers after food trends, lovingly, obsessively, happily, slavishly jumping on every bandwagon that comes along and chomping on whatever fashion dictates? Of the many trends we have seen over the last couple of years, high-end burgers and small sharing plates have surely been neck and neck at the head of the race to be uber-foodie.
That and calling your restaurant Blah Blah Social. The latter indicating, for those who don't understand, that restaurants are for socialising. So along comes a restaurant that doesn't just herald that it has (so goes the blurb) 'innovative dishes made with local British and seasonal ingredients' (something so on trend for last couple of decades it's almost off-trend - if a chef suddenly announces that they'll be cooking with stuff sourced from anywhere but Britain, and as far away as possible and that you won't find growing here any time soon, then us food critics will properly wake up).
No, guess what, it offers 'high-end burgers' and 'small plates for sharing' AND it's called Bobo Social. Which for the uber-on-trend foodie is nothing short of spunktastic.
So off I trotted to see what this place was like, preparing to be irritated. And I was let down. Badly. For here is a little place in Charlotte Street, across the road from the Saatchi & Saatchi advertising HQ where I once worked in the post room, (briefly and badly) beautifully proportioned, painted in soft white and with the most wonderful furniture.
I don't remember cooing so much about some chairs and tables. I walked down the little passage and was asked if I wanted a drink at the bar first. At the same time our table was pointed out. A sturdy wooden thing, a thick un-painted top, the sides and legs painted in soothing off-white. And sturdy chairs too. Upright, kitchen style, but more than that. They weren't those spindly numbers, the types you find at country auctions where you come away with twelve of them for about £6.80.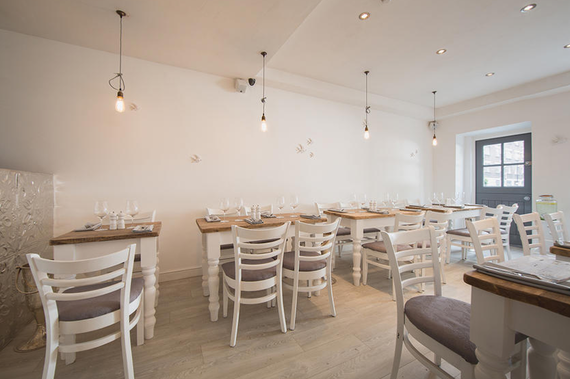 These were heavier but with a subtle softness, rounded backs and generous cushioning. And the tables, with their oak tops were of a good height, built for me, not some midget. In other words not designed by the cretin who devised the seating in London Midland trains (revolting in colour - the nastiest green - neither upright nor sloping and built for people who weigh around six stone, are under five foot and are actually commuting children).
So this bar idea was crazy. I wanted to sit down on these lovely chairs and get that nicely high wooden table in front of me.
The burgers, by the way are very good. They go from simple, the Bobo, a 6 oz number made from rare breed beef, to Debauchery. This wicked multi-faceted burger is made with Wagyu (which is Japanese for 'f**king expensive') shaved truffles, a cheese called Ogleshield, confit shitaki mushrooms and bacon and mayo. And there are others in between made with lobsters and crab or, grossly in my view, peanut butter.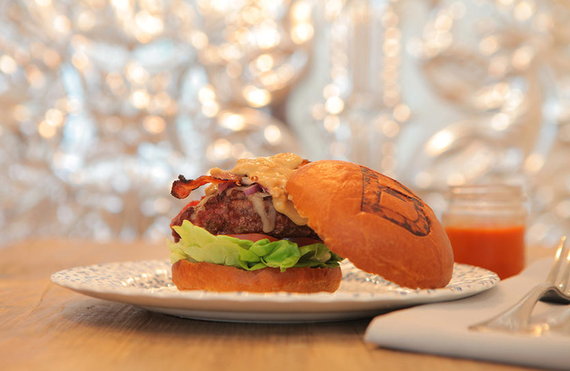 Before these arrive you can call on salt and pepper squid or a watermelon and heritage tomato salad or ceviche. Or what we had which was spring green toasts. These are just mushy peas on toast, except they are not just that. Fresh peas are lightly crushed and mixed with lemony cottage cheese. I loved them and I detest peas (a childhood thing, let's not go there right now).
I went for the simplest burger, cooked perfectly in their charcoal oven (I bet that's fun to clean). It was beautifully simple, un-crowded by showy truffles or caviar or flecks of gold, or diver-caught scallops or whatever. The bun was almost milky in texture and there were two particularly original sides. Bacon came with latticed chocolate, which did indeed taste like bacon and chocolate but it worked and there was apple slaw. Small slices of apple, which were fresh, crunchy and creamy and a saintly alternative to Bobo chips which come in skin and cooked in beef dripping.
The night ended as it had begun. No pudding, no booze, my head as clear, calm and collected as those chairs.
This can't go on. I need to get dirty drunk somewhere with hideous seating.