I have of late neglected the Huff. My weekly musings on food have not been posted. I've been consumed with work could be one legitimate excuse. The other could be that I've been consumed with food. The frenzy that is my daily eating and thinking about eating has been too much to contemplate.
But not to write about it is, I realise, selfish. Because I've had some rather exceptional experiences over the past fortnight and you ought to hear about them.
The highlight this week has been spending time with Alice Waters, she of Chez Panisse that ground-breaking restaurant in Berkeley, California. She was a guest on my new food and drink show Biting Talk on Soho Radio. This is a station that launched back in May and has been steadily growing a loyal band of listeners and an eclectic schedule of presenters and programmes.
It's real, raw and live radio. The studio is behind a small coffee shop in Great Windmill Street and the idea is partly to reflect the vibrancy and extraordinarily diverse phenomenon that is Soho.
The first question I ask all my guests is simple. What have you had for breakfast? It can set the scene and naturally define the person sitting opposite me - that and hearing a song choice of theirs.
Here's what Alice said: 'When I'm at home I have a some Chinese dark puer tea. I make myself little wholewheat flatbreads - like a chapatti - with some hummus on it. I sit down and I contemplate the day. I always bring my tea with me, so this morning I had that and some cashew rice with okra.'
All of which makes my Shreddies seem a little humdrum. Her choice of tea is from the Yunnan province of China and is said to reduce bad cholesterol and triglycerides - if indeed you have some that need lowering.
We had a longer chat when I had lunch the following day at Clarke's. It's nearly 30 years since Sally Clarke opened her restaurant on Kensington Church Street in London. And as Alice Waters inspired the idea in the first place, she had flown over to host a week of cooking in honour of Chez Panisse, which Alice founded 43 years.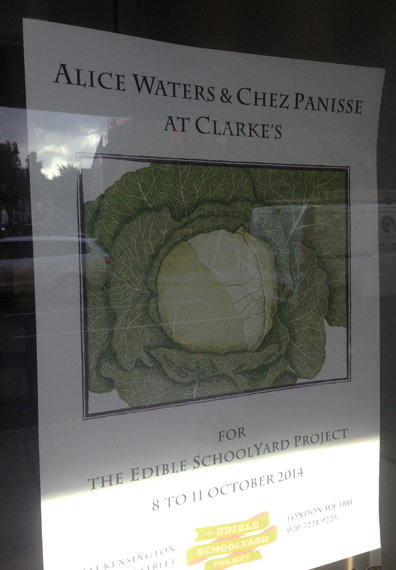 Some of the biggest names in US food have passed through her kitchens and she is an insistent, quietly spoken campaigner against the culture of fast food.
We chatted over a lunch of warms goats cheese with roasted figs, guinea fowl and squash gratin and then the lightest floating island in a damson and creamy sauce.
Her view is that world has steadfastly drifted into a culture of fast food, a system that supports and perpetuates the three pillars of fast, cheap and easy. And those pillars prop up a corrupt world that is all about poor welfare for that precious triumvirate that is animals, humans and the land.
I wonder if it's simply too big a challenge, given how most of us are simply keen to shop for food where it is nearest and cheapest. But she is cunning. The future belongs to today's children. Teach them to appreciate food, how it's grown, how it can be nurtured and cooked and you'll hook them for life.
It's why she's started the Edible Schoolyard Project across America, where primary schools start vegetable gardens. Children plant seeds, watch things grow and then eat them. There are more and more of these projects now starting around the world, from the UK to New Zealand. So if you have links to school, be it country or urban. Persuade them to dig up a bit of concrete and start a garden. Revolutions never had such a sweet and tender start.
And we chatted about it in the lovely surroundings of Clarke's. There's now a miniature garden at the back so you look out through the window at lush ivy, box hedges and herbs growing. It's the same effective principal I once enjoyed at an inn in Japan, and so clever to create the feeling of a country garden in such a small space. Sally Clarke should be one of Britain's most cherished culinary assets. Go there and let her feed you via her set menu.
'As I cook I have Alice on my shoulders,' she says. So you get a taste of our salads and vegetables with a faintest, fresh whiff of far away Chez Panisse.
So what of my other eating highlights? There was a birthday lunch in Paris at the Terminus Nord. One of the world's great classic train station brasseries.
You walk straight out of the Gare du Nord and it's there in all its glorious splendour. Waiters in those long aprons, waistcoats and black bow ties buzz about carrying trays above their shoulders.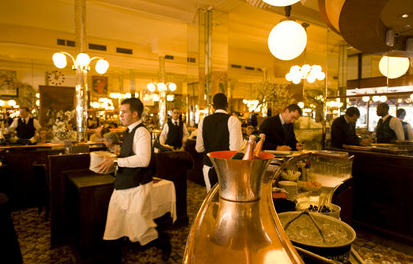 I greedily started with oysters, then a huge tureen of fish soup arrived before very bloody chateaubriand and finally profiteroles with hot chocolate sauce.
We sipped rose and house red, before jumping on the Eurostar. If you want to give your children a little taste of France and you're short on time, do the same.
My lost foodie weeks also included a brilliant turn at the stove of The Crown Inn, in Weston, Northamptonshire by Anthony Demetre. What is now Britain's greatest pop-up (It's Mark Hix at the end of this month) nsaw a menu of squash soup and eggs poached to cheffy perfection. Cooked at 63 degrees for 45 minutes, the Clarence Court eggs hid just under the surface of the soup and on top of a bed of tart pink grapefruit. There was a seven-hour cooked short rib of beef ('Best beef I ever tasted,' said our neighbour Johnnie) and a pudding of blackberries - they were in a mousse, a sorbet and a meringue.
Clever man is Demetre and, according to a chef whose opinions I never dare ignore, 'right now the best chef in the UK'.
Soon, back at the ranch, I was marinating rib eye steaks in espresso, garlic, brown sugar, soy and red wine vinegar and serving them with tomato salad in a dressing of pomegranate molasses, you can't resist Yotam for too long. I cooked the steaks beautifully then ruined them by resting them for an hour in the top left part of the Aga.
The talented food editor Eleanor Maidment scolded me for this foolishness as only she can, by cooking a lunch of steak marinated in soy, honey and seasme oil and not screwing it up. It came with a tender stem broccoli, cavolo nero and edamame beans - her idea of a lunch box.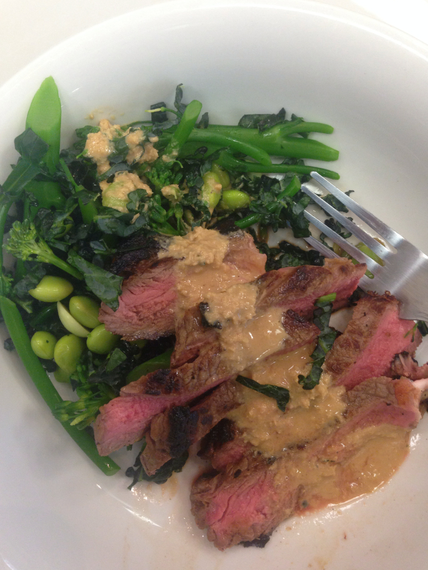 I promise not to screw up next time, friends! And to keep posting...