Lunchtime in the hills of San Lorenzo Monte and at the head of a table in Trattoria Pomodoro, Rino Mini uncorks a magnum of Bellavista.
The cork pings up to the ceiling like a bullet and those of us around the table cheer. This bottle - cuvee brut - is the Italian version of champagne, a light and fruity sparkling wine that's a few notches up from prosecco.
In the two days that I've been eating in and around Rimini, a coastal town on the Adriatic in the Emilia-Romagna part of Italy, every meal apart from breakfast starts like this.
This restaurant, named after the tomato so beloved of Italians (without which they would be in peril) looks out onto meadows on three sides. The fourth side is rather more industrial as it's the bottling plant of Galvanina, an Italian drinks brand.

The water sourced for the drinks seeps out of the hills round here. It has done so for thousands of years and you can still see the stone fountain built by the Romans, over 2,000 years ago in the time of Caesar Augustus, where some of that water was originally captured.
Needless to say it's called the Fountain of Love. People have been coming here for years to drink the liquid as it comes out of the earth after a 30-month journey from the Apennine mountains. Couples have stood hand in hand before the spring as water drips out of the faded mouths of ancient Roman sculptures, have sipped it and pledged their love for one another.
Then, 112 year ago, the great-grandfather of Rino Mini bought the land, acquired the rights to the water and started bottling it. Four generations later, the Mini family drinks firm, Galvanina, is one of the best-known drinks brands in Italy.
We're talking non-alcoholic of course. There is fizzy and still water and a range of flavoured drinks that have given the likes of Orangina a serious run for their money. While my favourite is their organic fruit blood orange drink, you can use them as mixers for great cocktails.
All of which drinks-producing success is a reason the current president, Rino, has no qualms at opening up expensive magnums of fizzy stuff that does actually have booze in it at lunch or dinner.
"I have worked for the company since I was 16," he tells me in his gravelly voice. "And I just love my job. There is the romance of the water. I like to think of the journey it makes after it rains in the mountains 1,000 feet up and about 150 kilometres from here. The water collects in pools then slowly works its way along channels deep under ground. It is filtered as it passes through sandstone, and flows around clay. Then it might stay for a while in some deep, dark chamber. But finally it emerges here from these hills. And then I love all the things we do with it, all the products we create."
Extraordinarily, the water, with its soft and very slightly salty taste, emerges naturally carbonated. Although with Rino at the head of the table I drink rather less spring water and rather more Bellavista.
Lunch at Pomodoro becomes a feast. There's a large pizza oven with a rotating stone wheel operated by a chef called Mimmo who looks like he saves most of the pizzas for himself. Or indeed for him and his boss, whose size also betrays a serious love of food.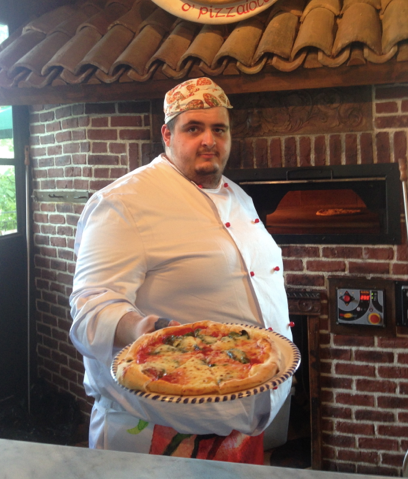 But some pizzas are directed at me. Simply flavoured with cheese and basil, they don't even make the menu of official starters. I guzzled slices while standing by the oven before lunch.
But at the table comes mushroom risotto, whose magic ingredient I gather is Martini Bianco added by food writer Valentine Warner, who is also on this trip and happens to be in the kitchen teaching the Italians how to make risotto.
Then comes slices of pink veal, this time cooked by restaurant critic Bill Knott. The Italians never serve their veal pink. But judging by the favourable noises coming from our host that may be about to change.
Then there were piles of large shrimps, before homemade chocolate ice cream simply served in small water glasses.
Lunch, it later became clear, was a mere appetiser for dinner that night. If you want fish in Rimini, and frankly this is one place where you should, then La Marianna is compulsory. It is just down from the ancient Bridge of Tiberius which straddles the Marecchia river. Seemingly indestructible, the bridge survived not just the passage of time since its construction in 20AD, but also the retreating German army during the battle of Rimini in 1944.
The destroyed every other bridge but their explosives failed to charge on this one. All of which historical nuggets you can discuss while at La Marianna, your host uncorks another magnum of that smart Italian fizz.
That palate-invigorating drink applied to the mouth and the fishy onslaught began.
There are tasting menus and there are the fish dishes that are unleashed at La Marianna. This was a dinner without vegetables or salad, a dinner where the chef was fully in control. No choice for us and a tour of all the fish you can get within the establishment's 'Zero Kilometre' policy. When Italians talk local, they mean it.
So along came langoustine, then clams, oysters (okay, these weren't so local), and large prawns. The first four plates all raw. All the chef did was cut them open.
Then came mussels, squid ink rice, stuffed cuttlefish (they looked like little stuffed mice), razor clams in breadcrumbs. Lobster came with outrageously al dente, very fat pasta tubes (paccheri). There was simple vanilla ice cream at the close. Perhaps there were other fish dishes that I missed and forgot. But this was a dinner to regale people about for years hence.
Rimini is a complex town to describe. Its coastline stretches for miles and is simply covered in cheap hotels and sunbeds. The suburbs are vast and filled with warehouses, retail parks and factories. The central fish market is a great wonder of the world, there are pretty, ancient streets, and the odd trace of the Romans. Then a short distance away, up from the vast plains, are lush rolling hills with little hilltop towns where the inhabitants store and ferment pecorino cheese (L'Antica Cascina) in the caves beneath their houses.
Then a little higher up, water springs from the earth and gets stored in cute embossed bottles that you can later use to keep your olive oil in.
If you want to know a little about how the Italians eat and drink, go to Rimini...
Now make a Galvanina Negroni Rossi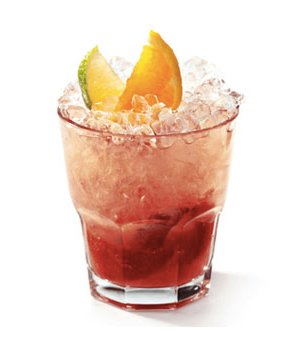 45ml Sicilian Ruby Orange Galvanina
Garnish: an orange wedge and a fresh thyme sprig
Pour the Aperol, Martini Rosso and Gin Mare into an ice-filled rocks glass and stir. Top with Sicilian Ruby Orange Galvanina and garnish.