Wing Commander Rachael Caston is the deputy commander and Chief of Staff (Operations) of the Royal Air Force's 904 Expeditionary Air Wing, based at Kandahar Airfield in Afghanistan. A pilot by profession, she is one of the RAF's leading female operational commanders. Here she reflects on her time serving in Afghanistan over the last 12 years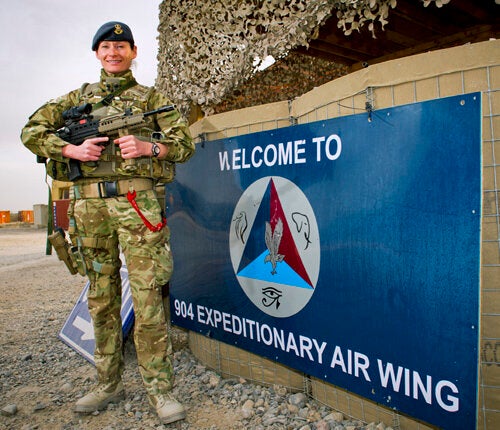 16 December 2001 is a day I will never forget. I was the co-pilot on a crew operating a Royal Air Force C-130K Hercules aircraft when we landed at Bagram airfield in Afghanistan, in the middle of the night, in terrible weather. We had no idea what to expect but we knew that only about a quarter of the runway was going to be usable. We would find out which quarter approximately 15 minutes from landing - long enough to plan it safely, but not long enough to panic about it! We were venturing into the unknown, and it was frightening.
Each night we flew in we became more familiar with the environment, and we adapted. I learnt very quickly that the tracer fire I could see whizzing through the sky on my night vision goggles would miss me if it looked like small dashes of green. If, on the other hand, it looked like dots, it was coming towards me...
After several years operating out of Bagram and Kabul I eventually deployed to Kandahar and became part of 904 Expeditionary Air Wing. Meanwhile I had become an aircraft captain with five years of experience of operating in Afghanistan. What motivated me back then? I always had a strong desire to be the best I could be and to get the best out of others, but in its base form it was simply a matter of survival. I could also define success and it was measurable: it was having qualifications that only a couple of people had; it was becoming a low level tactics instructor; it was seeing places and landing in places that I knew few people would ever, or could ever, visit; it was... easy. It's not quite so easy now.
It feels like only yesterday that I was shaking with fear while making that first approach into Bagram as a baby co-pilot. Yet now I am the Chief of Staff (Operations) in charge of UK flying operations at Kandahar Airfield - I am a wing commander in rank and the second in command of that same 904 Expeditionary Air Wing. My normal role is to enable the operations of all the UK fixed wing aircraft which are based in Afghanistan, namely the Tornado GR4, the C-130J Hercules and the BAe 146 aircraft. But today I am on guard duty and in my rest periods I have the time to reflect.
I am looking out from the main entrance of my compound over towards the outer perimeter of Kandahar Airfield. I am on guard with a 20-year-old senior aircraftsman (the most junior trained rank in the RAF) who has hit quite a few firsts in his life over the last two months: first time on operations; first time away from home; first time carrying a loaded weapon around with him at all times; and first time being paired up with a wing commander on guard duty for 13 hours.
He starts asking questions about Afghanistan. He recognises that his world is defined by the boundaries of this airfield and he tells me that he finds that thought quite disorientating and disturbing. He cannot imagine what life is like 'outside the wire' and as he looks over towards a mountain on the dusty horizon he asks me if I know what's behind it. I tell him that behind that mountain is the real Afghanistan and Kandahar city. There, normal people visit their families, go to business meetings or school - live their lives.
I start talking about the rest of the country that I'd seen in those earlier days. The mountainous regions in the north east, the crystal-clear water, the villages nested in the deep valleys with lush green grass. Landscapes that would take your breath away, where rugged plateaus drop off to flat plains as you travel towards Mazar-e-Sharif.
Suddenly it clicks: I'm still driven by the same instincts to be better and to help develop others, but success is not defined in terms of survival anymore. It's not defined by a badge, a rank or a medal; it's about something so much more important than that, something more personal, something intangible. My motivations are seated in a desire to understand the world around me, a desire to change things for the better if at all possible, but above all an overwhelming urge to share my experiences in the hope that some of what I say will mean something to somebody and perhaps help them deal with unusual, disorientating or frightening experiences. I may have achieved a bit of that today, I don't know, but I wish someone had done that for me...