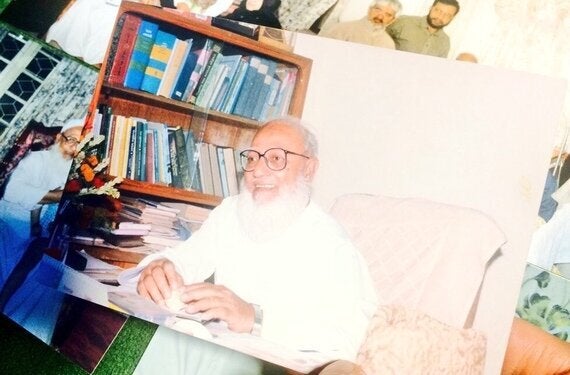 I wasn't quite sure how I should respond to the death of Professor Ghulam Azam, the name I remember from nearly two years when it was suggested to me that the International Crimes Tribunal of Bangladesh was set up to destroy the prominent figure.
I remember studying the proceedings of his trial at court, the court which was holding him to account for alleged war crimes from 1971. I remember being thrown by the apparent and obvious lack of evidence. I then went on to meet his son and remember a feeling of injustice for a son whose father had been taken away. When I spoke to Dr Salman on Thursday and he verified the news of loss I empathised with a child who had just lost a father.
Professor Ghulam Azam, founder of Jamaat e Islami in Bangladesh and leader of the party for more than thirty years died in a prison hospital in the nation he lived to change. He was a figurehead and leader to many but on Thursday night I remembered him as a father and grandfather to a loving and grief struck family.
The news came as his family and lawyer had been pleading his case over the last few weeks in that the sick 91 year old should be allowed home due to his deteriorating condition. He had been ill for such a long time and for his family this is what hurt the most. Professor Azam's last days were in prison not in the care of his family in his home.
Hundreds of thousands of people turned out over the weekend to pay their respects to a man globally held in high esteem, separate memorials took place throughout the world and various religious and political figures spoke of the loss we incurred as a society through his passing.
Professor Ghulam Azam was a prominent figure both inside and outside of Bangladesh, rising to great prominence within political party Jamaat e Islami from a young age. He was born and educated in Dhaka, the capital of Bangladesh, whilst it was still East Pakistan. He read political science at university and held a prominent voice throughout the world for his merit as a religious thinker and author, writing well over 100 books. In Bangladesh there were those that loved him and those that reviled him. During the nations independence struggle, Jamaat e Islami the party which he led, sided with Pakistan against what they saw as the break up of an Islamic state. Official figures imply the loss of 3 million Bengalis in this war and the loss of life during the struggle has been something the nation has found difficult to get over with Jamaat e Islamis' opposition to the struggle plaguing the party since the birth of the blood wrenched nation.
It was in 2010 a domestic court was set up to hold to account those who perpetrated war crimes during the struggle. But those being held to account didn't include Pakistani colonels but rather opposition party figures in Bangladesh and figures of religious authority.
Arrested in 2012 Azam was put on trial for allegedly committing war crimes during Bangladeshs' independence struggle in 1971. He was among other prominent figures from within Jamaat e Islami to have been arrested. In court, Azam was accused of being a chief protagonist during the independence war and in July last year, he was found guilty on account of five charges including conspiracy, incitement, planning, abetting and failing to prevent murder. He faced more than 60 counts of crimes against humanity for atrocities committed during the struggle and was sentenced to 90 years in jail. The prosecution did seek the death penalty but due to his age, he was given the prison term.
Azams' team, supporters and family argued that his prosecution and conviction had no basis bar political motive and have always maintained his innocence and there has never been any sound evidence to any of the accusations made, serving to further imply that the court was being used as a political tool. Scandal set the tone for these war crimes proceedings and its judgements cannot be taken in any other light. With Proffesor Ghulam Azams' death in custody he has died a martyr to his followers and the international crimes tribunal of Bangladesh is now left with a legacy of politically motivated revenge. In the process of trying to heal the wounds of 1971 there are now a whole new set of wounds for the country to contend with.