As much as I genuinely enjoy broccoli, eating clean and staying lean, I also love ice cream, cheese and cupcakes. One of the ways I stay on the straight and narrow is to treat myself to a cheat meal about once a month.
Cheat meals are a way of satisfying cravings and enjoying the foods you love. It's ok to ease up on the diet occasionally, but don't go overboard and turn it into a cheat day, weekend or week. Cheats or treats aren't rewards, so don't use a Big Mac as a metaphorical pat on the back every time you break into a sweat because you can't out train a bad diet. Instead, if you feel so inclined have a cheat meal once a month, but no more than that.
I indulge in a cheat meal every four to eight weeks and my cheats of choice are usually ice cream from Udderlicious; Lemon Raspberry Ripple cake from Hummingbird Bakery; a double cheese burger with bacon from Five Guys and very occasionally a three course meal that offers a mound of protein and veg, followed by a luscious pudding.
My latest cheat meal was at CUT in London.
The contemporary 45 Park Lane hotel is the home of Wolfgang Puck's CUT, a modern American steak restaurant.
The cheating began in the bar overlooking the restaurant where we enjoyed a Locked and Loaded Japanese whisky cocktail and Gin cocktail Nobu Soda. The long and narrow design of the restaurant means diners aren't sitting awkwardly in the middle of the dark room and the background music isn't what you would expect in a restaurant, but I loved it. The low light gave the room a moody feel and gave a feeling of privacy, despite how busy the restaurant was.
The feast began with cheese breadsticks and champagne while we pored over the menu, although there are a few vegetarian and fish dishes available, this is a place for the truly carnivorous. This is ably demonstrated when the waiter presents us with the menu, while another shows us a presentation platter with cuts of beef, explaining the texture, differences and how best to have it prepared. Seduced by the bulging plate of raw meat, I threw aside the menu even though other dishes were incredibly tempting; the only logical choice was steak.
Before our starters we were served cheese filled mini scones, I held back on eating more than one in an attempt not to overdo it on carbs, especially as I'd just had a pretzel roll smothered in butter.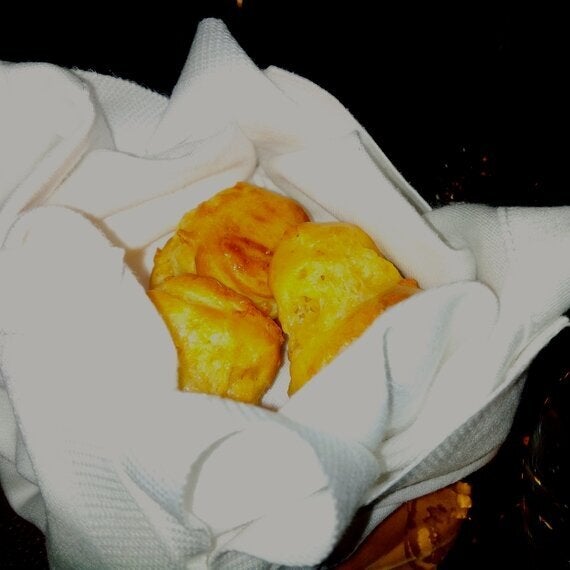 For starters I had Maple Glazed Pork Belly with Quince Apple Compote. Succulent and delicious, the squares fell apart at the touch of my fork, melted in my mouth and tasted divine with the sweet sauce.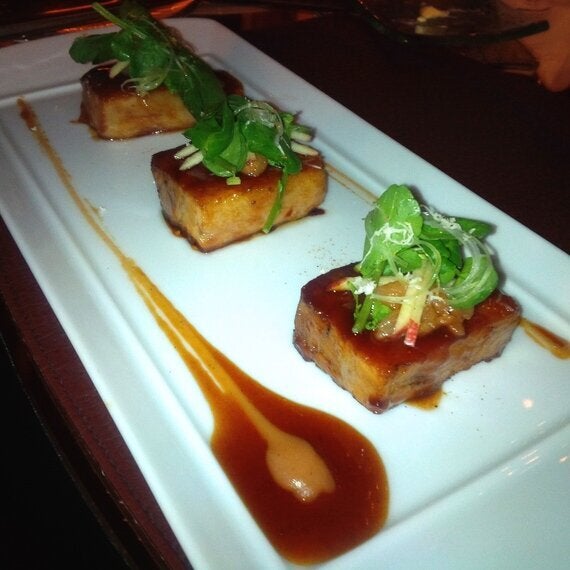 My dining companion had Prime Sirloin Hand Cut 'Steak Tartar'. She reassured me between mouthfuls that it was delicious which I can confirm from the meagre offering she gave me to taste.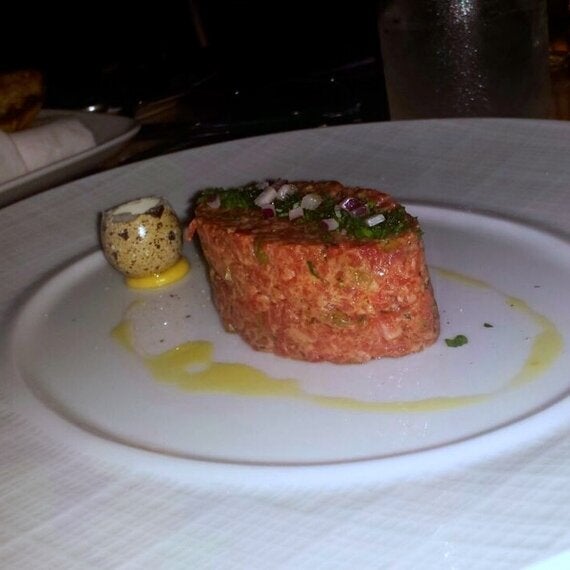 For the main we had been advised to have filet mignon for the tenderness and marbled sirloin for the full flavour, they served with small pots of Béarnaise, Texican and Chimichurri sauce. Our steaks were beautifully cooked; juicy, perfectly seasoned and our knives glided easily through the lightly charred cuts. Our plump steaks were served with sides of crispy yet light onion rings and creamed spinach so good that I declared my love to it.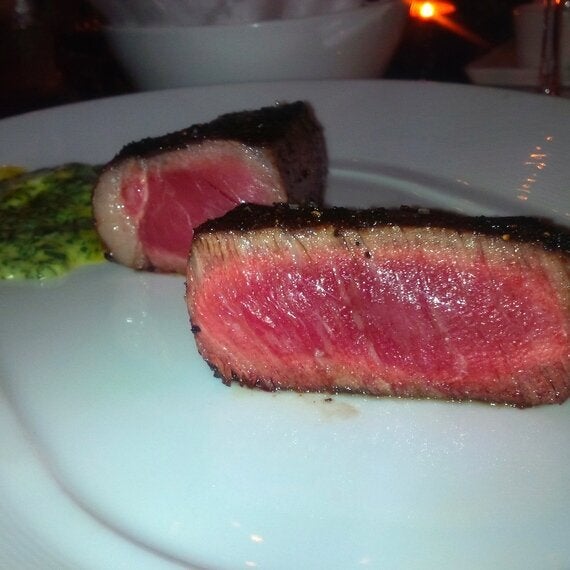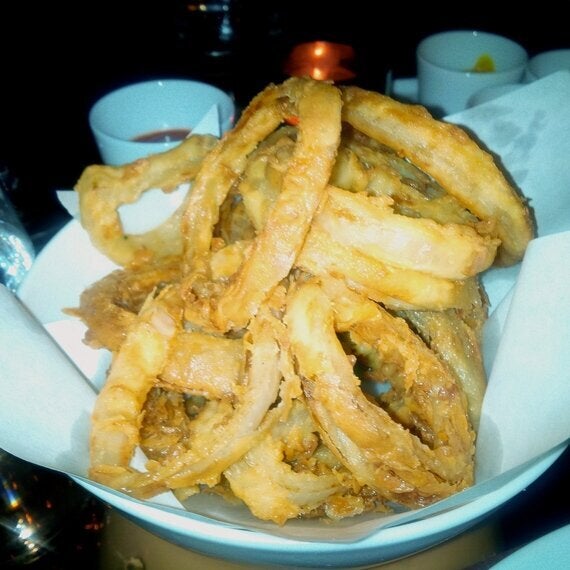 I savoured my meal disregarding the calories, thoroughly enjoying my indulgence and revelling in the act of cheating. Full to the brim but unwilling to be beaten we took the tactical decision to stop short of polishing off every morsel and opted for a short break before the final course.
Regretting not wearing elasticated waistbands; we split a Bruléed Banana Cream Pie, the yummy layers of cream, banana and mousse on a light pastry base was served with Banana Foster Ice Cream and chocolate sauce.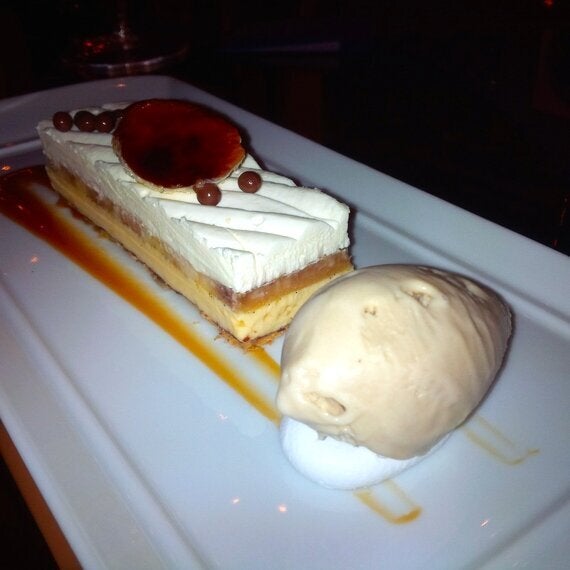 When eating at CUT, try to remember 'cheat meal', not 'cheat binge', the portions are generous, so you don't need a lot of sides and two courses may be more than enough unless you've skipped lunch. A visit here could lead to death by overeating, but what a way to go.
The staff are welcoming, attentive and the aforementioned darkness of the restaurant means you can devour your food without judgement from anyone else other than your eating companions.
A meal for two is around £200 with wine.
You'll finish with a lighter wallet and a heavier body, but it is beyond worth it.
Related