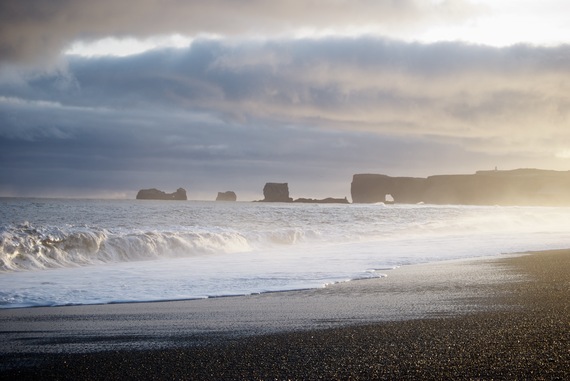 It was minute five of our holiday and already I was rolling my eyes and laughing slightly embarrassedly at my dad's excitement and wild gesticulation.
The life I live is poles apart from his; for him being black growing up in the 60s to 80s and being a teenage parent means he hasn't had the chance to travel as much as he's wanted to or pursue a career as a journalist. What I take for granted and respond to in a blasé manner sends him into overdrive, where he literally doesn't sop talking. I haven't been on holiday with him since I was a very young child and as years have gone on, he has successfully spanned the categories of friend and father in equal and successful measure. So a holiday was overdue; bracing myself for his mind and senses to be blown, I opted for Iceland as the stopover on the way to our city break in Toronto.
I love Iceland; the North Atlantic Island is a land of breathtaking but savage beauty with mountains, volcanoes, glaciers and black beaches; perfect for my dad who spent much of his life as a part-time photographer, while working full time in computing. Now being confined to taking pictures of our family and our dog, this gave him the chance to flex his photography muscles.
We began our trip with a visit to the Blue Lagoon, where we applied thick clay facemasks while I ran through our very full itinerary for the next 48 hours, which I had kept secret for the sake of enjoying his dramatic reaction. After we had sloughed off our dead skin in the sulphur-scented water, we took to the roof of the Lagoons restaurant to take photos.

Our guide for the trip was the knowledgeable and fellow fan of RuPauls Drag Race fan Guðni Kristirisson. He told us stories of elves, the Norse religion and taught us Icelandic customs. His lovely warm smile and cheeky laugh was accompanied by a wicked sense of humour. He took us to the Gljúfrabúi, Seljalandsfoss and Skogafoss waterfalls where he patiently waited while my dad stopped several times at each location to exclaim, "This is what life's all about." We suppressed laughter at his exuberance, but it was infectious and as the roaring white water of Seljalandsfoss cascaded down behind our heads, we stopped and took delighted selfies.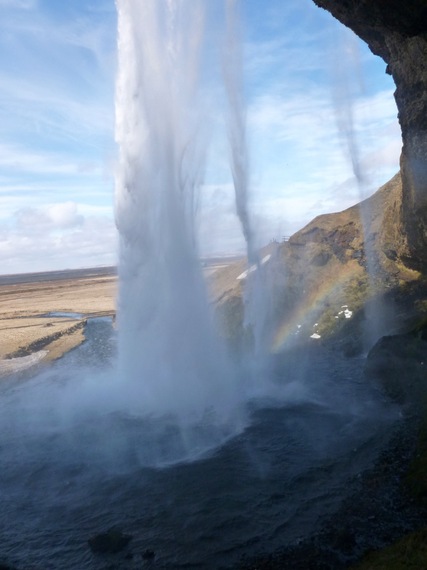 One of the trip highlights was taking to the air for the Norðurflug helicopter tour of Rejkyavik and the surrounding area. We landed amongst the steam spewing fumaroles on the active Hengill volcano. As we carefully navigated the soft suplhur stained yellow, red and orange grounds of the geothermal hot spring, my dad silently got out his camera. He carefully adjusted his settings, his face stern with concentration as he prepped to take shots he confessed he has dreamed of taking all his life.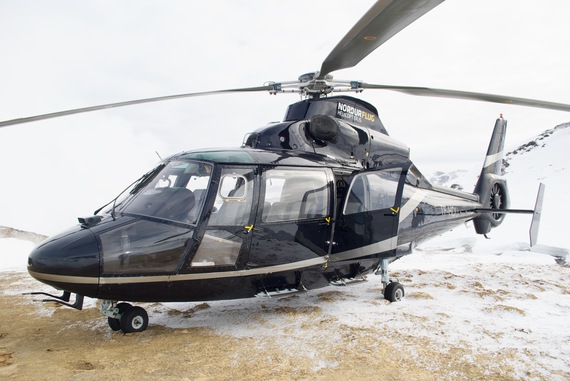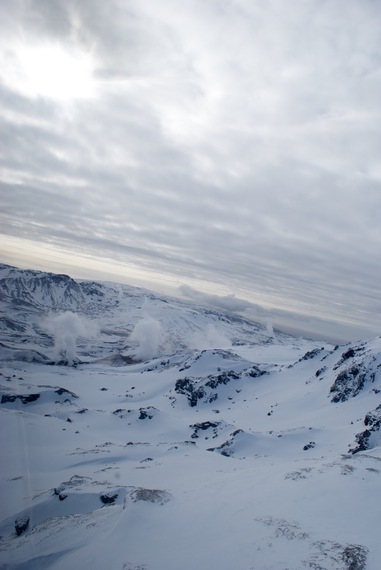 We wound down the day by riding Icelandic horses in the shadow of Eyjafjallajökull while my dad talked animatedly about wanting to show my brothers and sisters, wishing he had embraced his dreams and his pride at me fulfilling mine; occasionally berating me for not being as excited as he was. I concluded that no one had ever been that excited about anything (except for two year olds when they come into contact with bubbles); it's a hard goal to reach.
We spent our second night at the Dyrholaey Lighthouse. The working lighthouse is temporarily open for overnight visitors. Sitting atop a cliff, the isolated building is located in the stunning surrounding of Vík í Mýrdal at the southernmost point of Iceland; it overlooks the dramatic coastline, the Mýrdalsjökull glacier and a huge arch of lava that reaches out to the sea.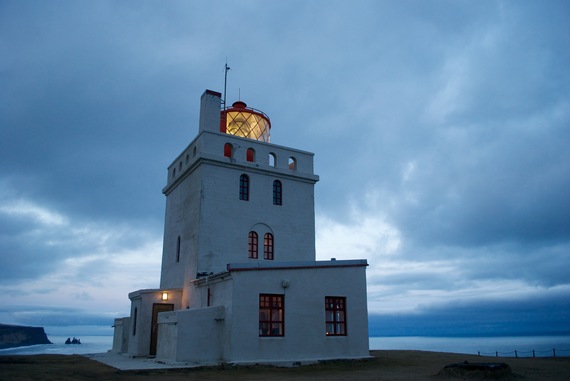 My dad took the chance to refresh my photography skills, expanding on the lessons he taught me the first time I held an SLR. We took hundred of pictures that featured the black beach at Reynisfjara where the waves crashed brutally against the pebbles and the view from our home for the night.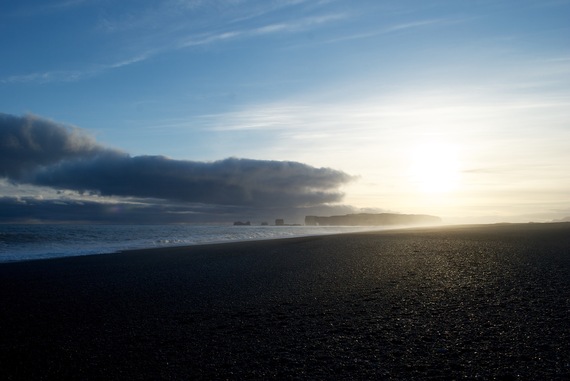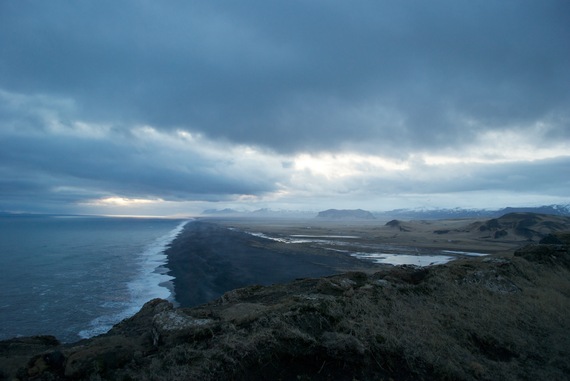 Once we had dried off, we donned our sheepskin slippers and enjoyed a meal that delivered modern cuisine with traditional Icelandic ingredients made by the young chef from the nearby Vík Hotel. Our feast began with delicious smoked puffin breast, followed by grilled langoustines. Over our starter of rainbow trout served with fennel, Atlantic salmon and white fish roe, apple, onion leaf and farmers breadcrumbs, we excitedly discussed the day. During our main course of fillet of lamb with beef onion jus, mashed potatoes, smoked shallots, smoked red onion and charred spring onions, we looked at our photos and planned which shots we'd retake in the morning. The meal was finished off with Icelandic yoghurt skyr served with homemade muesli made with honey roasted oats, blueberry meringue, crispy white chocolate and liquorice, served with bilberry juice, vanilla ice cream and chewy caramel pieces. We talked about more father daughter adventures we could take, although we both agreed, we couldn't think of anything that could top this trip. Exhausted and talked out I went to bed and left the chef to talk to my dad until 2am, I could've got rescued the chef, but once I was tucked up in my room at the top of the lighthouse wrapped in woollen blankets, I wasn't going anywhere.
Our final morning in Iceland was spent relaxing at the Fontana Geothermal Baths located right on the black beach of Laugarvatn Lake. We were greeted by the wide and welcoming smile of the owner Siggi who proudly showed us the hot springs were used for more than saunas and facilitating warm dips in the lake. They were used for earth baking and he showed us how to make his grandmas rye bread and in a "here's one I made earlier" moment, he dug up a fully baked loaf that he had put in the ground 24 hours before. We enjoyed a warm slice with butter before having a dip in the lake and chilling in the sauna heated by the springs.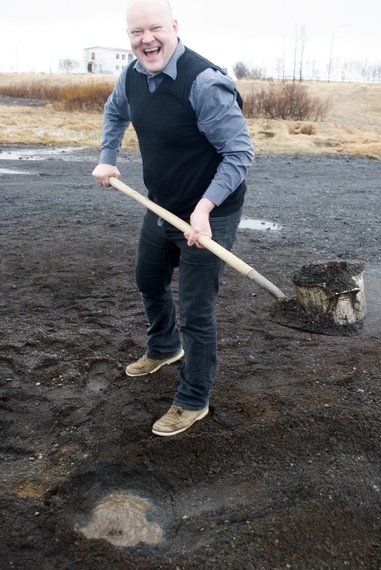 My dad and I were both sad as we had our last meal of Siggi's rye bread with smoked trout, fish stew, skyr with oats and honey and a big glass of orange and malt. We ate slowly savouring every bite. We returned to the sauna and sat in pensive silence in the balmy heat listening to the hot springs gurgling angrily underfoot.
Travel enriches the mind and other clichés, but this trip made ordinary life pale in comparison and this adventure had awakened something in my dad. I could see my dads face resolute that he will return to Iceland and will revisit his childhood dreams of travelling the world, I knew then that this stopover had changed something.
Those few days, I saw more of the 'friend' that my dad had become and the dad traits that made me roll my eyes just 48 hours before, had made him more loveable. Dad's excitement was insurmountable, he peaked in the first five minutes and stayed at that level for the full 48 hours, it was exhausting, but exhilarating. Our adventure strengthened our relationship and allowed me to see even more of the man that my dad is and the man he still wants to be.
Against the backdrop of Iceland and an adventure that included moments of exploration as well as moments for reflection and relaxation, it really was a life-changing journey and I can't wait for the next one.