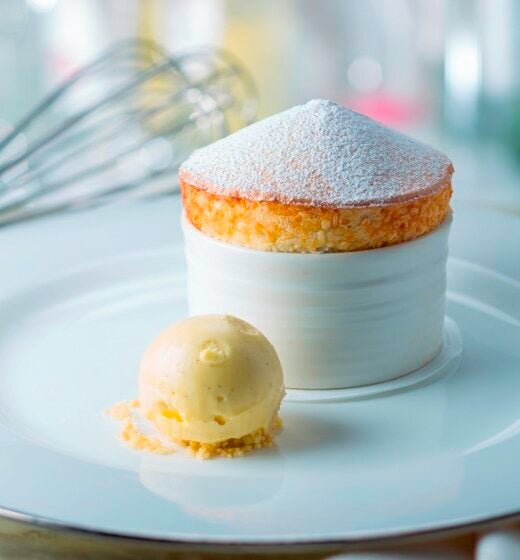 The soufflé: light, fluffy and melt in the mouth delicious, but an absolute pain to make. Which is why although I would consider myself adept in the kitchen, I haven't bothered attempting to make one. Much like making bread and pastry, it falls into my 'life's too short to make this' category; instead I opt for enjoying soufflé's at restaurants. The secret to soufflé success wasn't something I was looking for but keen to learn something new and for that something new to be food related, I signed up to The Rib Room Bar & Restaurant in South Kensington for a masterclass.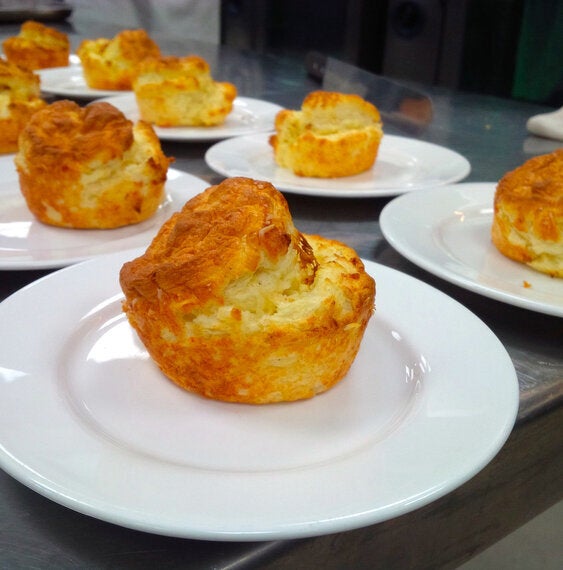 Twice Baked Savoury Cheese Soufflé
15 of us were ushered through the rather opulent Jumeirah Carlton Tower hotel upstairs into the banquet kitchen where we gathered around a metal bench with covered with ramekin dishes, a mixer and various utensils. In walked culinary and 'actual' giant (the very tall) Head Pastry Chef, Stephan Will. We enjoyed champagne and canapés as he took us through the stages of making a variety of soufflés all the while delivering some seriously funny banter at the expense of his team who ended up in fits of giggles alongside us.

During the two-hour class Stephan made twice baked savoury cheese soufflés, apple crumble soufflés, chocolate soufflés and pistachio soufflés. Armed with a glass of champagne, a pen and recipes I scribbled down tips and tricks to creating the perfect soufflé provided by the hilarious Stephan. When they were ready to test, I relished every mouthful. My favourites were the pistachio and the apple crumble soufflé; they melted in the mouth and were as light as a feather. I enjoyed them so much I had two of each.
Stephan made it look simple and the finished products were outstanding, they tasted so good as they looked and I felt inspired to give it a go. The two-hour class is available for a limited time only and costs £35 which includes an exclusive Rib Room apron to take home. The next classes are at 6pm, Friday 20 February and 6pm, Friday 27 February 2015.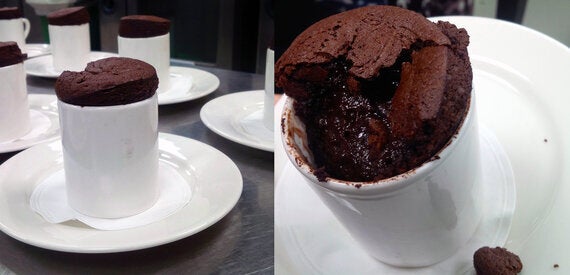 If soufflés aren't your thing, here are some other foodie masterclasses to sink your teeth into in London:
Classes are run from our Moxon Street and Askew Road shops. They last three and a half hours and cost £155 per person. Choose from sausage making, beef, pork, lamb, poultry or seasonal game. Enjoy a two-course informal feast with a couple of glasses of wine, as well as the substantial joint or sausages you have prepared in your class to take home.
The Waitrose Cookery School, located in London and Salisbury holds a variety of courses including knife skills, bread making and cheese making. You can also learn the secrets of making dainty macaroons to rival the selection at even the finest patisseries. The two hour class costs £50 and you will get to bake and fill your own macaroons as you are taken step by step through whisking up a glossy meringue and piping the perfect shells, to making the butter cream filling to finish your macaroons.
Get recipe ideas and hone your fish prepping skills at Saturday's Catch in the authentic atmosphere at Billingsgate fish market. The course is a combination of hands on practical fish mongering, knife skills and cooking demonstrations. The five hour experience costs £100 and will leave you more inspired to cook fish at home.
Spend an afternoon with expert cheese makers Cutting the Curd and learn to make your own halloumi, mascarpone and mozzarella. The course is a mix of demonstration and hands experience with an emphasis on making cheese in your own home using basic kitchen equipment. The course is £65 and three and a half hours long with breaks for tea, coffee and treats. You'll get to take away a delicious selection of cheeses and recipes.
The Bread Bakery Workshop is a hands on, full day baking experience at Bread Ahead's purpose built bakery school in the heart of Borough Market. With instruction and tuition you can learn to make Ciabatta, Soda Bread, Focaccia and the Country Loaf. The course costs £150 and lunch is provided. The course is perfect for beginner to intermediate bakers and will take you through every stage of bread making, culminating in the moment when you can eat a slice of bread made by your own hands.