"Life will be hard because you're a woman, but it will be even harder because you're a black woman. They aren't excuses, they are reasons to work harder and stand up for yourself."
My Mum first dropped this truth bomb on me in 1980-whatever; before promptly opening my bedtime story book, while I sat staring at her with wide-eyed confusion etched across my face. It wasn't the only time she shared this joyful mantra and it didn't happen exactly like that, but due to my jumble of inaccurate memories, I recall it being that bizarre and out of context.
Roll on 2014 and my tolerance for sexism and racism is at an all time low. This year has seen a plethora of feminist rhetoric led campaigns including; the hilarious (if you find children swearing funny) 'F-Bombs for Feminism'; the inspiring 'I Will What I Want' stories; the brilliantly astute 'Like a Girl'; the fantastic UN campaign 'HeForShe' and Sarah Silverman's awesome video on Vagina Tax. Despite the fact that some of them are driven by marketing KPI's, this is a 'trend' I appreciate, as they shed light on the everyday sexism I have little time for.
This 'trend' needs to continue, because as of the 4th November the current pay gap means that women effectively work for free until January and there is a very real need - other than selling leggings and sanitary towels - for my fellow vagina owners to challenge everyday sexism wherever they find it.
It has been 45 years since the Equal Pay Act was introduced in 1970, but according to the TUC women in full time employment still earn less than men. What the actual FUCK?

If you or others need to be inspired to 'woman up' and start challenging this absurd nonsense, might I suggest that you go and see Made in Dagenham -'the gateway drug to feminism'?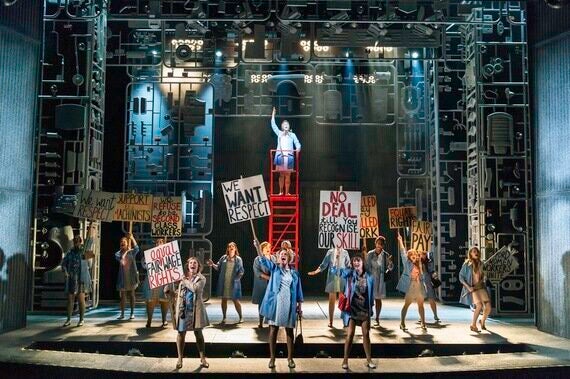 Inspired by the true story of the strike by Ford sewing machinists in 1968, that paved the way for the passing of the Equal pay Act 1970, Made in Dagenham is funny and uplifting.
It centres around Rita O'Grady - wonderfully played by Gemma Arterton - a wife, mother of two and reluctant activist, who leads the girls from the stitching room of Ford's Dagenham car plant in a battle against unequal pay.
The powerful opening number called 'Made in Dagenham' sets the pace for the first half. The airfix model-like set is colourful and cleverly designed and the big musical numbers are punctuated with riotous comedy.
Although the second act lacks the punch and pace of the first half, on the whole it's a great watch that left me inspired and filled with rage that for the next 49 days I'm effectively working for free.
Time to drop an F-Bomb for feminism...
"Pay up motherfucker, I shouldn't need a penis to get paid!"