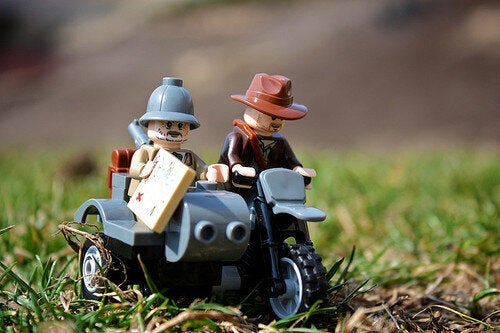 Charley Boorman has blogged extensively about his love of film, travel and motorbikes, and it was this that led him to forge a bond with fellow adventure enthusiast and celebrated actor Ewan McGregor. Back in 2004, they embarked on a trip of almost 20,000 miles across the world which resulted in a documentary series entitled Long Way Round. The 7-part Sky One series was a hit, and the subsequent book published in 2005 quickly became an international bestseller.
This was a career-defining moment for Boorman, who has journeyed onwards to pursue various other projects in a similar format, including another TV escapade with McGregor in 2007. From humble beginnings as a struggling actor, he's now best known as a TV adventurer with a passion for motorbikes. Which, actually, was what he wanted to be in the first place - even if he didn't realise it at the time.
That's perhaps the most interesting part of this tale of intrepid travel: the strange circumstances and pathways that lead people to their true calling in terms of a career path. There are parallels to be drawn between Boorman's experience and my own, and indeed between us and many others whose appetite for travel has led them to carve out a track that makes them a living from it.
While my enthusiasm for film is (at the least at the moment) limited to cinema trips and devouring the latest iTunes movie of the week, my fervor for travel has defined my career decisions. From the earliest moment to my current position, work and exploration have always gone hand in hand for me. And that's the case even when I wasn't aware of it.
In 2010, I become involved in the music industry. A friend and I took to the road in a Ford KA and travelled from the UK's southerly tips to its most northerly. We explored the southern coasts, the industrial cities of England's north and the ethereal countryside of the Scottish borders, all through the looking glass of the country's music venues. From a former deaf institute in Manchester to the smallest music rooms of Camden and Clerkenwell, we saw it all. It began as an overzealous conversation in a pub on a Saturday night, as most great ideas do, but soon developed into a year-long period of movement.
The other important strand in my life as a child, teenager and adult has been a creative endeavour: writing. My time working in music was an unparalleled experience and a good way to decide what was important when roaming with only a backpack in the boot of a car. When I arrived at university and accepted that I would be forced to keep still for a while, I knew I would have to switch my gears towards words over expeditions, at least to some extent. Academic essays aside, the student newspaper seemed the best place to begin.
I had always written, but the challenge of coming up with ideas, gaining the approval of an editor and producing them to deadline for an issue being printed every two weeks was the discipline I needed to begin my foray into a more professional, productive kind of writing. I contributed a piece to every edition that year, covering almost every section of the newspaper. It was an addiction: I just couldn't help myself.
During the same period, I gained a place on an esteemed British Council Scheme called the Study China Programme which saw me spend a month in the country's Shandong province - so far east it was closer to Korea than some western Chinese cities - travelling, learning and writing. A dream was born on that trip. Something clicked and I just knew: I wanted to write and I wanted to travel. I had to find a way to make that happen.
The past few years have seen me edge closer towards making that aspiration a reality. Gaining a TEFL qualification was an important step, as was receiving my first commissions from travel magazines and national newspapers. The process hasn't been easy, but my story - like Boorman's - demonstrates that if you're passionate enough about something, you make the effort to meet everyone you can, and are prepared to work damn hard, almost anything is possible. Even becoming a professional adventurer or a travel writer.
Take time to decide what you want from your life. If your ideal career seems out of reach or unrealistic, don't let that stop you. Despite the odds, there's always a way to make dreams happen.