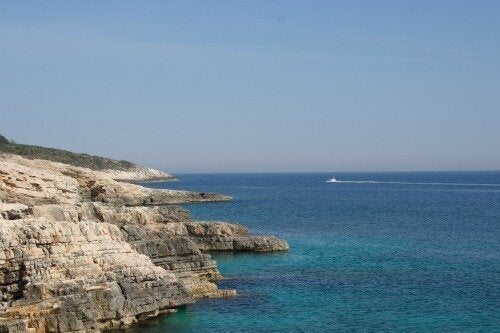 Istria's coastlines are some of the most stunning in Europe
Travelling through the Istrian region of Croatia, you'd be forgiven for wondering if you'd stumbled into rural Italy at first glance. Lush expanses of carefully preened produce are everyday scenery in this part of the world. Olive groves and vineyards stretch out in every direction, disturbed only by the occasional mountain and sea view. But there are many elements that distinguish Croatia's rural coastline from neighbouring Italy.
As one of the Balkan nations emerging from Yugoslavia in the 1990s, Croatia is a relatively new country, and one we'll be hearing much more about when it joins the European Union this July. It's a truly wonderful mix of the Mediterranean and the Eastern European, and a welcome antidote to the miserable British seasons. Istria is infamous for its gastronomical heritage and wine offerings, making it an ideal destination for foodie travellers.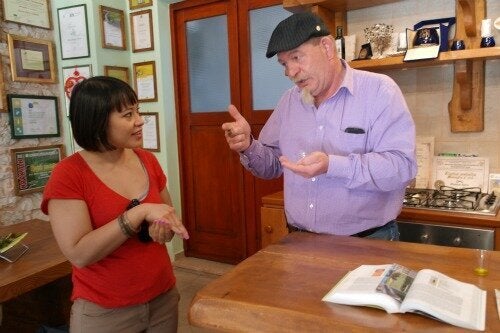 The Belci family are Croatia's most esteemed olive oil producers
Wine and olive oil production are part of everyday life for Istrians, and are often a family tradition stretching back generations. The Belci Factory in the picturesque town of Vodnjan produces Croatia's finest olive oil and boasts an impressive history as a family enterprise. In 2011, the Belci family caught the attention of Flos Olei, an international competition and guide to the best olive oils in the world, and won the title of best "Monovarietal Olive Oil" for their Meloto Extra Virgin. The Kozlovic Winery in Momjan has been passed down through the generations, and has been producing wine on its current site for more than 100 years. These are two notable examples, but there are many more to be found in Istria.
Meanwhile, some Istrians are starting brand new projects based on regional traditions. The Trapan Wine Station in Sisan is the brainchild of Bruno Trapan whose family had no history at all as winemakers. Trapan built his winery from the ground up, learning about regional traditions and the wine business as he went along. It is this that makes his success all the more remarkable; with a self-made and self-educated owner, Trapan wines are now some of the most recognisable in Croatia.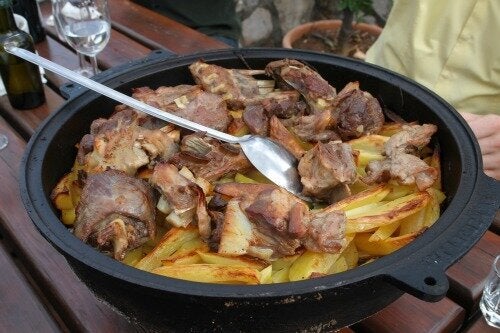 Agrotourism showcases delicious food based on Croatian traditions
Authentic, local culinary and cultural experiences are still easily available in Istria. The region's agricultural tourism movement - known as agrotourism to Croatians - has seen folks in rural areas open up restaurants in or beside their homes. Tourists join families from the surrounding houses for a truly local mealtime experience, in a phenomenon that falls somewhere between a village pub feel and that of a dinner party at a friend's. Everything is prepared, and most of it even grown, on site. Expect fragrant stews with fall-apart-in-your-mouth meat served in enormous pans, platters of delicious seasonal veg flavoured to perfection, and homemade pasta with Italian infusions. Two notable restaurants are Agrotourism Sia in Vodnjan and Agrotourism Tikel in Spinovci - both offer great food and an excellent atmosphere in equal measure. Be warned though: the portions are huge and the courses just keep on coming.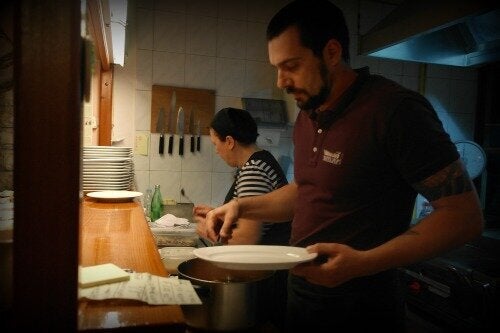 Chef David Skoko is known nationwide for appearing on Croatian Masterchef
In its position overlooking the Adriatic ocean, it's no surprise that Istria's culinary culture emphasises marine fare of all kinds. The region's premiere seafood restaurant is Konoba Batelina in Banjole (Cimulje 25, Banjole, Pula 52100, Croatia Tel: 052 573767), a place that combines rustic food with modest, homely decor. Run by the handsome and talented David Skoko, alongside his mother and mother-in-law, Batelina is a haven of skill, imagination and freshness - all created from just two tiny kitchens. The restaurant's humble surroundings make the 5-course seafood extravaganza a welcome surprise. Each course is creative and beautiful, yet still wonderfully honest. Self-taught chef Skoko has appeared on Croatian Masterchef and is quite the Istrian celebrity; still, he makes time to speak to patrons as they eat at their tables, and gathers supplies for the day's menu in his fishing boat early each morning.
Other notable Istrian restaurants include the 'L' Restaurant which is part of Hotel Lone and located in Rovinj, and the San Rocco Restaurant in Brtonigla. Both offer excellent food and a fine dining feel in two marvellous settings. Expect regionally-inspired Mediterranean specialities with a modern and sometimes international twist at the 'L' Restaurant, such as a delicious spicy Thai-infused soup. At San Rocco, sample locally-sourced fish, seasonal specialities such as truffles, mushrooms, ham and game, and an extensive menu of Croatian wines.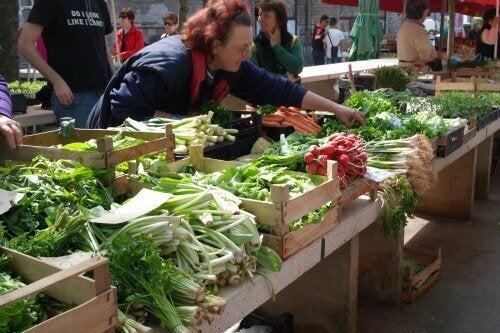 Fresh produce is sold at daily markets all over Istria
Croatia may be a country you know little about, but it's one that truly ticks all the boxes, and Istria is a region bursting with gastronomy, beauty and heritage. Days in Istria will likely be spent eating and drinking just about everything you come across, as a combination of fantastic hospitality and an inspirational food culture create an experience like no other. Export from this fascinating country is minimal due to its size, so travelling to Croatia to sample its fine produce offers a unique and extremely worthwhile holiday. Immerse yourself in a culture that respects and embraces its traditions, offers a luxury experience at a reasonable price, and is home to some of the most interesting characters in all of Europe. You'd be a fool not to go.
As well as stunning views over the water from the balconies of its 368 rooms, the Park Plaza Histria boasts a spa, fitness centre, outdoor and indoor swimming pools, restaurants and bars on site. Double superior rooms start from around £130 on a half board basis.
This luxury boutique hotel is perfectly designed with spacious rooms, sea views and dazzling gardens. Premium double rooms start from around £215 including breakfast, free wifi, complimentary parking, use of the hotel's spa facilities, and refreshments upon arrival.
Ryanair fly between London Stansted and Pula, Istria's capital. Normal rates are from £157 return but there have recently been offers of £30 and £60 one way during Ryanair flash sales.
Related