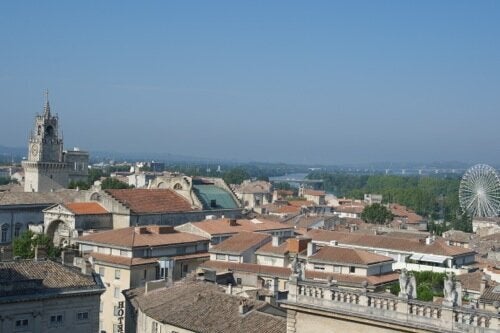 Views over Avignon from the top of Palais de Papes (Credit: Lauren Razavi)
When we step out of the station in Avignon, an intense heat and the sound of cigales act as our greeting. The city is well known for its impressive climate and the region for its sonic buzz, even selling soft-toy versions of the cricket-like creatures in its tourist shops.
The summer is the best time to visit, given that the Festival of Avignon runs throughout July each year, attracting over 950 different theatre companies from all over France and beyond. The multi-arts festival has been going for 66 years now, and is known throughout Europe and, whether on the street or in a venue, performance spots are highly sought after by artists of all persuasions.
The city of Avignon becomes an enormous stage with more than one hundred different venues hosting shows that cover a broad spectrum of performing arts. Posters for theatre, music, comedy and more are plastered across every wall, lamp post and surface in sight, and, at this time of year, the whole city seems to pulsate with a unique brand of excitement for the arts.
No matter what time of year you visit the city, however, there's lots to see. The most remarkable monument is undoubtedly the imposing Palais de Papes and its expansive garden complex. The structure served as the Popes' residence in the 14th century and is one of the most important gothic palaces in Europe, preserved almost perfectly and rightly classified as a UNESCO World Heritage site. Visitors can explore 25 different rooms featuring priceless frescoes, incredible sculptures and fascinating architecture, with extensive tourist information available in a plethora of languages.
Surrounding the Palais are the enchanting Rocher des Doms gardens where locals and tourists alike relax with morning yoga, picnic lunches or an evening stroll. Large basins are home to swans, ducks, geese and carp all around, while the area itself overlooks the Rhone River with magnificent views from almost every vantage point.
A collaborative exhibition spread across the Palais and the formidable modern art gallery Collection Lambert is in full-swing during our stay, showcasing the work of five female artists: Camille Claudel, Louise Bourgeois, Kiki Smith, Jana Sterbak and Berlinde de Bruyckere. The works on show celebrate and explore conceptions of femininity through a variety of visual art forms.
The Collection Lambert gallery itself is a perfect example of France's national appreciation modern artistic works. The contemporary collection was donated to the French government by art connoisseur Yvon Lambert, and reflects a range of the major trends of our time: minimal art, conceptual art, 1960s and 1970s land art, 1980s paintings and a range of photography and video from the 1990s and 2000s.
Smaller in size and lesser known in terms of reputation, art enthusiasts should also visit the Angladon Museum, an old private mansion in the heart of old Avignon. The great painters of the 19th and 20th centuries including Manet, Van Gogh and Picasso are presented on the gallery's ground floor, while the parlours are home to 18th century paintings by Chardin, Joseph Vernet and Hubert Robert among others.
Until November 3rd, the Angladon is also hosting an exhibition called Portraits d'Artistes by photographer Denise Colomb, which would be worthy of a visit on its own. Colomb is regarded as one of France's finest portrait photographers, and her distinctive style demonstrates a striking talent for capturing personalities through facial expressions. She died at age 101 in 2004, and during her impressive career photographed many important figures such as Pablo Picasso and Alberto Giacometti.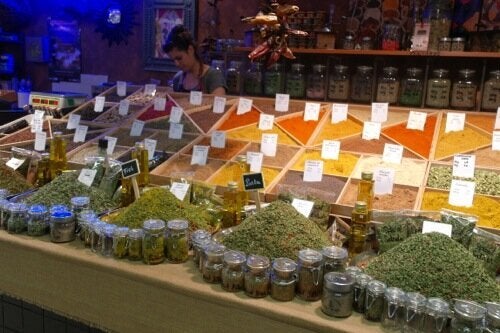 For the foodie traveller, the covered market of Les Halles d'Avignon welcomes more than 40 retailers of Provençal fresh produce from Tuesday to Sunday each week. Recognisable from the outside by its plant wall which was designed by Patrick Blanc, the best day to visit Les Halles is on Saturday. In a feat known as "La petite cuisine des Halles", Avignon chefs cook up a storm from 11am, preparing recipes publicly and using products from Les Halles. Entrance is free and samples are plenty.
Another stop on the gastronomical trail in Avignon is La Mirande, a historic 4* hotel in the very centre of the city. We visit for dinner, and the meal is served in the hotel's beautiful garden area; a hidden-away courtyard that offers the Palais as its backdrop and just enough sound from the festival to be atmospheric rather than overwhelming. Each course is divine, with the highlight of the meal being a seared duck breast verging on perfection.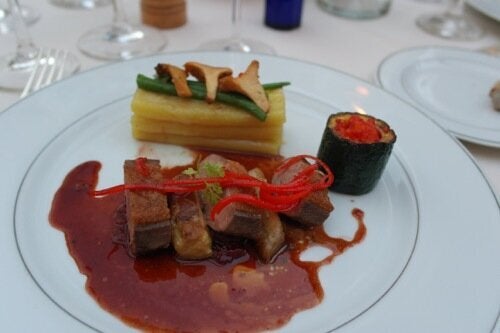 As well as being known for the incredible food in its restaurant, the complex includes a cooking school in the historic setting of a traditional French kitchen. Groups of six to twelve people can participate in La Mirande's cookery courses, taught by the greatest chefs of the region.
After a stay brimming with interesting activities and excellent food, I still don't feel I've seen enough of this glorious city. It won't be long until I'm back - won't you join me?
Eurostar trains to Lille are available to book from London St. Pancras International or connecting via St. Pancras from a range of regional train stations across the UK. First and second-class tickets are available for purchase, and can be booked online, over the phone or in person. First-class tickets incorporate a lovely meal including wine or beer - a relaxing start to any trip!
RailEurope is an easy, efficient and painless way to book train tickets in countries all over Europe, with each local service conveniently presented in your own language and in your own currency. First and second-class tickets are available, and you can book TGV, SNCF and other French train services in advance through their website.
Avignon Tourism arrange guided tours of the city and can assist with all aspects of planning a trip to Avignon. There is information about all of the monuments and sites above on their website.