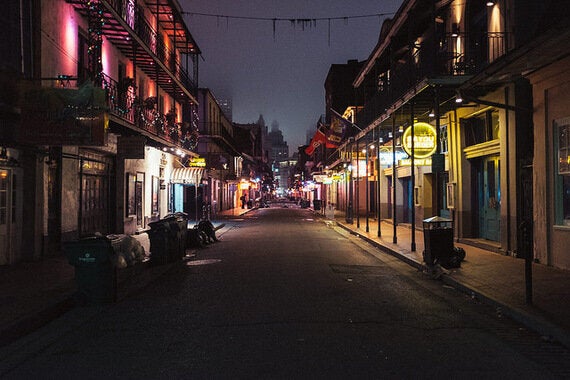 EXPERIENCE BOURBON STREET
Land of cheap drinks, seedy clubs, greasy takeaway restaurants - no trip to New Orleans would be complete without a few nights spent on the city's most notorious street. There's lots on offer and lots to see but planning is crucial or you'll likely be roped into all sorts of expensive mischief.
Start off with a drink in a pub-like bar that's bound to have live jazz and blues happening in one corner, then accept the inevitable fact you're going to a strip club. The Bourbon Street experience just wouldn't be complete without it! Most have cover fees, and the few that don't make up for it with their drink prices, so choose carefully and then go for it.
When the hedonism (or the booze) becomes too much, grab a pizza for $10 and head back to your hotel. You might need an aspirin in the morning.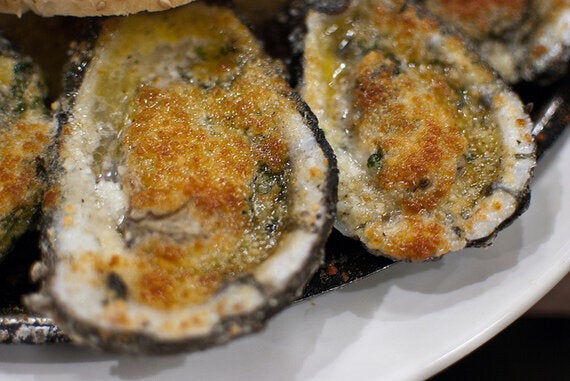 As a city set on the Mississippi River (watch your spelling!), New Orleans is a brilliant place to eat seafood. It's also a place that's very serious about its meat, its flavours and its portion sizes. But with so many restaurants offering so many different dishes, it can be really difficult and confusing to figure out which ones are worth a punt.
My favourite overall find during a two week stint in the city was the bustling Drago's Restaurant (2 Poydras Street, New Orleans, LA 70130). It's a modern yet rustic, family-run spot with an extensive menu of seafood dishes and a full-service bar - read: they'll make you any cocktail you want. The menu highlights for me were the Fleur de Lis Shrimp and the Drago's Original Charbroiled Oysters. Both were absolutely stunning.
Another great eatery, especially for lunch, is Mother's (401 Poydras Street, New Orleans, LA 70130) - a historic spot offering up the best po'boy sandwiches in the city (at least in this humble blogger's opinion). Be sure to try the Ferdi Special, packed with ham, roast beef and gravy. And always add cheese. There's no sandwich in the world that doesn't need cheese. The prices are really reasonable and the staff super-friendly.
For a delicious brunch...
The best brunch I had was at the Ruby Slipper Cafe (I went to the one at 200 Magazine Street, but there are four different locations across the city). They serve breakfast-like dishes all day long, and the two offerings I kept going back to were the Costa Rican Breakfast (it includes avocado, chorizo and crispy plantains - what's not to love?) and the Miami Slice (a pulled pork sandwich - but, like, times ten in terms of flavour and size).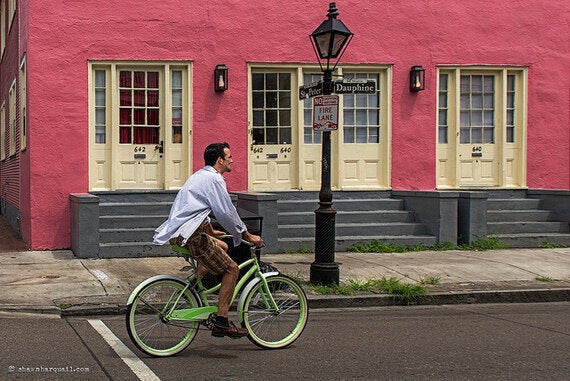 CHOOSE YOUR ACCOMMODATION
For a taste of old NOLA, choose a hotel in or right by the French Quarter. Some of the city's prettiest and most historic properties to stay in are part of the New Orleans Hotel Collection - which is why I chose them. If you're anything like me, a community of hotels like this is a good place to start if you want to get a feel for what's on offer without being overwhelmed by pop-up deals flashing in your face!
I stayed at the Dauphine Hotel (415 Dauphine Street, New Orleans, LA 70112) and the Hotel Mazarin (730 Bienville Street, New Orleans, LA 70130). Both offer free continental breakfast, free welcome drinks and free WiFi access, making a stay at either good value compared to lots of other American hotels I encountered. The rooms at both of these hotels have traditional decor, sitting areas, flat-screen TVs, work desks and complimentary toiletries.
The thing I really liked about both Dauphine and Mazarin was their historic setting and old-world vibe. In my opinion, there are too many clinical chain hotels that don't offer atmosphere and learning experiences - and there's no good reason for missing out on these things while you're visiting somewhere with such a rich, vibrant and tumultuous history like NOLA.
Get inspired for trips to the US and well beyond by visiting our blog Take on the Road.