Well, May was a very eventful month! Flew to New York to attend the Metropolitan Museum of Art's annual Costume Institute Gala (often called the "East Coast Oscars" and "the party of the year"!) to celebrate the opening of their new exhibition, PUNK: Chaos to Couture; the Gala was held 6 May 2013 and the exhibition is ongoing- well worth a visit!
The red carpet was the longest I have ever seen! Huge flags: American and Union Jack decorated the walls. "A-list" actors, musicians, designers, journalists from all over the world were there. Every celebrity, from Madonna, to Diane Von Furstenberg, to Beyoncé to the Olsen twins to Kardashians to YOU NAME IT!! was there.
But this was to celebrate Punk fashion and the Met's fashion exhibit. Madonna and Debby Harry truly got into the spirit of the evening... while others, well they just didn't grasp the Punk concept.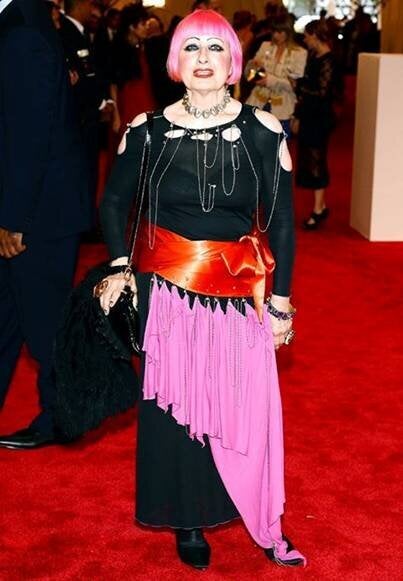 I wore my own vintage gown from that collection - a long black jersey with holes, beaded safety pins and chains, complete with a pink and red sash. It was exactly how I had foretold in 1977 - punk HAS gone chic and some say I was the first to have made it that way (much to Ms Vivienne's disgust and scathing remarks!) One person paid me a beautiful compliment "...all reports are in:
"Zandra Rhodes was the most elegantly and appropriately in every sense of the word dressed on that glorious runway... the Princess of Punk!"
Here are some of my original slinky jersey pieces from 1977, replete with holes, chains and safety pins...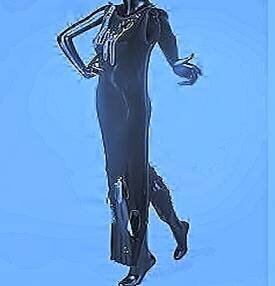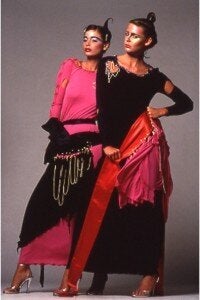 Two Zandra Rhodes originals are included in the Met's exhibition from my Conceptual Chic collection of 1977. They are my "Wedding Dress" and a chic black jersey gown with, beaded safety pins and metal-ball chain. I would like to mention that both of these were released ten years before Versace did his Elizabeth Hurley "that dress" 1994!! (As always, I am very flattered by imitation).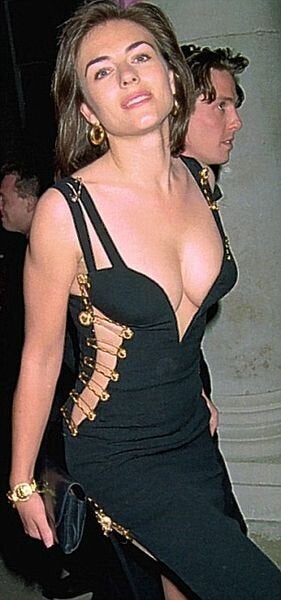 My last comment for now about this genuinely extraordinary evening is: Andrew Bolton's concept with the colored wigs was fabulous!
After my quick trip to New York for the exhibition opening, I returned to California to finish preparing for my trunk show and event at Lux Art Institute in Encinitas! Lux is a hidden treasure promoting contemporary artists in residence and providing educational programs for the community. With a live band, delicious hot hors d'oeuvres, VIP happenings, sales items and our lovely models donning my short fabulous Sketchbook Collection garments complemented by my signature colored (blue, green, orange and of course pink) wigs by the superb Victoria Lavanty of Solana Beach, CA, the event was a huge success and a fun evening for all. We simply could not believe how many people attended!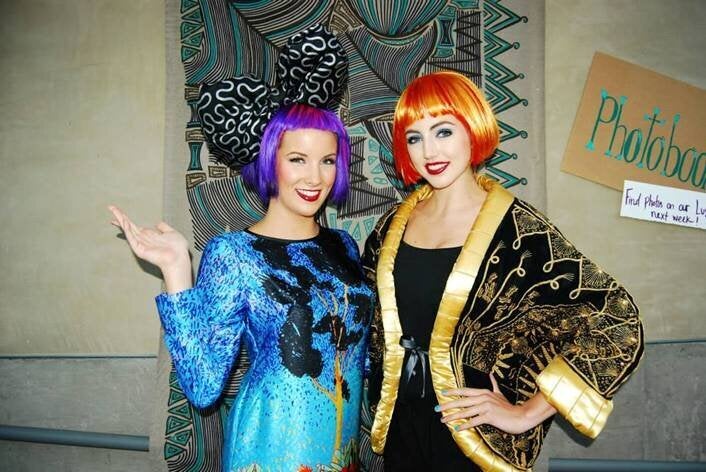 A few days in my California studio, and I was off again! Back to Boston to receive an honorary Doctorate at Massachusetts College of Art and Design. Mass Art had hosted my exhibition Zandra Rhodes: A Lifelong Love Affair with Textiles last year! I addressed the class of 2013 after receiving my honorary degree outside in the park, where we were lucky enough to have the ceremony while the torrential rain held off!
I cannot believe it is already mid-June; I have just returned to California from London (where I was working on my Fall 2013 line and preparing for a retrospective of my work at the London Fashion and Textile Museum this summer). Stay tuned, more opera, international museum exhibitions (including Malaysia!) and of course fresh new textile and clothing designs are coming soon... for 2014!!!
So as always, Bye for now xxxxxxxxxxx Zandra