Following on from my 'Christian Louboutin bares his sole' article... As I left the exhibition I noticed a sign pointing to another exhibition upstairs. So, I decide to take a look and, to my surprise, it was another event featuring award winning designers.
The exhibition covered fashion, industrial design, technology and architecture. One non-fashion exhibit that caught my eye was an app that replaced my and my friends' faces with much older ones. The app followed our faces creating a virtual mask and mimicking our exact facial movements. It was very strange and I have to say that, if the app is accurate, I will not be a good-looking old lady. Lol.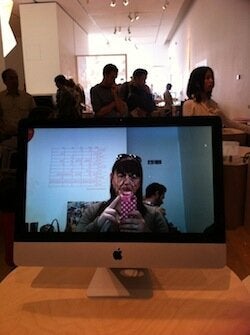 I continued to wonder around the exhibition admiring some of the amazing design on offer until I finally came across the fashion element.. This felt more like home to me with the first display featuring designer Mary Katrantzou.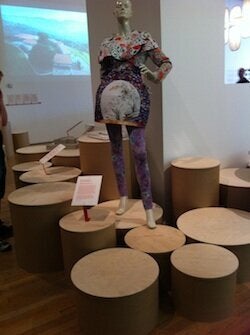 The display featured some of her designs and contained information about her many recent successes, including the British Fashion Council Emerging talent award. Mary's Collections are available worldwide in over 200 high end fashion shops, including Selfridges & Harvey Nichols. Her work has also been featured in publications including Vogue and Grazia.
Whilst reading the information about Mary, out the corner of my eye I could see a display that looked familiar. As I got closer, I quickly realised that it was about Alexander McQueen and featured a number of his famous face masks. Alongside the face masks was a video covering the designer and his success. I put on the headphones next to the video screen and, in my mind, was quickly transported into the world of McQueen. I really wanted to just close my eyes and imagine myself surrounded by the beauty of the designs, but I'm not sure people waiting would have appreciated my obsession.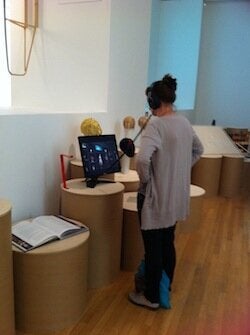 As I looked around the exhibition further, I noticed a video about Gareth Pugh and a display about Issey Miyake. Both were really fascinating, but there was another display that had caught my eye...
The display in question featured the making of the Duchess of Cambridge's wedding dress. A video was running, talking about the making of the dress itself but, as there were a number of people waiting to put on the headphones, I decided to simply appreciate the fabric example that was on display.
The detail of the fabric was amazing and looked incredibly intricate. The appearance was that of a fabric that, if touched, was so soft that it would simply disintegrate. Unfortunately I wasn't able to get a picture, but please believe me when I say that the fabric was truly a thing of beauty!
This second exhibition had been a total surprise to me and I'm so glad I decided to check it out.
After an afternoon of some of the world's most famous designers my appetite for creativity had been satisfied for another day. But my appetite for food meant that the next stop was a pub across the river front.
All images within this article are Copyright 2012 LittleMissFashion.com