Firstly, I just wanted to make a quick apology for the delay in publishing this blog entry. unfortunately i've been suffering from a tummy problem over the last few weeks that resulted in me having to attend hospital. I'm pleased to say that I'm now feeling much better and have plenty more stories to share with you over the coming weeks. Anyway, less about me and more about the wonderful Graduate Fashion Week...
Graduate Fashion Week is one of my favorite events of the year and this year's event was no different. Graduate Fashion Week continues to be the place for students to show their creativity and for fashion brands and retailers to identify their future design talent.
The event showcases the very best talent from 40 of the UK's premier fashion and design universities and 16 International Universities (including Parsons, BUNKA, FIT and Istituto Marangoni),
This year the show hall seemed to have a different feel about it. The format included more career advice and support for students. GFW offered a dedicated career guide service providing a range of services including general careers information, CV writing skills, business start-up advice and pre-university help for those leaving college.
On the subject of recruitment, I hear that last year George employed approximately 70 of the most talented graduates that took part in the GFW show - an impressive number of recruits for a single brand. This of course included last year's gold award winner, Chloe Jones, from Bath Spa.
This subtle change to the show format I think is great. In general Britain produces some of the worlds leading fashion students and having worked with a number of young and emerging designers, I know first hand how difficult it can be to get a career within the industry. This small change makes a big difference and I hope to see it again in future shows.
The event has always been extremely well organised, compared to previous years, this years event overall seemed to have a more professional look and feel about it with creativity from the colleges and universities at an all time high. In past years I've sometimes had the feeling that students may have been 'playing it safe' with some of their designs. However 2013 was very different with brilliant creativity at the heart of nearly every design on show.
The collections on show were so creative that they bordered on art, with a number of designers using bright bold colours, a multitude of materials and amazing prints to really show of their design talents.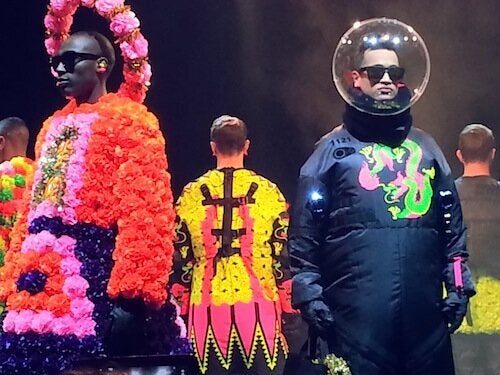 Photo Copyright LittleMissFashion.com
One designer that I thought was fantastic this year was Adam Jones from Manchester School of art with his cat print detailed skirts.
Others that really impressed were Edinburgh University with their men's bearded models, UCA Epson for their creative use of materials and Ravensbourne College for their brilliant #SmileOn marketing campaign.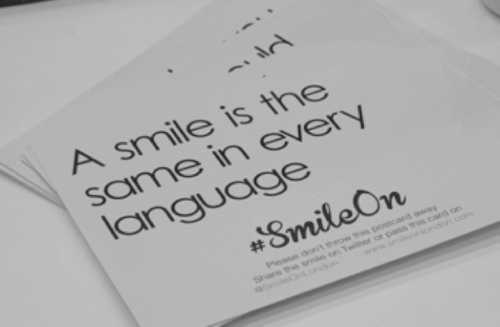 Photo Copyright Graduate Fashion Week
Gala night at Graduate Fashion week is always a special evening and this year the event seemed bigger and better than ever. Attracting some of the biggest names and celebrities from across the industry, it really is a key date in the social diary.
We spotted Lady Victoria Harvey, David Gandy (who created a lot of excitement amongst the girls) and Hilary Alexander in the audience, to name but a few.
The first three rows in the audience appeared to contain a lot of well known brands and design houses keenly looking for their next design champion; I know ASOS were in attendance as were a number of other leading retailers.
Presenting the awards this year was Henry Holland and Zara Martin.
The catwalk shows during the Gala were amazing, featuring children's wear, womenswear and menswear collections.
I particularly liked the brilliant use of diverse colours and materials shown in this years collections plus the return of the children's collection for a second year was met with real fondness.
Of course the Gala evening is all about the awards and this year we really had some amazingly talented winners. The winner of this year's Gold award went to Lauren Smith from Edinburgh College of art.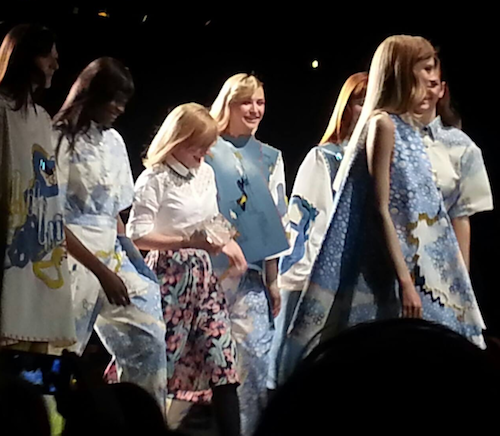 Photo Copyright LittleMissFashion.com
Fiona Lambert, George Brand Director, commented:
"We've had a fantastic week meeting all of the graduates and seeing their work. We've been genuinely amazed by the quality, creativity and professionalism of this year's graduates. We chose Lauren as the George Gold Award winner because her designs reflected her character and showed real vision and craftsmanship. I'm looking forward to working with her and producing her range for George and George.com."
Other key awards went to:
Womenswear Award - Hannah Williams, UCA Epsom
Menswear Award - Shauni Douglas & Olivia Creber, Edinburgh College of Art
Life Achievement Award - Suzy Menkes OBE, head fashion reporter and editor for the International Herald Tribune.
A full list of award winners is available here http://www.gfw.org.uk
Overall this years Graduate Fashion Week seemed bigger and better than ever before. The designs on display in the show hall and on the catwalks were hugely impressive but most importantly, GFW continues to demonstrate the huge talent our colleges and universities have to offer to the industry.
Congratulations to all those who took part and I truly cannot wait until next year's event!