England defender John Terry revealed he was "very angry and upset" when he thought Anton Ferdinand had accused him of racism at Westminster Crown Court on Tuesday.
Terry, 31, is accused of calling Ferdinand a "f****** black c***" during a Premier League match on October 23 last year.
He says he was sarcastically repeating the words that QPR centre-half Ferdinand mistakenly thought he had used.
Terry is accused of a racially aggravated public order offence, which he denies.
On Tuesday, he told Westminster Magistrates Court that, as the pair traded insults, he heard Ferdinand say: "calling me a black c***".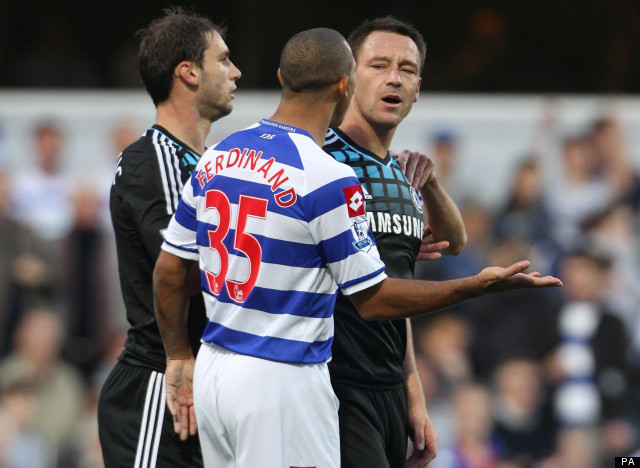 Terry is accused of racially abusing Ferdinand last October mid-match
"I thought he was accusing me of calling him a black c***.
"I was very angry and I was upset. I replied 'a black c***, you f****** knobhead".
The father of two, wearing a dark suit, had to be told to keep his voice up at times as he gave evidence.
He said he was "frequently" insulted on the pitch and had "heard it all before".
The Chelsea defender said: "It's part and parcel of the game, you just get on with the game basically."
He said he would be taunted about allegations of an affair with former team mate Wayne Bridge's ex-girlfriend at "more or less every game".
But he said he would "just laugh it off basically". Terry arriving at Westminster Crown Court on Tuesday
During the match at Loftus Road last year, Terry said he and Ferdinand first began trading insults when Ferdinand called him a "f****** prick" because a Chelsea player had not given the ball back to QPR.
Terry then ran back to his position and turned round to face Mr Ferdinand.
"He was doing a pumping action and saying 'shagging Bridge's missus'," Terry told the court.
Terry told his barrister George Carter-Stephenson QC that he co-operated fully with both the Football Association and police inquiries.
He said he did not remember the exact times he learned of the investigations but said he was "making contact and arranging to go in and sit down, offering my assistance basically.
"I co-operated fully with both inquiries."
Comments have been closed on this entry for legal reasons
READ MORE: