Could the humble cookbook soon be a thing of the past?
Busy food shoppers who are looking for inspiration will soon be able to use a new app that uses the latest smartphone camera technology to give them cooking ideas.
The Cucumber app is the first iPhone application that uses automatic image recognition to identify branded food products and then recommend recipes that can use that ingredient.
London based apps developer We Are Apps has released a preview of the technology, which is aimed at busy shoppers who are looking for inspiration but don't want to fiddle around searching for recipes online using their smartphone in a busy supermarket.
The £400 'Modernist Cuisine' Cookbook Surprise Hit With Foodies
We Are Apps Managing Director, Ian Malone says, "Most products on supermarket shelves are stacked with the label facing forward.
"This means that barcode or QR codes aren't visible without the user having to move or hold the product. With Cucumber, the user can scan the label itself, so they don't have to put down their bags or basket to interact with the product. It's a big thing for the supermarkets."
"With Cucumber, you quickly scan the product then get suggested recipes either from the web or from a carefully curated list of recipes held on the app itself.
All of the major ingredients will be represented, so potentially there will be thousands of recipes to give the user ideas to cook for supper."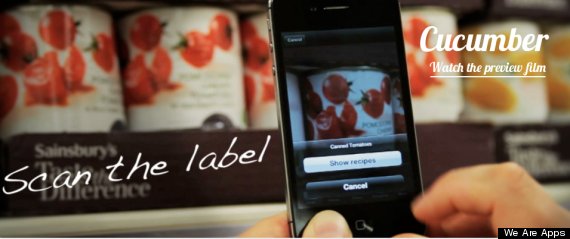 Do you think this could spell the end of the humble cookbook?
The web recipes are also curated to only include recipes optimised for the smartphone's smaller screen. The recipes embedded on the app itself are supplied by leading cookery publishers and will feature dishes from celebrity cooks.
Users will be able to create their own customised recipe book by creating libraries of their favourite recipes. They can also take advantage of shopping list creators for missing ingredients and the app also has an extra timer to compliment the iPhone's existing one.
The app is due to be released in the autumn/winter.
In the meantime, users will be able to visit facebook.com/cucumberapp and recommend the products they want to see the app recognise, make recipe suggestions and sign up for an alert when the app become available in the app store.
If you're not ready to give up your cookbooks just yet, take a look at HuffPost Lifestyle's round-up of the best cookbooks every kitchen needs...
50 Best Cookbooks For Foodies
Using his own culinary Asian experiences, Bill Granger has put together a beautifully illustrated book full of inventive dishes from the orient. Bill's Everyday Asian, Bill Granger, (Quadrille, RRP: £20). Buy it now.

Pie lovers Si King and Dave Myers have banged their heads together to create a book of 150 traditional tasty pie recipes - from the sweet and savoury, deep and small and even pies that are puddings. The Hairy Bikers' Perfect Pies, Si King & Dave Myers (Orion, RRP: £25). Buy it now.

Hugh Fearnley-Whittingstall has done it again with another excellent cookbook and this time - it's all about vegetables. With an abundance of imaginative veggie recipes, it's the perfect eulogy to the humble vegetable. River Cottage Veg Every Day! Hugh Fearnley-Whittingstall (Bloomsbury, RRP: £25). Buy it now.

A book full of delicious french heritage dishes which celebrates the best of French home cooking by the men who know how. Inspired by their mother's handed-down recipes, Michel Roux and brother Albert, will get your taste buds tingling. French Country Cooking, the Roux Brothers (Quadrille, RRP: £25). Buy it now.

After meeting 30 years ago, the two 'greedy Italians' Antonio Carlucci and Gennaro Contaldo have joined forces to create a cookbook packed with the perfect mix of classic and contemporary Italian dishes. Great for those with a flair for Italian food. Two Greedy Italians, Antonio Carluccio and Gennaro Contaldo (Quadrille, RRP: £20). Buy it now.

Passionate about seasonal food, follow Mark Hix's lead as he shows you how to source, create and cook seasonal delights that will make your mouth water. British Seasonal Food, Mark Hix (Quadrille, RRP: £14.99) Buy it now.

Designed for busy people, Laura Santini shows us how to prepare and 'flash cook' healthy meals using ingredients lurking in your kitchen cupboards, showing how basic foods can transform into tasty wonders. Also find out how to create a 'flavour bomb'. Flash Cooking, Laura Santini (Quadrille, RRP: £20) Buy it now.

The queen of cakes shares eternally popular recipes we all know and love, featuring every cake imaginable. Think Victoria sponge, teacakes and fudge and banana cake. My Kitchen Table: 100 Cakes and Bakes, Mary Berry (BBC Books, RRP: £7.99). Buy it now.

An inspiring book for vegetarians and vegetable lovers, these sumptuous recipes give the reader a tour around the middle east. Featuring imaginative dishes like gingery tamarid aubergines, pink pickled turnips and rose petal jam - it also makes an attractive coffee table book. Veggiestan, Sally Butcher (Pavilion Books, RRP: £25). Buy it now.

Perhaps not the most appetising book cover of all time, but this book offers more than your average meat book. Following on from Bones, Fat, Odd Bits, this book features 100 recipes devoted to the rest of the animal that many of us discard when in fact they can be flavoursome cuts of meat. Odd Bits: How To Cook The Rest Of The Animal, Jennifer McLagan (Jacqui Small, RRP: £20). Buy it now.

How Clean Is Your House star Aggie Mackenzie has turned her attentions to cooking with her book dedicated to family meals. Featuring tips on food budgeting, eating plans and even advice on keeping your kitchen free of germs - it's more than just a cook book. Aggie's Family Cookbook, Aggie MacKenzie (Pavilion Books, RRP: £20). Buy it now.

Using the idea that you can grow all your own vegetables, this book educates the reader on the best way to source and eat seasonal vegetables, simple yet healthy dish ideas and tips on how to grow your own. The Allotment Cookbook Through The Year, Caroline Bretherton (Dorling Kindersley, RRP: £16.99) Buy it now.

Flavoursome foods through the season, this simplistic cookbook does exactly what it says on the tin with basic dishes to winter warmers. A kitchen staple. The Cookbook: Cook, Eat, Smile, Bill Collinson and Sheridan McCoid (Saltyard Books, RRP: £25). Buy it now.

Globe-trotting chef, Allegra McEvedy, uses her 20 years of travelling experience to create this authentic cookbook packed with cultural references. She even shares the eclectic collection of cooking tools she's picked up over the years, from aesthetically crafted filleting knives to wooden African tools. Bought, Borrowed & Stolen, Allegra McEvedy (Octopus, RRP: £25). Buy it now.

With the cold nights drawing in, Sainsbury's has launched a brand new cookbook that brings together 100 of the nation's favourite dishes in one handy volume, available in-store. Classic Recipe Collection, Sainsbury's, (RRP: £5). Buy it now.

Supermodel-turned-chef Lorraine Pascal brings back the simple act of baking. Lorraine also helps the reader perfect their baking and cake decorating skills. Baking Made Easy, Lorraine Pascal (HarperCollins, RRP: £18.99). Buy it now.

The perfect book for chocolate lovers or budding chocolatiers, this book is informative in its extensive chocolate knowledge and features innovative chocolate recipes which are sure to go down a treat with dinner guests. Couture Chocolate, William Curley (Jacqui Small, RRP: £30). Buy it now.

The creation of shoe designer Patrick Cox and Eric Lanlard, this renowned cupcake shop in London has made it into a book featuring their Mrs Nickolchuk's Nanaimo squares, cupcakes bejewelled with skulls and gothic black frosting. This book features 80 recipes from classic cupcakes and chunky chocolate chip cookies to all-time favourite cheesecakes and brownies. Cox Cookies & Cake, Patrick Cox and Eric Lanlard (Mitchell Beazley, RRP: £16.99). Buy it now.

This new cookbook by Waitrose features over 70 beautifully illustrated recipes from organic lovers including Kate Humble, Lorraine Pascale, David Haye and own Waitrose Cookery School chef, Gordon McDermott. showing how easy it is to use organic produce when cooking, it shows that eating organic doesn't have to be difficult, exclusive or expensive. Discover Organic, (Waitrose, RRP: £14.99). Buy it now,

This book looks at the long forgotten recipes from the oldest and longest road in South Asia. A different look at Indian food and a kitchen must-have for all Asian food lovers. Food Of The Grand Trunk Road, Anirudh Arora and Hardeep Singh Kohli (New Holland, RRP: £19.99). Buy it now.

Everything you need to know about buying, preparing and cooking meat is in this book. From recommendations on the best butchers in town, cooking styles and breeds of meat, this is an excellent gift for meat lovers. Ginger Pig Meat Book, Tim Wilson and Fran Warde (Mitchell Beazley, RRP: £25). Buy it now.

Back with his annual cookbook, Gordon Ramsay whips up delicious Christmas food treats that offer creative ways to entertain the family this festive season. Christmas With Gordon, Gordon Ramsay (Quadrille, RRP: £15.99). Buy it now.

Featuring cooking tips and recipes from 16 of the most celebrated chefs in the UK, they show you how to revive British food greats with hundreds of delicious, easy-to-follow recipes. Great British Food Revival: The Revolution Continues (Orion, RRP: £20). Buy it now.

The kitchen rebel is back but this time he's toned down his usual wildly imaginative recipes and replaced them with perfected and surprisingly, easy-to-follow recipes, including his calorific great - the triple-cooked chips. Heston Blumenthal At Home, Heston Blumenthal (Bloomsbury, RRP: £30). Buy it now.

The makers behind everyone's favourite smoothie have created this simple, quick and easy cookbook geared towards families and healthy eating. Hungry?Innocent (Fourth Estate, RRP: £20) Buy it now.

It wouldn't be the same at Christmas without a new Jamie Oliver cookbook! Check out his indisputable classics using strictly British produce all inspired by Jamie's 'gastropub' heritage. Jamie's Great Britain, Jamie Oliver (Michael Joseph, RRP: £30). Buy it now.

Lorraine Pascal's second cook book in 2011, she shows us how to make easy recipes at home, including cosy soups and autumnal breads. Home Cooking Made Easy, Lorraine Pascale (HarperCollins, RRP: £20). Buy it now.

Indulge in these sugar-coated tasty delights as this book shows you how to sweeten up your life with an array of delicious cakes, bakes and puddings. Split into two categories, it tells you everything you need to know about everyday baking and making sweet treats for special occasions. Leon: Baking and Puddings, Henry Dimbleby and Claire Ptak (Octopus, RRP: £20). Buy it now.

Former TV presenter Emma Forbes has put together this cookbook-come-dinner-party-etiquette guide, sharing her wealth of ideas and recipes along the way. Life & Soul, Emma Forbes (The Ivy Press, RRP: £20). Buy it now.

Fans of the TV show will be delighted with this cookbook featuring 30 popular recipes from the show and 100 other genius recipes - plus tips on how to become a master chef in your own kitchen. MasterChef Kitchen Bible, (Dorling Kindersley, RRP: £26). Buy it now.

Discover the secrets of Scandanavian cooking as native Signe Johansen takes you though the process of creating the nation's favourite dishes, like Smorrebrod and Cardamom cream buns. Scandalicious, Signe Johansen (Saltyard Books, RRP: £20). Buy it now.

Australian chef Christine Manfield explores the strong flavours and spicy flair of Indian food as she creates tasty (and hot!) dishes curry lovers will love. Tasting India, Christine Manfield (Octopus, RRP: £40). Buy it now.

The perfect mix of classic dishes to far flung recipes using the author's food philosophy ("I like my food to have a sense of roots: a kind of doffing of the hat to all that came before"). The Good Table, Valentine Warner (Mitchell Beazley, RRP: £25). Buy it now.

A great book that educates you about the history of Long Clawson cheese as well as providing clever ways to cook and eat cheese. Cooking Creatively With Cheese, Tom Aikens (Direct Print On Demand, £7.95). Buy it now.

Everyone's favourite bakery has launched a second book featuring all its popular cupcake recipes and cake decorating tips. Great for budding bakers (or those with a sweet tooth). The Hummingbird Bakery Cake Days (Collins, RRP: £20). Buy it now.

Not your average cookbook, this combines jewels and food with aubergines brooches and sweetcorn earrings. An unusual mix for sure, but it makes a stunning book to look at, plus has the added extra of tasty, easy-to-make recipes. Delicious Jewels, Hemmerle and Tamasin Day-Lewis (Prestel, RRP: £50). Buy it now.

Based on the popular restaurant in London's Spitalfields market, this book focuses on all things beef - the finest steaks, burgers and roasts. This practical book shows you how to buy and cook great steak, how to mix terrific cocktails and choose wine to accompany your meal. Hawksmoor At Home (Preface, RRP: £25). Buy it now.

New York's most popular restaurant shares its famous recipes in this tasty tribute featuring 125 of its iconic dishes. Eleven Madison Park: The Cook Book (Little Brown Company, RRP: £35). Buy it now.

The comfort food for meat lovers, find out everything you need to know about the sausage - like different types, ways of cooking and the history behind the banger. Sausages, Paul Gayler (Jacqui Small, RRP: £20). Buy it now.

Sharing his expert tips on how to make the perfect crème brûlée and cream profiteroles, pastry chef has out together 170 recipes for cakes, pies, tarts, crisps, cobblers, custards, soufflés, puddings, ice creams, sherbet and many more. Ready For Dessert, David Lebovitz (Ten Speed Press, RRP: £15). Buy it now.

World famous macaron patissier Pierre Hermé has published his book in English for the first time as he shares his fine art of creating the perfect macaron. You'll need passion and plenty of patience as he shares his 32 steps to making a macaron. Featuring exotic flavours such as mandarin and pink pepper, black truffles and apricot and pistachio, this book is great for macaron enthusiasts. Macarons, Pierre Herme (Grub Street, RRP: £25). Buy it now.

The famous chef has opened up his personal recipe book and shares his secrets in this book of 300 recipes. Kitchen Secrets, Raymond Blanc (Bloomsbury, RRP: £25). Buy it now.

Five members from the Malouf family have created 300 mouth-watering recipes inspired by the Middle East. Malouf: New Middle Eastern Food, Greg Malouf (Hardie Grant Books, RRP: £30). Buy it now.

This cookbook features 100 recipes from one pot, featuring recipe ideas for pot-roasts, stews, braises, curries, breads and puddings from all over the world - from India, through the Middle East and the Mediterranean, to Eastern Europe and Russia. Slow Cooking, Antony Worrall Thompson (Mitchell Beazley, RRP: £17.99). Buy it now.

The first Good Housekeeping cookbook was first published in 1948 and since then, cooking has jumped leaps and bounds. To celebrate its heritage, this book moves on from powdered egg and welcome tandoori tuna, balsamic strawberries and teriyaki beef stir-fry. It also has a lovely, nostalgic cover. Good Housekeeping Cookery Book (Collins & Brown, RRP: £30). Buy it now.

Based on the popular TV programme, this cookbook celebrates country cooking and its ingredients with an abundance of stews, roasts and soups alongside cakes, puddings and homemade jams. Country Kitchen Cookbook, Mike Robinson (Pavilion Books, RRP: £20). Buy it now.

Featuring Cantonese stir-fries and spicy Sichuan favourites alongside new discoveries from the lesser-known culinary styles of Yunnan and Hong Kong, this comprehensive collection is filled with accessible and easy-to-follow recipes from modern day Chinese cuisine. Complete Chinese Cook Book, Ken Hom (BBC Books, RRP: £25). Buy it now.

Restaurant chain Wagamama has created a book sharing the secrets behind their delicious Japanese dishes that you can make at home. Wagamama: Ways With Noodles, Huge Arnold (Kyle Books, RRP: £20). Buy it now.

Based on the popular TV show, this cookbook features 75 easy recipes as well as five 20-minute workouts with tips on how to burn the most calories in the least amount of time. The Biggest Loser Quick & Easy Cookbook (Rodale, RRP: £20). Buy it now.

A food history book by Clarissa Dickson Wright educates us on the food Brits used to eat, plus takes us on a journey through the food ages - from medieval feasts, to Victorian banquets. Although it doesn't feature recipe ideas, it will open your mind up to all the different foods our ancestors ate hundreds of years ago. An interesting read for food lovers. A History Of English Food, Clarissa Dickson Wright (Random House, RRP: £25). Buy it now.