Four siblings who fled war-torn Afghanistan are celebrating after notching up a string of top A-levels between them.
The brother and three sisters, who arrived in 2007 hoping for a better education and future, have passed their exams with top grades.
Abdul Wasi Siddique, 24, who is studying at Uxbridge College in west London alongside his sisters, said: "It has not been easy for us.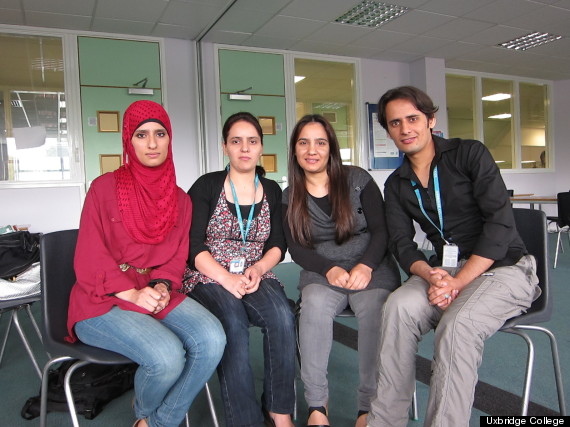 From left to right: Shahla, Sheela, Tuba and Abdul Wasi Siddique
"We could not speak English when we came to the UK so we waited three years to secure a place at Uxbridge. I enrolled myself in an English language course in the meantime."
Mr Siddique has gained As in maths, biology and chemistry and a B in physics.
He wanted to study medicine at Imperial College but did not receive an offer.
But he is happy for his sisters, who have all received the grades they were hoping for.
Fellow Uxbridge student Emre Dincer, from Turkey, said it was the urge to pursue his father's profession that has motivated him to succeed.
Mr Dincer was awarded A grades in maths and further maths and a C in physics after learning English by watching cartoons and US TV shows.
The 20-year-old came to the UK in 2009 with his mother and little brother, determined to become a mechanical engineer, like his father.
He said: "I regularly watched English cartoons, episodes of Futurama and House. Speaking to friends in broken English also helped me pick up the language."
Dincer now plans to study mechanical engineering at Southampton University.
"I have been mostly interested in designing and inventing things," he said.
"In my childhood I liked playing with Lego toys. Engineering was my passion."
Omar Gheriani, 20, also an Uxbridge student, had to cope with other problems.
After struggling with dyslexia and suffering a broken collar bone during his GCSEs, personal tragedy hit him just weeks before he sat for his A-levels.
"My father passed away. This affected my concentration and I could not perform to the best of my ability. I am not hoping for a good result."
Gheriani got an A in physics, D in maths and B in chemistry.
He hopes to study accounting and finance at Southampton University and to become an investment banker.
"The university was flexible with their terms as they knew what I went through," he said.