London Metropolitan University is to appear in court on Friday to legally challenge the government's controversial revocation of its sponsorship licence for international students.
The news comes a day after the National Union of Students (NUS) said it would be intervening as an independent third party in the dispute.
The university's application for interim relief is to be heard by Mr Justice Irwin at the High Court in London. The institution's highly trusted sponsor (HTS) status was first suspended in July while the UK Border Agency (UKBA) examined alleged failings.
Of 101 sample cases, 26 London Met University students were studying between last December and May even though they had no leave to remain in the UK, UKBA figures showed.
Of the 50 files checked since May for evidence of mandatory English language testing and academic qualifications, 20 showed poor assessment, where documents were either not verified or not held.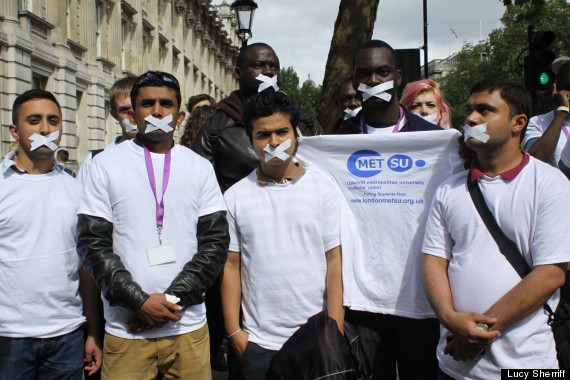 Around 40 students gathered outside 10 Downing Street on 30 August to hold a silent protest to signify having no voice
Genuine students have 60 days to make a new application or to arrange to leave the UK, but the countdown starts when UKBA writes to them and no letters will be sent out until October 1.
Professor Malcolm Gillies, the university's vice chancellor, has described the claims as "not particularly cogent".
"I would go so far as to say that UKBA has been rewriting its own guidelines on this issue and this is something which should cause concern to all universities in the UK," he said.
Liam Burns, president of the NUS, said the union had instructed lawyers to file an independent third party intervention on its behalf.
"We are concerned that the needs and interests of students are represented in this case, and our independent intervention will look to ensure that voice is heard in the legal proceedings.
"The students at London Met who have been affected by this decision came to London in good faith and have already spent tens of thousands of pounds on their education. It is crucial that their situation is fully considered."
Silent Protest Outside London Metropolitan University
SUBSCRIBE TO & FOLLOW UK DAILY BRIEF