The Duchess of Cambridge has showed some stamina which would make many women in the early stages of pregnancy green with envy - and we're not talking about morning sickness.
She and Prince Williams have beamed through royal appointments, from Cambridge to Newcastle, delivering speeches, playing hockey and cuddling children, with Kate looking picture-perfect despite almost certainly overcome by waves of early pregnancy nausea everytime a perfumed dignitary drew closer.
If the couple were anxious, they didn't show it. In fact, pictures from recent weeks show they could not keep the smiles from their faces. The Duke and Duchess of Cambridge speak with children from Nauti Primary School during a visit to Tuvalu
Royal experts have claimed the Duchess is just eight weeks pregnant.
The couple took a break from public engagements after returning from their manic tour of the Far East, which was marred by the publication of topless photos by a French gossip magazine, taken of the Duchess as she sunbathed in a French chateau.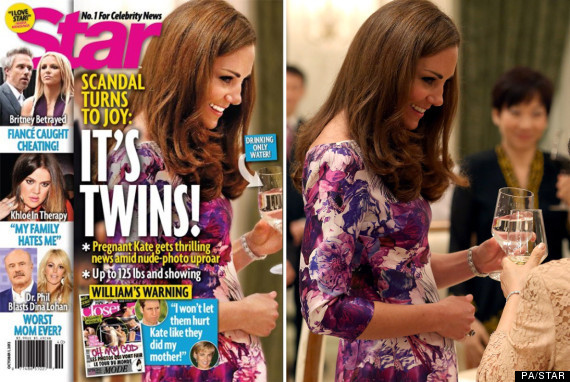 The magazine photshopped a pregnant-looking Kate
In the photoshopped picture, Kate had a swollen stomach, was missing her right-hand ring and a much smaller section of her left forearm was visible.
Their first public engagement was the historic Honourable Society of the Middle Temple where they were introduced to recipients of 'Duke and Duchess of Cambridge Scholarships'. Kate at the Honourable Society of the Middle Temple
The couple headed north for the start of a four-day UK tour which will took in Burton-On-Trent, Newcastle and Stockton-On-Tees. The Duke and Duchess of Cambridge with Steven Gerrard during the official launch of The Football Association's National Football Centre Kate at the Natural History museum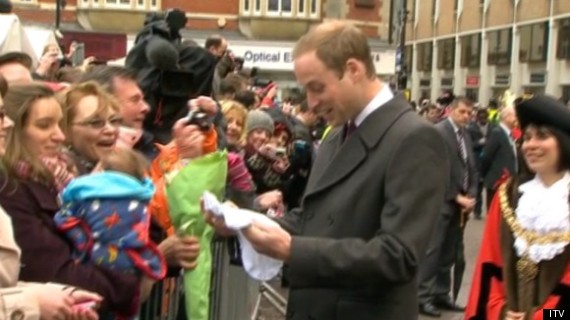 'I'll keep that': Prince William was given a baby-gro during a visit to Cambridge
The Duke of Cambridge was in the city with his wife Kate when he was presented with the gift by Samantha Hill.
The handmade baby-gro featured a helicopter and the words "Daddy's little co-pilot" - a reference to the Prince's career as a search and rescue captain.
"We cut the odds to 1-4 and then again to 1-8, at which point we decided to suspend the betting. If the money talks, 2013 will see a new addition to the royal family." Hockey in high heels: Kate at her old prep school, St Andrews
It was business as usual for Kate, who headed to her old prep school to play hockey in high heels, and even more impressive feat in retrospect. Prince William leaves the King Edward VII hospital where his wife Kate, the Duchess of Cambridge has been admitted with a severe form of morning sickness
Here's hoping the smiles are back on their faces soon.
Duke and Duchess Of Cambridge's Little Secret
SUBSCRIBE TO & FOLLOW UK DAILY BRIEF