Nigel Farage has defended a Ukip election candidate accused of making a Nazi salute, accepting the bizarre explanation that he was actually trying to stop his girlfriend taking photos of him "imitating a pot plant".
On Tuesday, 22-year-old Alex Wood, who is standing for a council seat in tomorrow's Somerset local elections, was shown in photos on Facebook raising his arm in the style of Hitler as well as clenching a knife between his teeth.
However Wood denied he was an extremist and said the photos had been taken out of context. He also said racist comments attributed to him on Facebook were a result of his page being hacked.
Writing for The Huffington Post UK today, Farage said he accepted Wood's defence. "I must confess, I nearly had kittens when I first saw this," he said.
"I've looked carefully into this and spoken to Alex, and I believe him when he says that he was angrily trying to take a camera off his girlfriend who was annoyingly taking pictures of him in the pub imitating a pot plant. These things happen - I should know!
"The fact that this is supported by the people who were with him that night suggests that he has been very unfairly treated."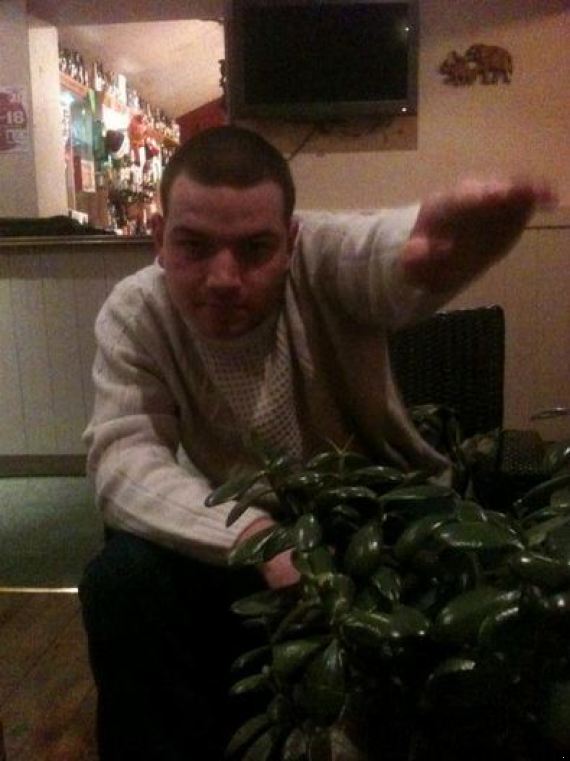 Alex Wood makes a 'Nazi salute', or tries to grab his phone off a friend

As a poll showed Ukip had surged to 22% in the polls ahead of tomorrow local elections in England and Wales, the eurosceptic party's candidates have come under intense scrutiny.
Farage admitted that while "a handful of Ukip candidates have caused us embarrassment" others had "been quite unfairly traduced".
"After the election I will go into details of false allegations and the downright intimidation that has happened to some of our good people. All I can say is that this will put off many people from standing to serve their local communities in the future, which is not only a great shame but very harmful to real democracy when ordinary people are caught in the crossfire."
David Cameron once famously described the eurosceptic party as being made up of "fruitcakes, loonies and closet racists". However this morning the prime minister rowed back from such harsh criticism, telling ITV he was "not calling anybody anything".
Over the weekend Ken Clarke slammed Ukip as being full of "fruitcakes, loonies, waifs and strays" and this morning William Hague said there was a "clown like aspect" to the party.
A rise in support for Ukip could cost the Tories dear in councils in their traditional home counties heartlands tomorrow. Tory MPs are also worried that sustained support for Farage's party could cost Cameron them next general election by splitting the right-wing vote.
In his HuffPost UK blog, also welcomes "wonderful comments" made by Lord Tebbit.
The former Tory cabinet minister said there are county divisions in which voting Ukip will stop Labour taking seats. Farage said:"I would imagine that he received a wrap across the knuckles for that! Norman never disappoints."
He added: "I am also pleased to see Sushil Patel, the father of Priti Patel, is standing as a Ukip candidate in Hertfordshire."
Related on HuffPost:
Loading Slideshow
Anne-Marie Crampton

Ukip suspended Crampton who had been due to stand in next week's East Sussex local elections for anti-semitic comments posted online. A Facebook profile in her name posted that the Second World War had been "engineered by the Zionist jews", adding: "Only the Zionists could sacrifice their own in the gas chambers." She also made reference to conspiracy theories about the Boston bombings.

Godfrey Bloom

UKIP MEP Godfrey Bloom told Radio Five Live's John Pienaar programme that women of a child bearing age shouldn't be employed because maternity rights are too 'draconian'. TUC General Secretary Frances O'Grady said: "Godfrey Bloom should know better than to encourage employers to break the law. "Maternity rights are neither draconian nor political correctness gone mad - they are elementary justice for working mothers."

Winston McKenzie

Winston McKenzie, UKIP candidate for Thursday's Croydon North by-election, told a local reporter placing children with same-sex couples was "unhealthy".

Lord Pearson

Former Ukip leader Lord Pearson was asked by the BBC, during the General Election campaign in 2010 about his party's policy on regulating banks. He said he had not come on the programme to "deal with the minutiae". Asked whether he had read his own manifesto, he confessed: "I haven't remembered it all in detail."

Chris Scotton

Scotton, who was due to stand in Leicestershire in Thursday's council elections, is a fan of the EDL on Facebook He's also a member of a Facebook page called: "I hate [it] when I lose my black friend in the dark."

Dr Julia Gasper

The UKIP Chairman for Oxford was been removed from her position for comparing homosexuality to bestiality. She wrote on an official Ukip forum that some gay people preferred sex with animals, and wrote: "As for the links between homosexuality and paedophilia, there is so much evidence that even a full-length book could hardly do justice to the ­subject."

Maggie Chapman

Maggie Chapman, a UKIP election agent apparently posted racist jokes on twitter and Facebook - using the word "paki" and suggesting Eastenders was "unrealistic" because it features a family returning to Pakistan

Paul Whiffen

Paul Wiffen, the 2010 candidate for Ilford South, posted on the Community Care site. "You left-wing scum are all the same, wanting to hand our birthright to Romanian gypsies who beat their wives and children into begging and stealing money they can gamble with, Muslim nutters who want to kill us and put us under medieval Sharia law, the same Africans who sold their Afro-Caribbean brothers into a slavery that Britain was first to abolish (but you still want to apologize for!)" UKIP said he had been suspended but, following his apology and an inquiry, he was allowed back into the party.

Steve Moxon

Ukip's candidate in Sheffield, had been dismissed from Ukip in 2012 for stating some agreement with the views of Norwegian mass killer Anders Bering Breivik, despite condemning his actions. He wrote on his blog: That pretty well everyone – myself not excluded – recoiled at his actions, does not belie the accuracy of Breivik's research and analysis in his 'manifesto', which is in line with most scholarship in respect of both Political Correctness and Islam. It is clear that the mass of ordinary people are considered with utter contempt by the government-media-education uber-class across the Western world; this as the result of 'cultural Marxism'. So we are, in effect, 'at war' within our societies over PC, as Breivik claims.