Following in the well-heeled -- if slightly controversial -- footsteps of Dove's 'Real Beauty Sketches' campaign comes the beauty brand's follow-up video 'Camera Shy'.
Inspired by Dove's own global survey that highlights how 90% of women feel self-conscious in front of the camera, it hopes to shake insecurities and get women enjoying life instead of fretting over appearance.
So far, so noble.
While HuffPost UK Lifestyle aren't denying the intentions of the beauty brand, it is worth taking a stroll down memory lane to remind ourselves about the limitations of the last video.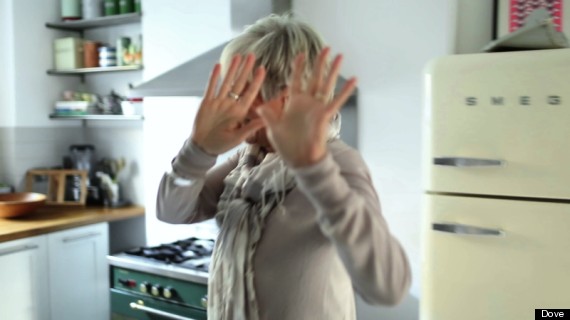 A woman doesn't want to have her photograph taken
'Real Beauty Sketches', which attracted more than 150 million views on YouTube making it one of the most watched videos of 2013, implied that women are their own harshest critics and see themselves as much less attractive than a stranger does.
It divided the internet. While many hailed the campaign for inspiring positive body image, others criticised it for reinforcing dominant beauty stereotypes.
HuffPost blogger Jazz Brice said: "As I clicked the link and started watching the video, I started to feel a slight sense of discomfort. The message that we constantly receive is that girls are not valuable without beauty."
So how does 'Camera Shy' measure up?
The one-minute video shows more diversity than its predecessor, which lasted more than six minutes. It includes not only women of different ages, but different ethnicities.
But ultimately, the women in the video are all undeniably beautiful. Beautiful, slim and able-bodied.
Perhaps Dove should take a leaf out of Debenhams' book. Their High Summer Look Book championed diversity by using a Paralympian, plus-sized model and a 69-year-old.
Here are a selection of reactions to Dove's Real Beauty Sketches:
Mixed Reactions To Dove 'Real Beauty Sketches'
NewFeelingsTime video parody mocks the original Unilever ad. "Men are not their own worst beauty critics. Only 4% of men around the world consider themselves average looking. At New Feelings Time, we are committed to creating a world where illegitimate beauty is not a source of confidence. So, we decided to conduct a compelling social experiment that explores how men view their own beauty in contrast to what others see..."

"The more 'beautiful' facial representations seemed to all be thinner and younger-looking," Kate Fridkins, HuffPost blogger. READ MORE

I love the direction Dove has taken their real beauty campaign. I wasn't a believer 5 years ago. Your soap will always stock my bath dish.

I just happened to see the Dove Real Beauty Sketches Ad- absolutely wow and touched!

dove real beauty sketches ad is a must watch for every woman :)

"Dove's just selling deodorant and soap in a new way, while peddling the same old beauty standards as empowerment," says Erin Keane at Salon. "The real take-away is still that women should care whether or not a stranger thinks she is beautiful."READ MORE

"Such campaigns and TV fashion programmes celebrating 'real women' are perpetuating the idea that women need to be 'beautiful' at all. Surely it would be better if we rejected this 'world where beauty is a source of confidence' that Dove is committed to creating." says HuffPost UK blogger Ali Schofield. "Men don't need to be beautiful to function in society, made screamingly obvious in the advertising for men's sheep-like-gorgeous-woman-magnet Lynx. Which, by the way, is made by Dove manufacturer Unilever." READ MORE
Here are some of the key findings from Dove's global research, which surveyed 4075 women.

Beauty anxiety is the main reason why women are camera shy

More than half of women (57%) admitted that worrying how they will look is likely to have a negative impact on how they feel in front of the camera
36% of women admit they started to become more camera shy between the ages of 11 – 20 years of age
55% of women are more camera shy now compared to 10 years ago

Women are missing out on capturing memories

63% of women have destroyed photos of themselves
Digital photos are even more likely to be destroyed than printed copies (55% vs 25%)
19% of women do not have photos of a once-in-a-lifetime holiday, 14% of their wedding day and 17% of the
birth of a child
Nearly 1 out of 3 have stopped photos being taken or later destroyed photos of a beach holiday, a significant party with friends/family and even their own graduations

Digital photos are increasing women's sense of camera shyness.

Being tagged in a photo on a social network causes more than half of women to feel more anxious about the way they look
Almost half (46%) have de-tagged, deleted or removed a photo of themselves
41% have done something to a photo of themselves to enhance their looks before posting it online