Nasa's Curiosity Rover is to celebrate its first (Earth) year drilling, roving - and not mention inspiring LEGO sets - on the surface of Mars.
The big day lands on 6th August and rather than send a cake into space Nasa have decided to release a time-lapse video of its mission so far instead.
The film consists of 548 images taken from Curiosity's Hazcam used to look out for perilous and potentially fatal obstacles such as sand traps.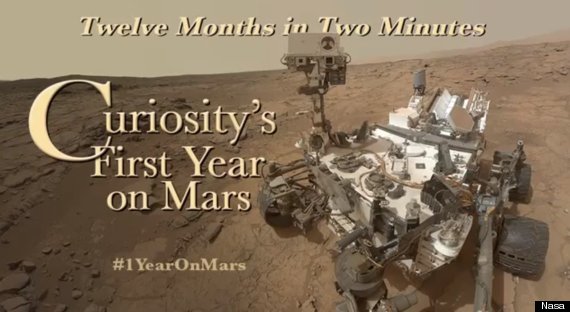 A similar video was made by a fan a couple of months ago
Nasa's Jet Propulsion Laboratory will also be hosting two talks on August 15th and 16th going over the missions successes so far.
Curiosity is currently making a many-month journey towards its primary mission destination of Mount Sharp.
Its primary goal to find "evidence for an ancient wet environment that had conditions favourable for microbial life" has already been accomplished.
Mars Photos From NASA Curiosity
This image taken by the Mast Camera on NASA's Curiosity rover highlights the geology of Mount Sharp, a mountain inside Gale Crater, where the rover landed.

This photo is from a test series of the 100-millimeter Mast Camera on NASA's Curiosity rover. It is looking south-southwest of the landing site and taken on Aug. 23, 2012.

Another test photo from the Mast Camera on NASA's Curiosity Rover. Again, it's looking south-southwest on Aug. 23, 2012. The gravelly area of the landing site is visible in the foreground.

The landing site is visibile here in this portion of a 360-degree color panorama along the heights of Mount Sharp.

This photo was taken by a front Hazard-Avoidance camera on NASA's Curiosity and shows track marks from the rover's first Martian drives.

Track marks are seen here after the NASA Curiosity rover completes a successful drive to an area of bedrock.

The donut-shaped tracks shown here make an infinity symbol, following the first two drives from NASA's curiosity rover. The drives took place on Aug. 22 and Aug. 27, respectively.

The highest point of Mount Sharp visible from NASA's Curiosity rover is seen here in a high-resolution image taken on Aug. 18.

This mosaic image was created from images taken by the rover's Navigation cameras on Aug. 7 Pacific Time / Aug. 8 Eastern Time.

This photo taken on Aug. 20 shows the many tools on Curiosity's extended arm.

NASA's Curiosity rover tests its wheels at its landing site on Aug. 21. Photo taken by the rover's Navigation cameras.

NASA's Curiosity rover fired its laser 50 times against these rocks at a mark called "Goulburn."

This overhead view shows NASA's Curiosity rover after its first successful test drive on Aug. 22, 2012.

Here's another view of the first track marks Rover left in the Martian surface on Aug. 22, 2012.