A former Conservative minister has defended a fellow Tory MP who organised Nazi-themed stag party for a friend in France, arguing that it was just a bit of "hi-jinx".
Last month an internal Conservative Party inquiry found that Cannock Chase MP Aiden Burley, while not racist or anti-Semitic, had been "stupid and offensive".
Sir Gerald Howarth, the MP for Aldershot who was one of David Cameron's defence ministers until 2012, said Burley had simply been the victim of a "very nasty witch hunt" by the Mail on Sunday.
"We all do silly things," he told BBC Radio WM. "I mean, Prince Harry dressed up in some uniform, the former archbishop of Canterbury dressed up in a German military uniform."
"It's not as though he declared some unacceptable policy, he has been engaged in some hi-jinx, we've all done it from time-to-time."
Howarth also suggested that the Mail on Sunday, which first published photographs of Burley at the party, had behaved in an "utterly disreputable" manner and should be aware of future press regulation. "This is why the Leveson Inquiry was so important," he said.
"I think Aiden has done a fantastic job, he had the largest swing the country, 14%, to the Conservatives. In 2010 he's been an extremely assiduous local MP for Cannock Chase. I think it's a very nasty witch hunt by the Mail on Sunday. I think it's utterly disreputable and out of proportion."
(Audio via Political Scrapbook).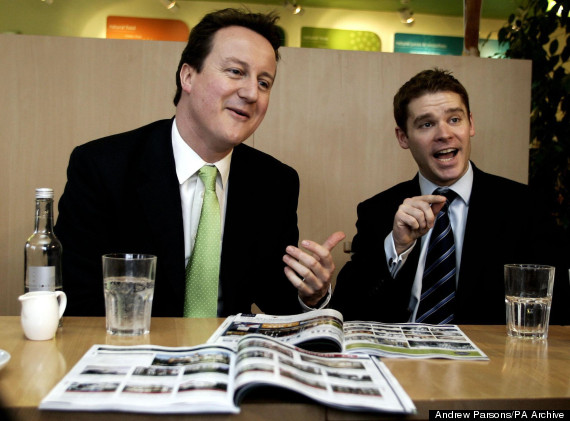 David Cameron and Aidan Burley (right) in 2006
Following the publication of its internal report, a Conservative party spokesman said: "Two years ago, the party investigated this matter. The findings of that investigation were that Aidan Burley behaved in a manner which was offensive and foolish, and that his behaviour was completely unacceptable.
"What he did was wrong. That is why, two years ago, he was removed from his post as parliamentary private secretary. He has since apologised publicly and sought to make amends, including by visiting Auschwitz."
For his part, Howarth is perhaps best known for his warning about the dangers of the "aggressive homosexual community". He also recently said politicians should be more "judgmental" about couples that break up and the government should do more to encourage marriage.

Also on HuffPost:
Loading Slideshow
Chloe Smith vs Paxman (skip to 6:20)

This isn't so much a car crash of an interview, more a head-on collision between the last two spaceships ferrying mankind away from a doomed planet Earth thereby wiping out our entire species. It's that bad.

Michael Howard vs Paxman

Vintage Paxman this, a veritable Grand Cru of an interview. Howard is asked a whopping 14 times "Did you threaten to overrule him?", (referring to a meeting with Derek Lewis, head of Her Majesty's Prison Service). Evasive is not the word...

Bill Shorten vs Agenda

Showing unflinching party loyalty that would have made Stalin proud, Bill Shorten sacrificed his own opinions to subscribe to a stance he hadn't even heard yet. "I haven't seen what she said but let me says I support what it is that she said." Good for you Bill, good for you...

Brown vs Marr

Asking the PM if he's on drugs? Brave Marr, very brave...

Brown vs Boulton

For one glorious second it almost looks like the two gents are about to come to actual blows, which lets face it, would be an utterly fantastic wonder. My money would be on Brown.

Brown (again) vs Himself

Watching Brown's face, not to mention election chances, crumble live on TV is a behemoth of a spectacle, Shakespearean in it's utter tragedy.

Lord Pearson vs His Own Manifesto

A monumental failure to misunderstand the fundamentals of politics.

Diane Abbot vs Neil

Superb piece of grilling here as a continually smirking Portillo looks on clearly enjoying every squirming second...

Karl Rove vs The Rest Of The World

When Fox News calls the election for a Democratic president you know it's time to give it up...

Chairman Nhlanhla Nene vs Gravity

Sometimes negotiating the interviewer is the easy part.. The best thing about this clip is the first crack 11 seconds in. From that moment on this unfortunate gent has a look in his eyes of someone who knows he's doomed...