An internal Conservative Party inquiry found that the Tory MP who organised a Nazi-themed stag party in France was not racist or anti-semitic.
The Party's verdict on Aidan Burley, who was dismissed over the incident in Alpine ski resort of Val Thoren in December 2011, was released on Tuesday following the end of the investigation by French prosecutors. The Tory investigation concluded that Burley's actions were only "stupid and offensive".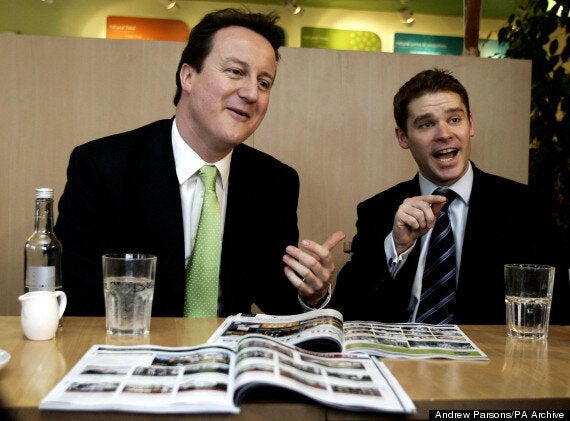 David Cameron and Aidan Burley (right) in 2006
Following the bizarre stag bash, Groom Mark Fournier, 33, was fined 1,500 euros (£1,200) for wearing an a full SS uniform with insignia, which had been supplied by best man Burley. The groom was also forced to pay 1,000 euros (£820) to an organisation representing the families of Holocaust victims. The wearing of Nazi attire is banned in France.
None of the guests apart from Fournier were fined. The internal Tory investigation into the incident, which was carried out by Tory peer Lord David Gold, was blocked from publication until the French investigation was completed.
"He [Burley] claimed at the time that this event was a fancy dress party, and he told his constituents and the Jewish Chronicle that he had not known what was going to happen. The trial in France and this report shows neither of those statements was true and it beggars belief that anyone should believe him now. His behaviour was an absolute disgrace and I can't understand why the Tories haven't removed the whip."
More from the Press Association:
According to Gold's report, the peer accepted the assurances of the Cannock Chase MP - once seen as a high-flier - that there was "no political motivation whatsoever" in the choice of theme. But he said his "unacceptable and offensive actions" threw into question his judgment and that it was right that he was sacked as parliamentary private secretary to Philip Hammond.
"Mr Burley is not a bad man, still less a racist or anti-Semite," the report found. "However, his actions were stupid and offensive, and the conclusions and recommendations reflect that."
Burley - who also visited Auschwitz on the recommendation of Lord Gold - will face no further disciplinary action, the party confirmed. Lord Gold said that despite accepting that he left the dinner in protest at one guest raising a Nazi-themed toast, Burley failed to make it "explicitly clear" that he objected.
"Given the standards expected of a Member of Parliament, he should have done so." The investigation also accepted that Burley was not in a pub later in the evening where Nazi names were reportedly chanted, that no formal complaints were made during the dinner itself about the party and that Fournier only made a Nazi-style salute "at the prompting" of a journalist who was there and broke the story.
The initial French probe also looked at allegations of defending war crimes or crimes against humanity, promoting racial hatred and making racist insults but no action was taken. Burley caused another storm in 2012 when he branded the Olympic opening ceremony ''leftie multicultural crap''.
Fellow Conservative MP Michael Ellis defended his colleague. "Aidan is a hard-working MP who is committed to his constituents in Cannock Chase and I do not believe Aidan is at all anti-Semitic," he said. "He has paid a heavy price for his foolish behaviour over two years ago and has rightly apologised repeatedly for his error of judgment. I am confident he will be an effective representative for the people of Cannock Chase and he has a lot to offer in public life."
A Conservative party spokesman said: "Two years ago, the party investigated this matter. The findings of that investigation were that Aidan Burley behaved in a manner which was offensive and foolish, and that his behaviour was completely unacceptable. What he did was wrong. That is why, two years ago, he was removed from his post as parliamentary private secretary. He has since apologised publicly and sought to make amends, including by visiting Auschwitz."
The report confirmed that "as best man, Burley purchased the costume alongside the flights and other costs associated with the trip on behalf of the other attendees. Mr Burley argued strongly that the choice of costume was inspired by the British comic association with aspects of the war," it said.
"He categorically denies that there was any political motivation whatsoever. He argued that the purchase and wearing of the Nazi costume is legal in the UK and that he was unaware that wearing the costume could be an offence in France. He regrets the offence caused by the wearing of the costume."